Marie Newman Gets Facebook Apology After Platform Removes Transgender Flag Video
Representative Marie Newman received a public apology from Facebook after the social media platform erroneously removed a video, which showed the Democratic congresswoman displaying a transgender pride flag outside of her office at the U.S. Capitol, from her official page earlier on Thursday.
The federal lawmaker, who began her first term representing Illinois' third congressional district in January, criticized the video's removal for supposed "hate speech" in a screenshot shared to Twitter.
In addition to noting that an expression of support for transgender people clearly should not violate any content guidelines, especially those against hateful rhetoric, Newman pointed to what at first seemed like a strange and hypocritical double standard. A video that Republican Representative Marjorie Taylor Greene, Congress' controversial Georgia newcomer, posted to her own Facebook page around the same time remained unrestricted while Newman's video was unavailable to view.
"Facebook took down our video of me putting up the Transgender flag outside my office and labeled it as 'hate speech,'" Newman tweeted. "Meanwhile, they're still allowing Marjorie Taylor Greene's transphobic video to be posted. Supporting transgender Americans is NOT hate speech."
Facebook lifted its restriction on Newman's video later Thursday morning. Commenting on the congresswoman's tweet, the platform's policy communications director, Andy Stone, apologized on behalf of Facebook and confirmed the video was restored to her page.
"Congresswoman, this plainly should not have happened," Stone wrote. "We've restored this content and you have our sincere apologies."
Greene's video continued to appear on her Facebook page into Thursday afternoon. It showed the congresswoman, whose office is located across the hall from Newman's, hanging a transphobic poster in response to her Capitol neighbor's pride flag.
Their exchange comes as members of the U.S. House are set to vote on the Equality Act's passage, which Greene opposes and attempted to delay this week. The bill seeks to ban discrimination on the basis of sexual orientation and gender identity, and broaden the settings in which protections for LGBTQ Americans apply.
Newman, whose daughter is transgender, supports the legislation. It is expected to pass in the House during a vote on Thursday.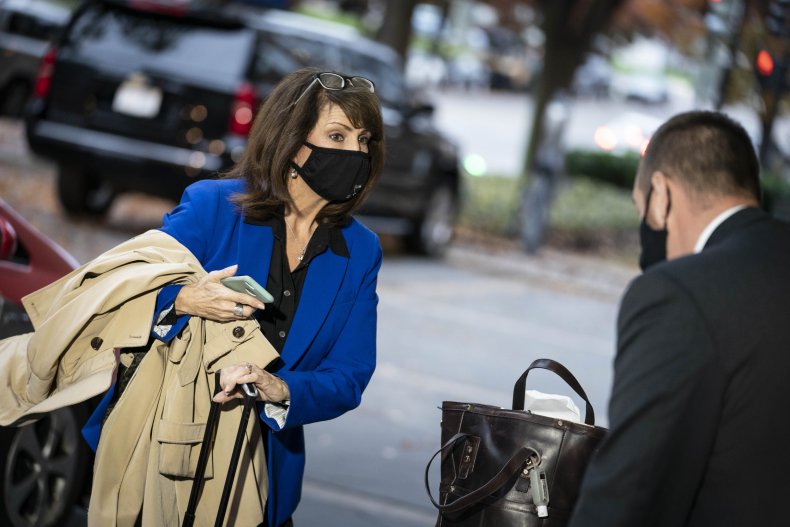 "Our neighbor, Congresswoman Marjorie Taylor Greene, tried to block the Equality Act because she believes prohibiting discrimination against trans Americans is 'disgusting, immoral, and evil.' Thought we'd put up our Transgender flag so she can look at it every time she opens her door," said Newman in a caption attached to her Facebook video. It was originally posted after Greene filed a motion to adjourn the House on Wednesday in an effort to delay the bill's approval.
Newsweek reached out to Facebook further comment, but did not receive a reply in time for publication.