The Business of Pot: There Are More Legal Marijuana Workers Than There Are Dental Hygienists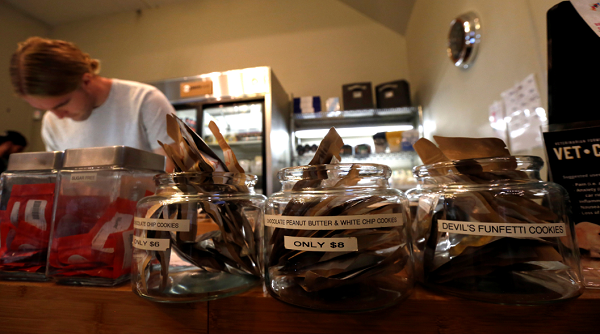 If you're an American living in a legal weed state, more than likely you'd have a better chance of finding someone to recommend, grow and sell you an eighth of Granddaddy Purple Kush before you found the perfect dental hygienist to clean your teeth.
That's because the legal marijuana industry, whether operating in states with recreational or medical-only laws, might actually employ more people than there are dental hygienists, according to MJ Biz Daily's annual Marijuana Business Factbook report.
Released in late June, the study by MJ Biz Daily—a business information resource that focuses on retail and revenue surrounding the marijuana industry—found there were 165,000 to 235,000 people already working jobs relating to the weed industry. On the high end, that would mean there are potentially more people employed by the cannabis industry than there are dental hygienists in the U.S., of which only some 204,000 people are employed, according to the Bureau of Labor Statistics.
Albeit a wide gap, figures included in the 2017 report were derived by employee estimates from a broad scope of marijuana businesses, including people who may have worked at retail stores, wholesale grows, infused product/concentrate companies and testing labs. Workers at ancillary companies "that glean a sizeable portion of their revenue from the marijuana industry," were also included in the study, which MJ Biz Daily said led to the wide gap. So essentially, even a garden store clerk that sold dirt to marijuana growers may have been included in the figures.
Due to marijuana's federal standing in the U.S., there is no exact standardized employment data pertaining to cannabis jobs in the U.S., and the federal government does not allow marijuana businesses to be included in data.
A January estimate of marijuana jobs conducted by Leafly, a marijuana news and review website, estimated there were more than 122,814 full-time cannabis jobs at the start of the year, which more than likely has since increased after more states implemented laws allowing the legal sale of marijuana.
The industry's employment boom is only expected to grow even more following Nevada's first weekend of legal marijuana sales, during which some recreational pot dispensaries saw as many as 1,000 customers each day over the Fourth of July weekend. With Nevada joining the list of completely legal states—there are seven other states that can legally sell weed to adults—some 250,000 new jobs are expected to be filled by U.S. workers by 2020, according to a Saturday CNBC report.