You Won't Go to Jail for Possessing Small Amounts of Pot in New Hampshire Now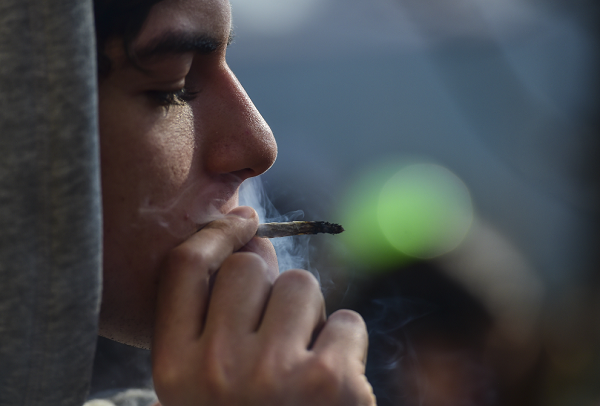 Previously, getting caught with any amount of marijuana in New Hampshire could have landed offenders in jail for up to a year. But after Republican Governor Chris Sununu signed a bill decriminalizing certain amounts of cannabis, first- and second-time offenders will be subjected to only a $100 fine.
Republicans and Democrats in the Legislature approved a measure that called for people in possession of up to three-fourths of an ounce of marijuana and 5 grams of hashish to be cited with a violation instead of misdemeanor charges. The bill passed with majority support in both houses in May and June. On Tuesday, Sununu signed the bill, which allows anyone older than 18 to be punished with a fine of $100 for a first and second marijuana offense and up to $300 for any further offense over a three-year period.
Only after a fourth offense would violators be subjected to a Class B misdemeanor charge, while those under 18 caught with less than the legislation's defined amounts of pot or hashish would be subjected to a mere delinquency petition.
It was no surprise that the bill got speedy support from Sununu. Back in May, he released a statement expressing his gratitude for the Legislature's approval of the bill, writing, "I want to thank the Legislature for passing common sense marijuana reform. I look forward to signing House Bill 640 into law."
New Hampshire plans to use the new bill as means to cut back on unnecessary police spending and will use money collected from fines for alcohol and substance abuse programs funded by the state.
The state is the last in New England to decriminalize small amounts of marijuana and the 22nd in the U.S. to approve reducing possession charges.
"There is no good reason to continue arresting and prosecuting people for marijuana possession. Marijuana is objectively less harmful than alcohol, and Granite Staters are ready to see it treated that way. A very strong majority of state residents support ending marijuana prohibition altogether," Matt Simon, director of the New England chapter of marijuana advocacy group Marijuana Policy Project, said in a statement. "It is refreshing to see the Senate finally come to an agreement with the House on this issue. This is a big step toward a more sensible marijuana policy for New Hampshire."
Since 2013, New Hampshire has allowed people suffering from certain conditions to use medical marijuana as a form of treatment under a doctor's recommendation. However, the state opened up the first of its licensed dispensaries only last year.
You Won't Go to Jail for Possessing Small Amounts of Pot in New Hampshire Now | U.S.