Cannabis companies across the United States have been deemed "essential" during the coronavirus outbreak, but some may not survive because they've been cut out of any federal assistance.
"There's no relief for us, unlike any other business in the country. We're probably in about as tough a spot as you can be in," Brandon Pollock, co-owner and CEO of the recreational and medicinal marijuana dispensary Theory Wellness in Massachusetts, told Newsweek.
Since the pandemic began, the company has experienced a 90 percent decline in sales, Pollock said. That's largely because Massachusetts Governor Charlie Baker classified recreational sales of marijuana as nonessential and allowed only medicinal shops to stay open. A loan from the federal government would allow him to keep employees on the payroll and to pay rent at the company's store locations.
"We're not asking for a handout. We would be more than happy to pay the money back, but it's very tough to get loans in the cannabis industry," he said. "For us, it's just a fairness situation. We pay millions of dollars a year in federal taxes. We should be able to receive help just like any other taxpaying business."
Thirty-three states and Washington, D.C., have legalized some form of sale and consumption of marijuana. More than 20 states have designated cannabis businesses as an "essential service" during the coronavirus outbreak, which allows them to remain open while other companies have been forced to close because of states' stay-at-home orders or other lockdown measures.
In mid-March, marijuana sales spiked to record highs as customers appeared to be stocking up during the onset of the nation's outbreak. But states that saw big sale increases, such as California, have since seen business dry up.
Advocates warn that just because these businesses have been able to stay open doesn't mean they are financially stable enough to withstand a prolonged pandemic. Even during normal circumstances, the legal marijuana market faces unique challenges. It's more heavily taxed than other industries, and the businesses have a more difficult time securing financial backing from banks.
And because marijuana remains illegal at the federal level, these businesses have seen zero relief from the $2 trillion coronavirus relief package that President Donald Trump signed into law last month, or the interim $483 billion package passed last week to replenish small-business programs.
"It's an interesting contradiction to see the way states have designated marijuana as essential but our federal government and Congress is still operating against the grain of what American voters support," said Queen Adesuyi, a policy manager at the Drug Policy Alliance.
Plus, it's not just the "touch the plant" businesses like dispensaries that have been excluded from receiving funds. People who are supplying any product or services to the cannabis industry, like lawyers or accountants, are also being left behind.
"It's leaving a lot of companies out in the woods," said Morgan Fox, media relations director at the National Cannabis Industry Association.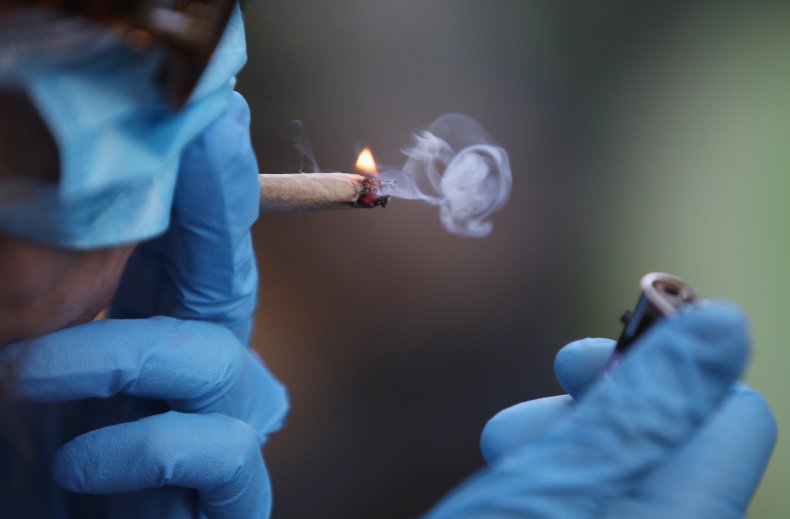 Now, industry leaders and advocates are ramping up their efforts to get marijuana businesses included in the next round of coronavirus aid. And they're seeing some increased support from lawmakers.
Two weeks ago, 34 members of Congress wrote to House leaders and asked them to include aid for cannabis companies in future relief bills. Ten senators have written to Senate Majority Leader Mitch McConnell, asking him to include legal cannabis businesses in any future relief bills.
Legislation was recently introduced in the House that would allow marijuana companies to apply for Paycheck Protection Program loans and other funding through the Small Business Administration. Representatives Earl Blumenauer (D-Ore.) and Ed Perlmutter (D-Colo.) spearheaded the bill, which has been co-sponsored by 16 other lawmakers.
But the legislation isn't likely to make it through Congress anytime soon. Lawmakers are still in recess until May 4, and McConnell is already pumping the brakes on the fourth coronavirus relief package.
Groups opposed to relaxing marijuana laws argue the federal government shouldn't provide funding to an industry that's been able to stay partially open during the pandemic.
"Any further aid from the federal government must be allocated to legal small businesses who find themselves in dire need, not to federally illegal enterprises that for all practical purposes have seen very little disruption to their operations. The thought of our lawmakers granting a bailout to an industry actively bragging about the fact that it has remained open is preposterous," said Kevin Sabet, the president of Smart Approaches to Marijuana and a former senior drug policy advisor to the Obama administration.
But advocates remain hopeful that there will be a positive outcome for the industry. Mark Gorman, executive vice president and COO of the National Association of Cannabis Businesses, said that lawmakers who oppose funding will likely have to answer to constituents who have legitimate marijuana operations.
"Over 60 percent of the country has real legal businesses and real employees who are being negatively affected by the lockdown," Gorman said. "There's no reason that these people should be treated as second-class citizens and businesses, and we're hoping that Congress sees it that way too."
Update: This story has been updated to include comment from Kevin Sabet, the president of Smart Approaches to Marijuana.