Legal Marijuana States May Be Safe From Jeff Sessions for Now, Colorado Governor Says

Attorney General Jeff Sessions' may not be in a rush to impose federal marijuana laws on states with legal pot, according to Colorado Governor John Hickenlooper. After meeting with Sessions in Washington, D.C, recently, Hickenlooper told The Cannabist that the former Alabama senator seemed unlikely to crack the whip on states that have legalized marijuana in some capacity.
Hickenlooper noted Sessions "couldn't have been more emphatic" regarding his disapproval of legalizing marijuana during his hour-long meeting with Sessions Wednesday, attended by governors from three other legal marijuana states. However, Hickenlooper said Sessions was open to discussion and understood that legal marijuana in Colorado and 29 other states were laws citizens voted for.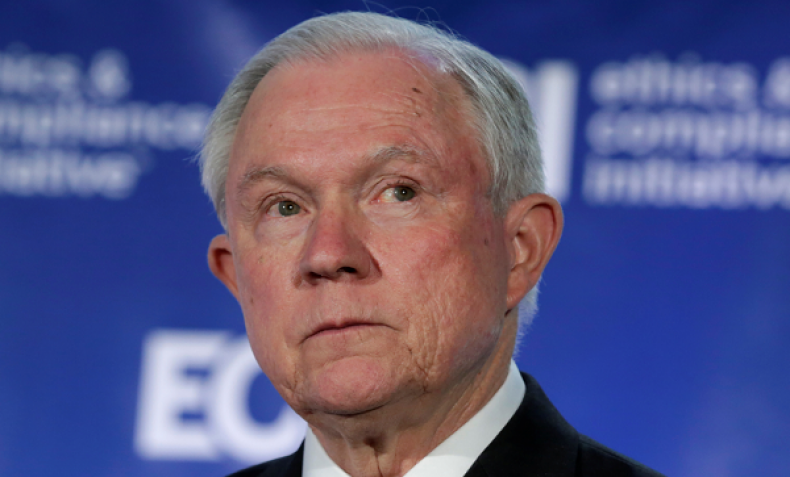 "We wanted to understand his frame of reference on both cannabis and immigration," Hickenlooper told The Cannabist Thursday. "He's obviously reviewing the Cole [Memo]. [They're working on] a version of that makes sense for the administration. We'll have to see how far they go."
Under the Cole memorandum, which was introduced in 2013, marijuana consumers, producers and businesses in legal states are safe from federal prosecution as long as they're in compliance with state cannabis laws. During a press conference in March, Sessions acknowledged that the rule was valid but said he was considering implementing some of his own ideas within the law.
"The Cole memorandum set up some policies under President Obama's Department of Justice about how cases should be selected in those states and what would be appropriate for federal prosecution, much of which I think is valid. I may have some different ideas myself in addition to that, but essentially we're not able to go into a state and pick up the work that the police and sheriffs have been doing for decades," he said at the time.
Aside from changes to the Cole memo, Hickenlooper said he didn't get the feeling that Sessions was planning to push out a formal federal enforcement policy on marijuana anytime soon.
During an appearance on MSNBC's "Meet the Press Daily" show following his Wednesday meeting with Sessions, Hickenlooper said federal marijuana laws didn't seem to be a top priority for Sessions or the Department of Justice.
"He certainly was very direct and clearly said they've got a lot of priorities. And, at one point, he said, 'Well you haven't seen us cracking down, have you?' I said, 'No,'" Hickenlooper said, adding that in no way did that mean Sessions was reconsidering his stance on marijuana. "He is very clear. He is anti-drugs in all forms and he's not going to, in any way, encourage anyone to start a marijuana business to think it's a great idea to do or even safe to do so. That being said, he didn't give me any reason to think that he is going to come down and suddenly try to put everyone out of business."
There is currently a House bill under review called the Regulate Marijuana Like Alcohol Act, which would change marijuana's federal status and allow all 50 states to regulate the plant similar to alcohol laws in the U.S. Sessions hasn't commented on the bill, which was introduced by a group of lawmakers in March.
During his confirmation hearings, Sessions said if people didn't want him to enforce federal marijuana laws, then they should change the law.