Getting High on Food: Medical Marijuana Users in Massachusetts Can Now Eat Pizza Instead of Smoking Pot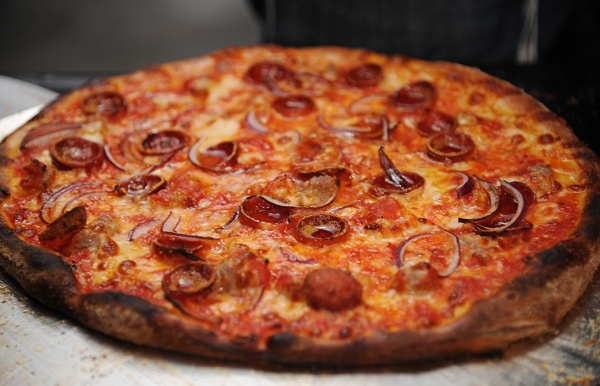 Medical marijuana users in Massachusetts don't have to treat their pain with the same old smokeable flower and cannabis-infused sweets weed consumers in other legal pot states use to get stoned. Now, they can get high off of pot-infused pizza.
Ermont Inc., located in Quincy, introduced marijuana-infused pizza three weeks ago, and it has quickly earned rave reviews from customers, CBS News in Boston reported Tuesday. The dispensary, which sells a variety of pot products to medical marijuana cardholders, offers 6-inch cheese pizzas for $38 and infuses tomato sauce with 125 milligrams of tetrahydrocannabinol, cannabis' psychoactive ingredient commonly referred to as THC.
Steve Yaffe, director of operations at the company, told CBS' local affiliate that the pizza was created to give patients more options that weren't loaded with sugar, like the chocolates, cookies and gummy candies that typically stock dispensary shelves around the country.
"A lot of our patients really wanted to basically figure out a different way to medicate that didn't always remind them that they were trying to do something to take care of themselves," Yeffe said. "It really makes medicating seem like something that isn't as scary."
Yeffe said the company has sold nearly 200 pizzas since adding the food item to their menu. And Ermont chefs are currently developing a vegan mayonnaise that patients could put on their home-made sandwiches.
With marijuana legal in some capacity in 30 U.S. states—eight of which have legalized recreational marijuana use for adults 21 and up—innovators in the cannabis industry have developed a variety of ways for people to enjoy the powerful plant beyond just smoking weed, which has traditionally been the way people have gotten high off marijuana.
There are a slew of companies that have created oils, butters and tinctures that can be used to turn everyday meals into cannabis-infused entrees. CBDPure, a hemp oil company, produces an organic oil derived of hemp CBD extracts that can be added to food for oral ingestion or taken as it. There's also Kushie Edibles Cannabutter, which infuses coconut oil with THC extracts that can be spread on to any kind of food to create a medically enhanced snack while Dixie Elixirs, a company that has been developing marijuana-infused products since 2010, offers drinkable tinctures and oils combined with THC that can be added to food.
Earlier in the year, Puration, Inc., a cannabis extraction company, unveiled the first ever brand of cannabis-infused water, EVERx, which combines cannabidiol—marijuana's non-psychoactive ingredient often called CBD. The company also announced they would soon launch an alkaline version of weed water, EVERx Alkaline Bottled Water, targeted at athletes in need of muscle spasm relief.