Marijuana Legalization 2018 Midterms: Which States Will Allow Legal Weed Next?
As voters countrywide head to the polls on Tuesday for the heated midterm elections, a handful of states will also be deciding whether to pass marijuana legislation that would legalize the drug for medicinal or recreational use.
Michigan, Missouri, North Dakota and Utah may soon join 30 other states in the U.S. to adopt some form of legalized weed through ballot reform measures. Polls suggest that all four ballot initiatives are likely to pass, which would mean that one in four Americans will have access to legal weed.
The ballot initiatives follow on the heels of Canada's full-fledged legalization of cannabis in mid-October. The U.S.'s northern neighbor became the second and largest country in the world to have a national marijuana marketplace. Canada's framework for taxing and regulating marijuana distribution could potentially serve as a model for the U.S. if the federal government were to decriminalize the drug.
Here's where marijuana policy reform is on the ballot this week.
Michigan
Michigan could join nine other states in legalizing the recreational use of marijuana if voters choose to pass Proposal 1. The proposal would allow the personal possession and use of cannabis for state residents who are 21 years of age or older. It would also convert current criminal marijuana-related charges to civil infractions.
If the measure is passed, people will be able to buy up to 2.5 ounces of marijuana per day, possess up to 10 ounces of the drug in their homes and grow up to 12 marijuana plants for personal use. The drug would also be subject to a 6 percent sales tax as well as an additional 10 percent tax.
A poll done in late October by The Detroit News and WDIV indicated that the majority of Michigan voters supported the proposal. Fifty-seven percent of respondents said they would vote to legalize the drug, while only 40 percent were opposed.
Missouri
There are three separate ballot proposals for Missouri voters to weigh in on during Tuesday's election that focus on medicinal marijuana access. In October, all three ballot initiatives were polling at over 60 percent.
The first, called Amendment 2, would legalize cannabis for medicinal use only and impose a 4 percent sales tax. The money made from the sales tax would go toward funding health care services for veterans.
The second ballot measure, Amendment 3, would legalize medicinal marijuana and impose a 15 percent sales tax that would essentially fund a research and drug development institute.
The third and final measure voters will weigh in on is Proposition C, which would create an entirely new marijuana law, as opposed to amending the state's constitution. The law would legalize medicinal marijuana and implement a 2 percent sales tax. The tax would pay for multiple things, including veterans' services, drug treatments, education and law enforcement.
Either amendment would supersede Proposition C if it were to pass. If both amendments pass, it would come down to whichever one received the highest number of votes.
North Dakota
North Dakota legalized marijuana for medicinal use back in 2016, but now voters will have the chance to support legalization for recreational use. Not only would Measure 3 legalize the drug, it would also expunge prior marijuana-related convictions and prohibit anyone over the age of 21 from being prosecuted for a nonviolent cannabis-related offense like growing, selling or possessing pot.
If the measure is passed, there would be no limit on the amount of marijuana a resident could possess or how many pot plants they could grow on their own property. But the proposal does not include any regulations for licensing or taxing the drug, meaning that the state would not make any money off the drug's legalization.
Limiting polling in North Dakota makes it difficult to predict whether the proposal will pass. But a recent survey conducted by Legalize ND indicated that 51 percent of residents supported legalizing recreational cannabis, while 36 percent opposed the measure. Thirteen percent of residents were still undecided.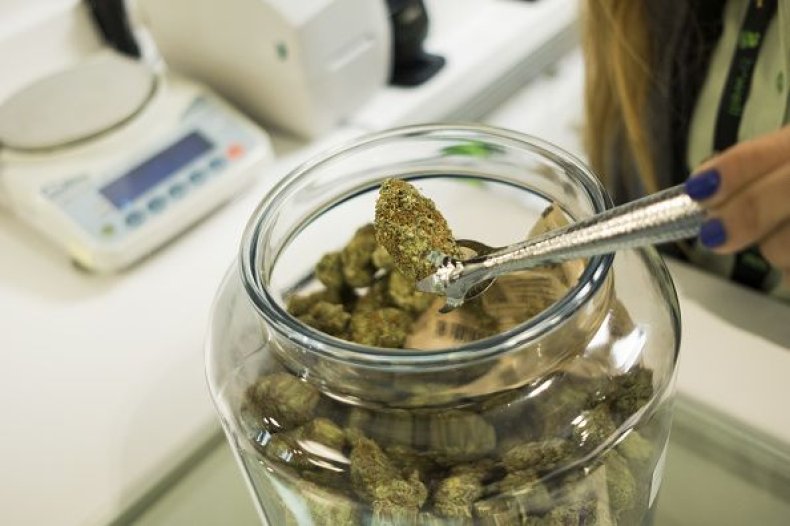 Utah
Right now, cannabis in any form is strictly illegal in Utah. But voters will have the opportunity to weigh in on Proposition 2, which would legalize medicinal use of weed for patients with qualifying health conditions like HIV, autism, epilepsy, cancer, Alzheimer's or post-traumatic stress disorder.
The proposition would only allow for the legal consumption of edibles or marijuana vapors, meaning that smoking the drug even for medicinal use would still be considered illegal.
Despite Utah being one of the most conservative states in the country, polling has suggested that the measure has a good chance of passing in the midterm elections. A poll in March estimated that 77 percent of Utahns supported the measure. But more recent poll indicated that it may be a closer call than originally expected. A Salt Lake Tribune-Hinckley Institute of Political survey from mid-October showed 51 percent of those polled approved of the initiative, while 46 percent were in opposition.