UPDATED | The legal marijuana market could blaze across the United States in 2018.
At least 12 states are poised to consider marijuana legalization this year, with more possibly joining as legislative sessions continue, making 2018 a potentially pivotal year in the burgeoning bud movement. Some states are even preparing to take unprecedented legislative steps to make marijuana—either recreational or medical—legal and more easily accessible.
"With over 60 percent of Americans now supporting the full legalization of marijuana for adults, the momentum behind marijuana law reform will not only continue but increase as we head into 2018," Erik Altieri, executive director for the National Organization for the Reform of Marijuana Laws, told Newsweek.
This is what's in the legislative pipeline for 2018:
Vermont: Recreational Marijuana—Legalized
Vermont lawmakers accomplished a landmark move for marijuana advocates in early 2018. The state boasts the first Legislature and governor to approve recreational weed, as opposed to waiting for a citizen-driven ballot initiative. Republican Governor Phil Scott privately signed the recreational marijuana law on January 22 with "mixed emotions."
The Democrat-controlled Legislature had approved recreational marijuana in May 2017, but Scott vetoed the measure. He instead ordered the creation of a bipartisan commission to study public health issues surrounding the proposed marijuana legalization, such as how to measure driving impairment and the impact on existing substance abuse problems like the opioid crisis.
"A number of states have already legalized it surrounding us," Scott said in December. "Whether we like it or not, it's here and it's being utilized, so we have to take steps to promote the general public."
Once enacted on July 1, Vermont proposal will legalize the possession of 1 ounce of marijuana and the cultivation of two mature marijuana plants for adults 21 and older. The punishment for exceeding those legalized limits would be a prison sentence of fewer than three years or a fine.
"Vermont is positioned to be the first domino of several that could fall in 2018," Marijuana Policy Project legislative analyst Matt Simon told Newsweek. "I think it always affects legislators' thinking to see that somebody else has already done this. Getting a legislature to go first has been quite a challenge."
New Jersey: Recreational Marijuana
New Jersey Governor-elect Phil Murphy has pledged to signed adult use regulation legislation within his first 100 days in office. Murphy, a Democrat, defeated incumbent Lieutenant Governor Kim Guadagno in part by championing a recreational marijuana law opposed by then-Governor Chris Christie and his administration.
That promise depends on a Democrat-led Legislature agreeing to send Murphy a bill to sign. Under a previously proposed plan from Democratic state Senator Nicholas Scutari, recreational marijuana would be legalized for adults 21 and older, and a system would be created for marijuana distribution.
Murphy pointed to marijuana legalization as a way to correct social justice imbalances in New Jersey, where police set an in-state record for marijuana possession arrests in 2015. The American Civil Liberties Union said the tens of thousands of marijuana arrests "exacerbate deep racial disparities" in the state.
Michigan: Recreational Marijuana
Through the Coalition to Regulate Marijuana Like Alcohol, advocates are aiming to put a question about recreational marijuana legalization on the Michigan ballot in 2018. Marijuana advocates submitted 360,000 signatures in November 2017 in favor of the proposal.
Organizers needed to gather 252,000 valid signatures to get the initiative on the ballot, and the group told Newsweek it is awaiting confirmation from the secretary of state's office about whether it met that goal.
Related: When will marijuana be legal like alcohol?
Marijuana Policy Project spokesman Morgan Fox told Newsweek that Michigan would likely create a system in which licensed businesses could grow and sell marijuana-infused products to adults, with a sales tax. If approved by a statewide vote, Michigan would join eight other states, plus Washington, D.C., that permit recreational marijuana consumption at 21.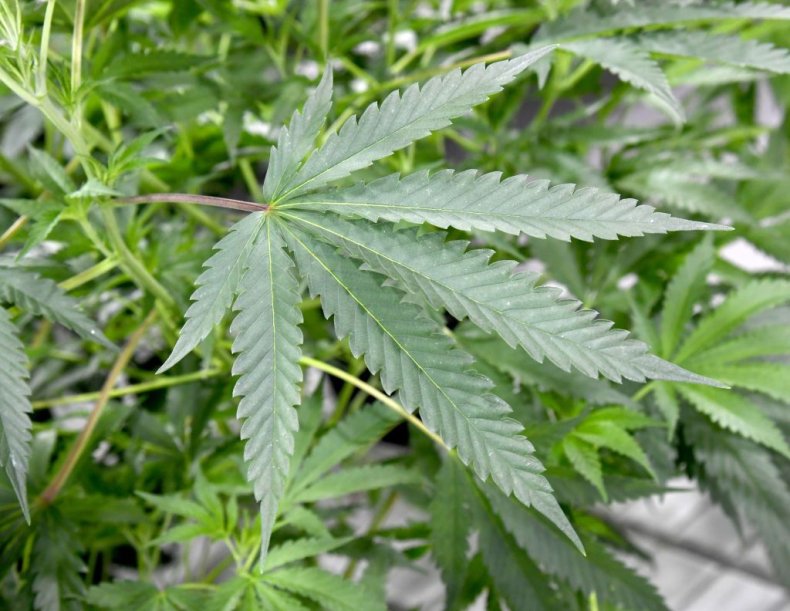 Delaware: Recreational Marijuana
A legislative task force assigned to evaluate the impact of legalizing recreational marijuana is expected to release a report in February 2018, according to the Delaware News Journal. The 25-member panel, called the Adult Use Cannabis Task Force, was created after a 2017 effort to legalize marijuana failed to clear the House of Representatives. Members were expected to evaluate the impact of a legal cannabis industry in the state.
The Delaware constitution does not allow ballot initiatives, so if the state was to legalize marijuana, it would be forced to act through the statehouse.
Rhode Island: Recreational Marijuana
Lawmakers in Rhode Island are racing to "hammer out recommendations" for recreational marijuana as nearby states like Maine and Massachusetts implement their own policies, according to Rhode Island Public Radio. The state formed a legislative commission in 2017 to evaluate the impacts of legalizing the drug recreationally. The board is expected to issue recommendations in January 2018 for creating a market.
Advocates for legalization in the statehouse are expected to introduce a bill to decriminalize possession of small quantities of pot in 2018, according to The Providence Journal. Representative Scott Slater, a key sponsor of the bill, said it should be approved before Massachusetts opens its recreational pot shops in July 2018, but leaders in the Democrat-controlled Legislature remain uncertain about legalization.
Connecticut: Recreational Marijuana
The Hartford City Council approved a resolution in 2017 to legalize recreational marijuana. The symbolic move might jolt talk of legalizing marijuana in the statehouse, where previous legislation has died. Altieri told Newsweek that advocates hope momentum in other parts of the U.S. will encourage lawmakers to give "legalization bills serious consideration."
The Marijuana Policy Project said in November 2017 that it plans to "continue the fight" in Connecticut to legalize recreational marijuana in the 2018 session.
Ohio: Recreational Marijuana
A campaign to legalize recreational marijuana is underway in this state, with signature collection expected to begin in January. A similar effort failed in 2015 after the question of legalizing recreational marijuana made it onto the ballot. The group Responsible Ohio is planning a second ballot proposal for 2018.
Oklahoma: Medical Marijuana
Voters will decide whether to legalize medical marijuana during the state's June primary or November election, depending on when Republican Governor Mary Fallin sets the date. If Oklahoma voters approve Question 788 on the ballot, the state will join the 29 other states that have already legalized marijuana for medicinal use.
The law would allow licensed patients who are 18 or older to possess up to 3 ounces of marijuana on their person and up to 8 ounces at their house, according to Tulsa World. Patients would be allowed to grow and possess six mature marijuana plants. The proposal does not specify medical conditions that qualify for medical marijuana; it would be the decision of an Oklahoma physician to prescribe the drug.
Kentucky: Medical Marijuana
Kentucky Secretary of State Alison Grimes is pushing the Legislature to send a bill legalizing medical marijuana to Republican Governor Matt Bevin's desk in 2018. Grimes, a Democrat, created a task force to draft a bill aiding veterans and patients suffering from severe illness.
"This is an issue of which I hoped the Commonwealth would have already addressed," Grimes told the Louisville Courier-Journal. "Many of Kentucky's neighbors have already legalized medical cannabis to aid and help their citizens with pain. Kentucky is behind."
There is some doubt about whether the bill could pass, since Bevin has previously expressed worry about "overdoses" from marijuana.
South Dakota: Medical Marijuana
Signatures to support a 2018 ballot initiative for limited medical marijuana legalization were submitted in November 2017. The secretary of state is reviewing the collected signatures, and the Associated Press said results are anticipated by March 2018.
If medical marijuana makes it onto South Dakota's ballot and voters approve the measure, qualifying patients could possess up to 3 ounces of the plant to treat conditions that include cancer and AIDS. A separate ballot initiative for recreational marijuana in the state was thrown out due to a writing error that was interpreted by the state to mean only marijuana paraphernalia would be legalized.
Utah: Medical Marijuana
Activists are gathering signatures for a 2018 ballot initiative to approve comprehensive medical marijuana legalization. Organizers need 113,000 signatures by April 2018 to get it on the ballot in November. The Utah Patients Coalition set a goal to collect all the signatures by January 10, according to Salt Lake City's
Fox 13 News
. Utah state lawmakers are
also considering
broadening the state's existing medical cannabis law, but previous proposals have failed in the GOP-controlled Legislature.
Missouri: Medical Marijuana
An organization called New Approach Missouri is gathering signatures for a ballot initiative to change the state constitution in favor of medical marijuana. The organization told the St. Louis Post-Dispatch that it has 100,000 of the 170,000 signatures necessary to put the initiative on a November 2018 ballot.
Two other initiatives, one backed by former state lawmakers, would accomplish the same goal in 2018.
This article has been updated to include legislative progress from Vermont.