Efforts surrounding the legalization and decriminalization of weed are ongoing, with laws involving recreational and medical use of marijuana varying by state.
Thirty-four states currently have marijuana legalized either medically or recreationally, allowing for the majority of Americans to have access to weed in one way or another.
While marijuana is still illegal on a federal level, the House passed legislation earlier this month that would decriminalize the substance and expunge nonviolent marijuana-related convictions, which have disproportionately affected low-income communities of color for years.
Since Colorado and Washington's groundbreaking legalization of recreational marijuana in 2012, 15 states and Washington, D.C., have legalized weed for adults over the age of 21, with four states—Arizona, Montana, New Jersey and South Dakota—voting to legalize weed for adults and one state, Mississippi, voting in favor of medical legalization during the 2020 election.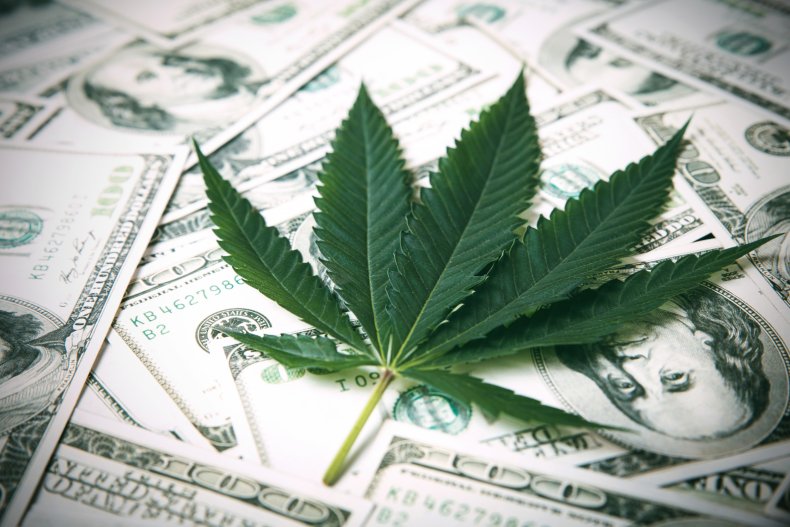 The move towards legalization isn't surprising as 68 percent of Americans say that they believe weed should be legal, according to a Gallup poll published in November. That's the highest percentage ever recorded in a national Gallup poll, with nearly 7 in 10 Americans supporting legalization. With the new year right around the corner, there's evidence that seven more states could join that ever-growing list in 2021.
New York
In January, New York Governor Andrew Cuomo included a plan to legalize and tax adult-use cannabis in the state's budget proposal for the year, which came just weeks after the governor vowed to legalize marijuana during his annual State of the State address. In February, Cuomo announced at a press event that he planned to tour legal marijuana states as part of his efforts to legalize it in New York.
However, the coronavirus pandemic, which hit the state hard in March, put those plans on hold. Cuomo cut the legalization proposal from the budget ahead of the April 1 deadline, telling reporters that there was "too much" and "too little time" to include marijuana legalization in the state.
Axel Bernabe, assistant counsel to the governor, told Canopy Growth's David Culver in an October interview that Cuomo will renew his efforts to legalize marijuana in 2021, likely adding the adult-use legalization push to New York's 2021-2022 budget, especially as neighboring New Jersey legalized weed this year.
Connecticut
At the start of 2020, Connecticut Governor Ned Lamont introduced a marijuana legalization bill that legalized marijuana use for adults 21 and older, but the proposal stalled after an abrupt halt to the legislative session due to the pandemic.
Rev. Tommie Jackson, a pastor of Rehoboth Fellowship Church in Stamford who helped the governor craft the legalization bill, told WSHU radio this month that he's confident the bill will pass next year. He says it "must be done to ensure the full and fair cooperation of all people, especially people of color" as inequality plagued the war on drugs.
Lamont told reporters at a news conference last month that, with neighboring New Jersey voting in favor of legalizing recreational marijuana and a Democratic majority in both of Connecticut's state House and Senate, he'll likely try to pass the bill again next year to ensure regional uniformity.
Pennsylvania
In order to help boost the state's economy following the coronavirus pandemic, Pennsylvania Governor Tom Wolf has called on state legislators to legalize recreational marijuana. His plan involves funding grants for small businesses through some of the revenue from marijuana sales, with 50 percent of that funding reserved for historically disadvantaged businesses.
Wolf says that other tax revenue could go towards "restorative justice programs that give priority to repairing the harm done to crime victims and communities as a result of marijuana criminalization," NPR reports.
Lt. Gov. John Fetterman also shared that he's in favor of legalization in July. In response to reports of the state's $3.2 billion deficit, Fetterman tweeted: "If only there was a widely-consumed unregulated cash crop, wholly confined to the black market, that could generate billions of dollars + 1000's of jobs + help PA farmers."
Despite the support from top Pennsylvania officials, it's uncertain whether a marijuana legalization bill would pass Pennsylvania's Republican-led legislature.
New Mexico
In January, New Mexico Governor Michelle Lujan Grisham announced her support for legalizing adult-use marijuana, citing it as "an economic development driver that would create thousands of jobs and hundreds of millions in revenue for needed public services all across the state."
The governor proposed the Cannabis Regulation Act, House Bill 160, that month, which was approved by the state's Senate Public Affairs Committee in a 4-3 vote, according to U.S. News & World Report. But in February, the Senate Judiciary Committee voted to table the bill, leaving legalization efforts up in the air until 2021.
Following the vote, the bill's sponsor, Democratic Sen. Gerald Ortiz y Pino of Albuquerque, told The Albuquerque Journal that proponents of the bill plan to try again next year.
In a February statement, Grisham said that she was "disappointed" in the committee's motion to block the legislation from advancing, but mentioned that legislators will "keep working" to get the bill passed.
Virginia
Virginia Governor Ralph Northam announced his plans to introduce legislation that would legalize adult-use marijuana in the state during a November news conference following the release of a state study that showed Virginia could generate $300 million in taxes from the sale of marijuana. Northam said he plans to work with the General Assembly on legislation while the session convenes in January, according to The Washington Post.
The Democratic governor's public support of legalization comes after the legislature passed a bill earlier this year that decriminalized the possession of marijuana, reclassifying the possession of one ounce of the substance or less to a civil penalty.
Members in the House of Delegates say that legislation legalizing adult-use would likely pass the chamber, while state Senate Majority Leader Dick Saslaw said that the odds are "slightly better than 50-50," The Virginia Mercury reports.
Texas
Marijuana legalization has been a largely discussed topic in Texas, particularly after Governor Greg Abbott signed House Bill 1325 that legalized the production, manufacture, retail sale and inspection of industrial hemp crops and products. Last month, Texas lawmakers introduced several marijuana bills ahead of the 87th Texas Legislative session in January.
Included in the long list of marijuana-related bills filed in early November is House Bill 447, which would allow residents over 21 years old to consume, transport and grow marijuana with a few limitations and also provides guidelines for marijuana businesses, licensure and distribution of cannabis.
State Senator-elect Roland Gutierrez introduced a bill that would authorize both medical and recreational use if passed.
"Texas will be facing tremendous budgetary challenges next session," Gutierrez tweeted on November 9. "My bill [SB 140] would create 30,000 new jobs for our state and produce $3.2 billion in new revenue WITHOUT raising taxes on everyday Texans! It's time to join 38 other states and #LegalizeIt!"
Rhode Island
Rhode Island Governor Gina Raimondo included a proposal in the state's budget plan late last year that would legalize recreational marijuana by setting up a system of state-controlled pot shops. But the proposal was opposed by Senate leaders, with Senate President Dominick J. Ruggerio telling The Boston Globe last year that legalization would have a "debilitating effect" on Rhode Island's youth.
Following the coronavirus pandemic and state budget deficits looming, state lawmakers have begun to consider the idea for the economic benefits, The Globe reports. Senate leaders say that they're more open to the proposal being included in the state's 2021 budget plan.