Make America Great Again by Legalizing Weed, Majority of Voters Say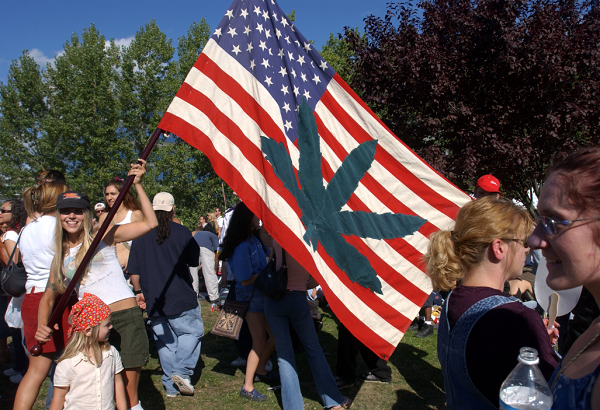 U.S. voters have an idea of what might actually improve society and make America great again: legalizing weed.
A Harvard-Harris Poll survey released Monday found a majority of voters—some 57 percent—thought making marijuana legal across all 50 states would make society better, and 69 percent of people said they wouldn't be bothered by pot being legal in their state.
Medical marijuana is legal in more than half of the country, and adults 21 and up can legally use marijuana in eight states. According to the poll, 86 percent of Americans agree that the plant should be legalized in some capacity.
Only 37 percent of Americans said cannabis should be legalized only for medical purposes, while 49 percent of voters said marijuana should be legal for both medical and recreational use. Meanwhile, only 14 percent of voters said marijuana should be completely illegal.
Attorney General Jeff Sessions has blamed drugs, including marijuana, for an uptick in crime in the U.S. And most voters—60 percent—do believe that crime is on the rise, with 40 percent saying drugs are the leading contributor to crime in America, followed by a lack of jobs and economic opportunities (33 percent) and a lack of moral values across the U.S. (32 percent). However, many aren't necessarily including marijuana among the drugs that they see wreaking havoc on the country.
"Voters point to drugs as the major source of crime and support tough sentences for drug dealers but view marijuana in a wholly different light," Harvard-Harris Poll co-director Mark Penn said in a statement. "Most think legalization of marijuana would probably be helpful in reducing crime, and almost half support legalization."
Even if marijuana is illegal, 72 percent said people caught possessing small amounts of pot shouldn't be prosecuted or face jail time because of it.
Voters' sentiments are shared by New Jersey Senator Cory Booker, a Democrat, who introduced a bill Tuesday that would not only remove marijuana from its Schedule 1 listing (under the Controlled Substances Act) but also allow offenders imprisoned for possession and use of marijuana to appeal to have their sentences reduced or eliminated. The bill, called the Marijuana Justice Act, would also give former felons the opportunity to have their marijuana-related crimes expunged from their records.
"These are charges that follow people for the rest of their lives, making it difficult for them to do things that we take for granted, like applying for a taxi cab license—something you can't get in many states even if your marijuana conviction was 10, 20, 30 years ago. Or people can't vote in certain states because of their federal marijuana charge," Booker said during a FacebookLive announcement of the bill.
Along with making marijuana federally legal, the bill aims to create an incentive pool for impoverished communities that have been particularly affected by the war on drugs and disproportionally targeted for marijuana-related crimes.
The Harvard-Harris Poll survey was conducted between July 19 and 24 and involved 2,051 registered voters.