More Americans Want Marijuana: Voters Across All Party Lines Support Legalizing Weed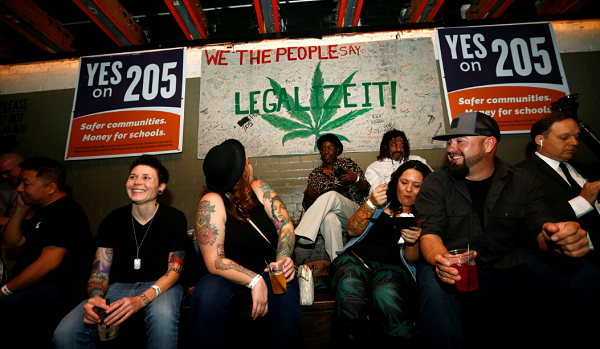 Support for legalizing marijuana is at it's highest with U.S. voters across the political spectrum—whether Democrats, Republicans or independents, according to a new poll by the General Social Survey. Although a higher percentage of Democratic voters agreed marijuana should be legal in the U.S. compared to Republican voters, overall, nearly 60 percent of Americans thought "the use of marijuana should be legal." in 2017.
The nationwide survey, which is conducted every two years, found 57 percent of Americans supported legalizing marijuana in 2016 compared to just 52 percent of the country in 2014. Support for legal cannabis has been steadily increasing among Americans since 2006 when it reached 35 percent.
Although support for legalizing medical and adult use of pot has differed over the years among political affiliations, in 2016, 63 percent of Democratic voters and 63 percent of independent voters said they "think marijuana should be legal." Although just 40 percent of Republicans backed legalizing marijuana—up just one percent from 2014's 39 percent—support for the plant has continued to increase among the party since its lowest number, 12 percent, in 1990.
Support was also up among all age groups. Just 42 percent of seniors thought weed should be legalized in 2016 and more than half of voters ages 18 to 34—66 percent—supported legal marijuana. Fifty-nine percent of people 35 to 49 and 56 percent of those 50 to 64 thought cannabis should be legal in the U.S.
The survey comes as lawmakers from Colorado introduced legislation that would not only remove cannabis' Schedule I classification under the Controlled Substances Act but would also allow the federal government to regulate the plant in a manner similar to the alcohol industry.
Despite the increasing amount of American support of support towards the end of marijuana prohibition in the U.S., marijuana opponents said measures recently introduced in non-legal states that have been denied make it clear that the country is not ready for pot to be completely legal.
"The poll shows 57 percent of people believe it should be legal, but it does not distinguish between possession and sales. We've seen that when people know what today's legalization is about – massive commercialization pushed by special interest lobbies and big business – they come out squarely against legalization," Kevin A. Sabet, president of anti-marijuana advocacy group Smart Approaches to Marijuana, told Newsweek in an email statement. "The poll also shows that when people leave college, they become less enthusiastic about marijuana. This issue has gone through many twists and turns, and it will continue to for a while–it is far from over. Recent legislative defeats for legalization in New Mexico, New Hampshire, Vermont, and Ohio show that this issue is far from settled. Ultimately, marijuana legalization is all about making a small number of investors very rich. Many of those trying to change federal law are taking money from the same special interest groups that disregard evidence-based policy by putting profits over people."
About 1,900 Americans participated in the General Social Survey, released Wednesday. The poll was conducted on a margin of sampling error of about 2.5 to three percentage points.