Accused Drug Dealer Says He Mixed Mother's Cremated Remains with Marijuana, Police Say
A man in Wisconsin arrested for dealing drugs told police he had mixed marijuana with his dead mother's cremated remains, it has been reported.
Officers had been tipped off that Austin Schroeder, 26, of Menomonee Falls and his girlfriend, Kaitlin Geiger, 21, had been selling drugs from their apartment.
A police informant was sent to the property to check it out, during which time he purchased some marijuana.
Officers returned a few days later and searched the property, uncovering 70 grams of the drug, a small amount of MDMA, bongs and a drug scale, WAOW reported.
In a police document describing a "large amount of unknown powder and vegetable material located in the apartment," Schroeder reportedly tried to explain that he "mixed these substances for a variety of reasons."
His mother had died over a year ago and he said "he took some of her ashes and mixed them with a variety of substances, some of which he ultimately ingested," WISN reported.
There is no explanation as to why he made the admission and the police complaint did not state if the cremated remains were in any of the drugs police said he had sold, the news outlet added.
Schroeder and Geiger, 21, appeared in Waukesha County Court on Tuesday and were released on bond, to return for another hearing on January 28.
Court records show that he faces charges including possession of drugs with intent to sell, possession of drug paraphernalia and maintaining a drug-trafficking place.
Among the terms of his bond, he and his girlfriend can not take controlled substances without a valid prescription, possess any drug paraphernalia or consume any alcohol.
In Wisconsin, marijuana is still illegal although in September 2019, Wisconsin lawmakers introduced a bill to push to legalize medical cannabis.
Sale or delivery of 200 grams or less of the drug can result in at three-and-half-year jail term and a maximum fine of $10,000, according to the marijuana lobbying website, Norml.
Some 33 states have legalized medical marijuana and 11 have approved adult recreational use.
Governors in New York, New Mexico, Vermont, Connecticut, Pennsylvania and Rhode Island support recreational cannabis use and these states—except for Rhode Island—are either considering legislation or intend to draft bills in 2020 to look at changing the law.
The graphic below, provided by Statista, illustrates in whcih states marijuana is legalised.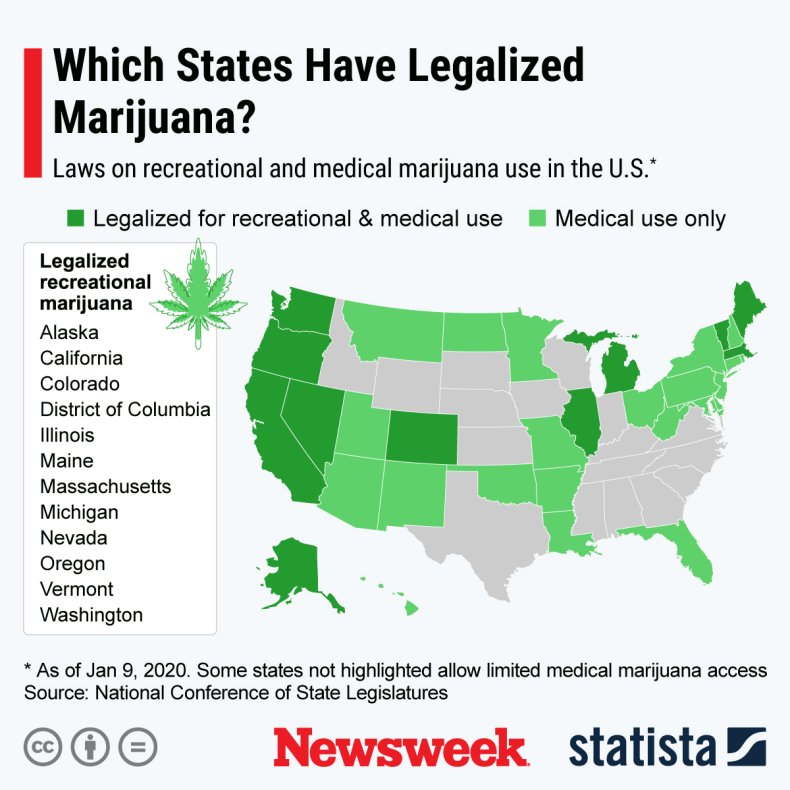 Last month, police in St. Petersburg, Florida, arrested a man for handing out free marijuana to passers-by "because it was Christmas." Richard Ellis Spurrier, 67, was charged with possession of drug paraphernalia and possession of marijuana with the intent to distribute.