What Happens to K-9 Police Dogs When Marijuana Is Legalized? Euthanasia Claims Spark Outcry
A county official who trains police dogs in Illinois created a firestorm on social media earlier this week when he predicted that legalizing marijuana in his state would lead to the euthanization of existing K-9 service dogs.
Several dog trainers have since pushed back against those claims, telling Newsweek that euthanizing dogs conditioned to respond to the smell of cannabis would be "absurd" and "ridiculous."
The fracas started on Tuesday, when Macon County Sheriff Howard Buffett—son of billionaire Warren Buffett—claimed in an interview that entire units of K-9 officers would have to be replaced if voters approve legalizing marijuana, as they are on the cusp of doing in the next election.
"The biggest thing for law enforcement is, you're going to have to replace all of your dogs," Buffett is quoted as saying in The Pantagraph, a local newspaper. "So to me, it's a giant step forward for drug dealers, and it's a giant step backward for law enforcement and the residents of the community."
Chad Larner, training director of the K-9 Training Academy in Macon County, Illinois, went a step further and told The Pantagraph that many of the state's 275 dogs may have to be euthanized if voters approve recreational pot use. Larner and Buffet, neither of whom responded to Newsweek's request for comment, have since attempted to walk back those claims.
However, boosted by Reddit and Twitter, those initial statements have continued to bounce around online, infuriating animal rights groups and even fellow dog trainers in states where recreational marijuana is already voter-approved. Although there is a concern that using previously trained dogs in cannabis-friendly states could lead to evidence being thrown out in court, it hasn't led to euthanization, the dog trainers told Newsweek.
"It's asinine. I fell out my chair when I saw that. It's just...it's insane," said officer Marcell Patterson, the canine coordinator for the Oakland Police Department in California. When asked if any dogs had been euthanized as a direct result of legalization, he emphatically said no and described it as a "ridiculous" proposition.
The dogs may have to be reassigned or retired, he said, but typically they go on to lead long lives with their handlers.
"Let's get one thing straight: the handlers love their dogs," he said. "I've never seen a case where a handler didn't want their dog. Even if for some reason the handler didn't want the dog or couldn't care for the dog after retirement, we would ultimately find a dog another home. Putting the dog down has never been an option."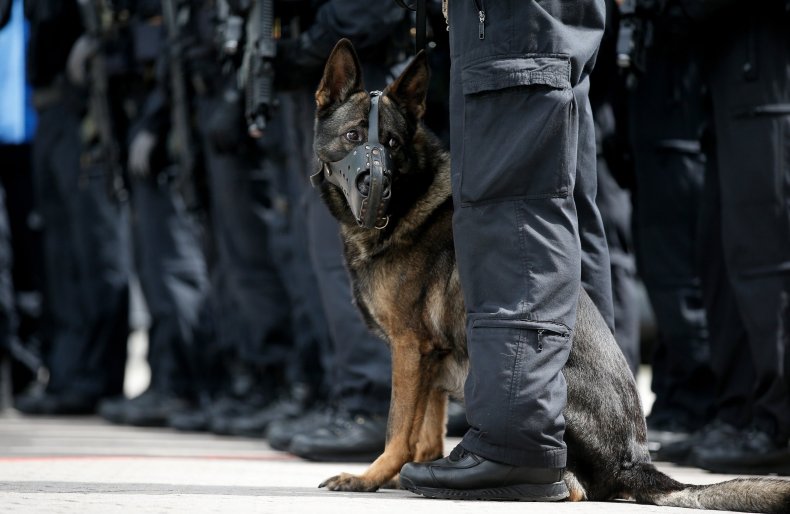 Patterson said that some changes have been made to training since legalization, and conceded that reconditioning a dog to ignore marijuana is a difficult, lengthy and sometimes futile process. But, he reiterated, If a dog cannot be retrained, he or she is placed into retirement—not killed.
Both the Seattle Police Department and the Denver Police Department have also denied using euthanasia to weed out dogs that respond to cannabis. In interviews with Newsweek, two other independent K-9 handlers denied rumors that euthanasia has already been used to weed out marijuana-responsive dogs.
"It's absolutely, unequivocally not true," said Mark Rispoli, general counsel for the California Narcotic Canine Association, when asked if euthanization was used. "The dogs are either being retired or placed in a situation where marijuana is still illegal to possess. For example, jails, prisons and other correctional facilities."
Through his work, Rispoli has become familiar with dog training in Oregon, Washington and Colorado. He said he's never heard about cases in those states, either.
"Again, it would be the most absurd thing I've ever heard," Rispoli concluded.
If Illinois legalizes recreational pot use in the next election, it will join nine other states and Washington D.C. in approving weed. State legislators have inched closer to putting the issue before voters, while a referendum in Cook County showed that 68 percent of voters supported the idea of legalization.