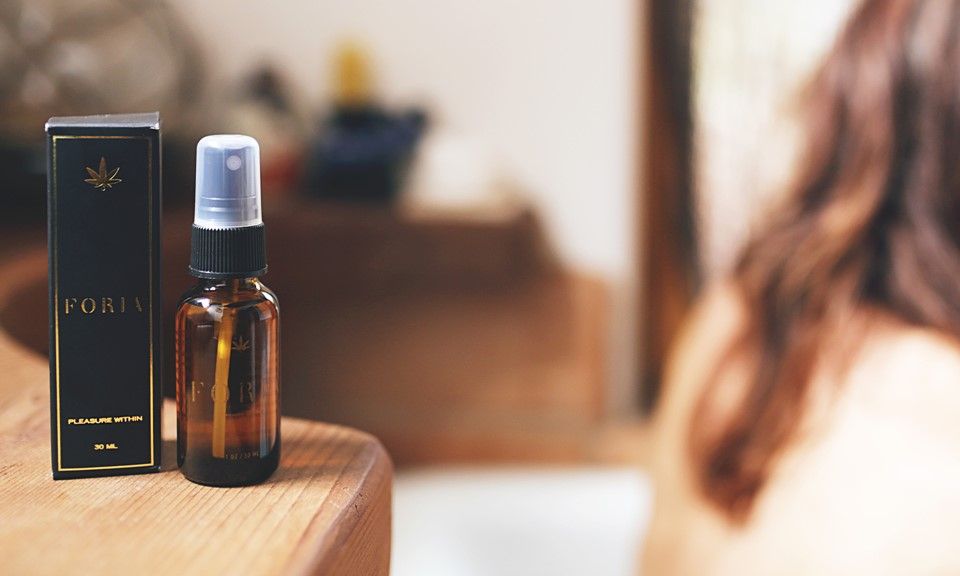 There's a lot of information out there about how marijuana can affect the psychological side of sex, or how if you get high regularly you're probably having more sex than people who aren't. But what about how weed can change your sex life on a physical level?
There are a number of conditions that can cause sex, penetrative or otherwise, to be too painful for women to engage in, like vulvodynia or vaginismus. For some women, products like cannabis lube can help even when nothing else can. Ashley Manta, creator of CannaSexual®, claims cannabis oil spray allowed her to have sex without experiencing physical pain.
Manta runs events and educational workshops, and has suggested cannabis products like CBD-containing topical ointments, to help with female pain. Like with many medical applications of marijuana, using it for sexual pleasure does not necessarily mean you get high while doing so. Products that emphasize CBD, as opposed to the better-known psychoactive THC, have pain-reducing and anti-inflammatory properties that can be harnessed without changes to the user's mental state.
"I'm most excited about THC and CBD infused topicals, because they're the most accessible to novices," Manta told Newsweek by email. "Foria was the first company I saw marketing its products specifically for genital application, with Pleasure, its THC-infused coconut oil spray for vulvas. The market has now expanded to include a variety of genitally-focused oil based formulations and most recently, a water based (and thus latex friendly) option."
It's hard to gauge how much scientific support there is for these products since marijuana itself remains a Schedule-1 substance, and so is difficult to study. But anecdotal evidence from their purveyors is encouraging. Manta finds women with a variety of physical conditions and disabilities have success experimenting with combinations of products like topical ointments and lotions, vaporizers, and edibles.
"The expansion of medical cannabis legalization means more opportunities for access and regulation," Manta wrote to Newsweek. "I want consumers to be able to trust that the products they're putting in their bodies are free of contaminants and have lab test results with a cannabinoid and terpenoid profile breakdown. That kind of data provides the opportunity to mindfully and intentionally experience cannabis, with precise dosing and a clear sense of how to choose the right products for your needs (sexual or otherwise)."
Foria Pleasure, which makes products like cannabis lube, also makes cannabis suppositories. They're sometimes known as "weed tampons," but their purpose is actually to manage the pain associated with menstrual cramps; Manta said they're a "game-changer." Whoopi Goldberg has a line of cannabis-based PMS products, too. Another company, hmbldt, sells vape pens designed for "relief" from pain during sex. And then, of course, you've got your cannabis condoms.
The medical marijuana movement has the potential to revolutionize the sex lives of many women for whom there have been no other options, or at least none that actually worked. Beyond vaginal conditions, marijuana-based products can help people whose sex life has been compromised by any number of things from spinal cord injuries to arthritis.
"Decreased stress and anxiety, improved mood--these are proven effects of cannabis and factors that make sexual connection easier," Manta continued over email. "Anyone can score an eighth of mystery flower from a dealer, take it home, smoke it, and have sex. My approach is knowing where you want to go, what you're putting in your body, how much to use, and evaluating how effective it was in getting you there."
Uncommon Knowledge
Newsweek is committed to challenging conventional wisdom and finding connections in the search for common ground.
Newsweek is committed to challenging conventional wisdom and finding connections in the search for common ground.
About the writer
Kastalia Medrano is a Manhattan-based journalist whose writing has appeared at outlets like Pacific Standard, VICE, National Geographic, the Paris Review Daily, and Real Life magazine. Her RTs = unwavering personal convictions @kastaliamedrano.