Need Period Relief? Women Could Smoke Weed for Cramps If Medical Marijuana Bill Passes in New York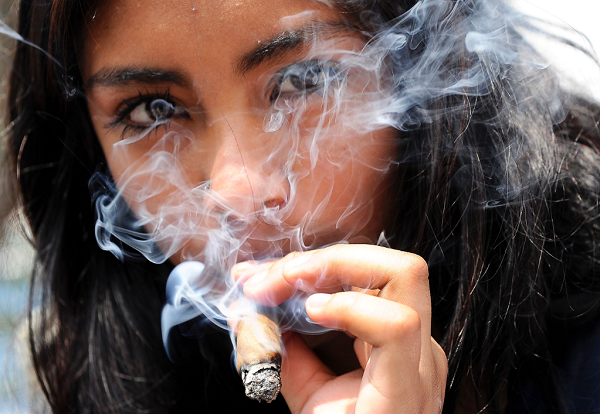 The pain creeps in slow and unexpectedly. Initially, it's a subtle discomfort, like the prick of a needle stabbing away at your stomach. As the minutes pass by, the discomfort can develop into a crippling pain, making even simple tasks such as standing up straight seem utterly unbearable.
That dreadful feeling has a name: Dysmenorrhea—the medical term for severe period pain commonly referred to as cramps. And it's something experienced every month by hundreds of women all across America.
While over the counter medicine like Midol can be helpful for many women, some 20 percent of women who suffer from cramps caused by their menstrual cycles each month experience such extreme dysmenorrhea that they can't perform daily actives like getting out of bed and going to work, according to the American Academy of Family Physicians.
Now, relief may soon be on the way. The New York Assembly's Health Committee passed an initiative Tuesday that would add dysmenorrhea to the list of conditions necessary to qualify for medical marijuana use. If it becomes law, everyday women suffering from intolerable period pain could have legal access to pot with a medical marijuana card.
"This is a woman's health issue and for years women have suffered in silence. There's Midol. You can take Advil, but really nothing more," Assemblywoman Linda Rosenthal, a Democrat, who introduced the bill, told Newsweek during a phone call Wednesday. "Men have really been [the ones] who've run state houses, governorships, presidencies, and some issues that are just about women have gotten shortchanged and that's because it's not in men's everyday consciousness."
The measure, called Assembly Bill 582, was approved in a 21-2 vote by the committee and it's headed to the Assembly floor next. It would also need the OK from the New York Senate and Governor Andrew Cuomo.
The bill's only pushback so far came from two Republican Assembly members—both men—but Rosenthal is confident that members of the Senate would be more understanding of how helpful medical marijuana, a drug that people suffering from various types of chronic pain can legally use in New York, can be for women during menstruation, too.
"There is some mild discomfort for some, but some women can't leave their bed for a week," Rosenthal said. "People are starting to understand that medical marijuana is a useful tool to relieve suffering and women's suffering from severe menstrual cramps."
In New York, only people suffering from cancer, HIV infection or AIDS, amyotrophic lateral sclerosis (ALS), Parkinson's disease, multiple sclerosis, spinal cord injury with spasticity, epilepsy, inflammatory bowel disease, neuropathy, Huntington's disease or chronic pain can get access to medical marijuana—not everyday women who naturally have periods and experience the pain that sometimes comes along with it each month.
Rosenthal has become known as a champion for women's issues. She worked last year to get a bill that removed sales taxes on feminine hygiene products signed into New York law, and she's at the helm of passing another bill that would make feminine hygiene products free for women in prisons, homeless shelters and schools. For Assembly Bill 582, she is getting some extra help from a highly regarded medical marijuana advocate, who just so happens to be a well-known movie star and co-host of the daytime talk show, The View.
"I met with a force of a woman named Whoopi Goldberg, and she's been a longtime expert on medical marijuana. I met with her and spoke with her, and she's been passionate about easing women's suffering by using medical marijuana," Rosenthal said. "I thought this was a great opportunity to create an impact with a passionate supporter and help women access something new that can help relieve what cripples some of them during that time of the month."
Goldberg introduced her own line of medical cannabis products in 2016 to combat menstrual pain with cannabis industry leader Maya Elisabeth. Under their Whoopi & Maya brand, women in legal marijuana states are able to receive pain relief with a cannabis bath soak, cannabidiol (CBD) and beeswax-infused body balm and organic and raw cocoa infused with either THC or CBD.
Although the bill has a few more steps to go before women could potentially be prescribed medical marijuana for cramps in New York, Rosenthal said the high support so far for the measure is a good sign it could pass into legislation.
"I think we're a progressive state. It did take 20 years to get medical marijuana to be the law," she said," but we're going to work hard to get it passed."
"And I'm sure many women will vouch for what they have to go through each month."