Marilyn Manson Abuse Accuser Backtracks: Evan Rachel Wood 'Manipulated' Me
A model who had accused Marilyn Manson of sexual abuse has rescinded her allegations against the musician—and accused his ex, Evan Rachel Wood, of having "manipulated" her into leveling the accusations.
Back in 2021, Ashley Morgan Smithline sued Manson, born Brian Warner, for sexual assault, sexual battery, intentional infliction of emotional distress, and unlawful imprisonment. Manson has repeatedly denied all allegations against him.
In January, Smithline's lawsuit was dismissed without prejudice by a Los Angeles judge. The complainant failed to choose to either represent herself or hire new legal representation following the departure of her attorney, Jay Ellwanger.
In a new sworn statement filed in Los Angeles Superior Court and obtained by Newsweek, Smithline has claimed that she was pressured by Westworld star Wood and others to go public with allegations that she has now declared "false."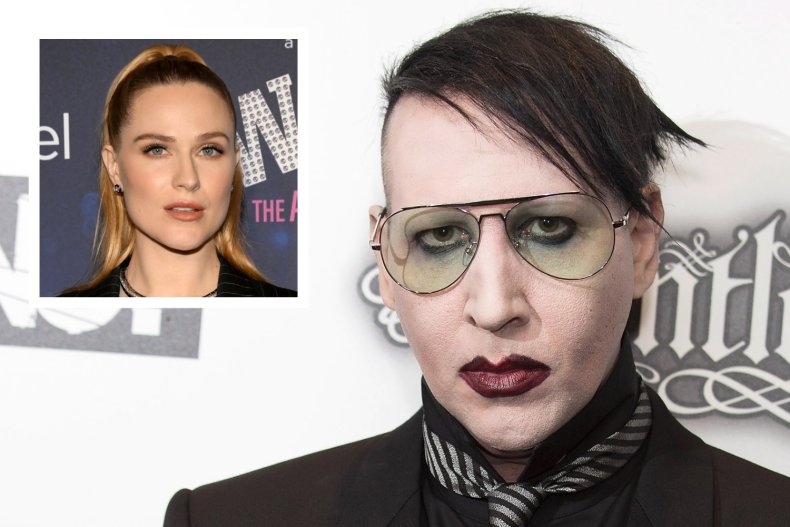 "I succumbed to pressure from Evan Rachel Wood and her associates to make accusations of rape and assault against [Manson] that were not true," she wrote in the declaration, which was filed on Thursday.
Smithline has alleged that she was "repeatedly gaslit" by Wood, 35, and other women. These include Manson's former assistant Ashley Walters, who sued the musician for sexual assault, battery, and harassment in 2021; Game of Thrones actress Esmé Bianco, who also filed a lawsuit against Manson; and Wood's girlfriend Illma Gore.
According to Smithline, she had a "brief, consensual sexual relationship" with Manson, 54, back in November 2010. Ten years later, she said, she was contacted by either Walters or Gore to take part in a group meeting of women who claimed to have had "relationships or experiences" with Manson.
"During my conversations with [Wood], she described acts allegedly committed by [Manson] against [Wood] and other supposed victims and asked me whether the same things happened to me," Smithline wrote. "I remember she asked me whether I had been, among other things, whipped, chained, tied up, branded/cut, assaulted while sleeping, beaten, or raped.
"She said all of these things happened to [Wood] and others, and that when [Wood] was with [Manson] every moment was a moment of survival. When I said, no this did not happen to me and this was not my experience, I recall being told by [Wood] that just because I could not remember did not necessarily mean that it did not happen."
Smithline went on to state that while she knew that Manson "did not do these things to me, I eventually I began to question whether he actually did." She added that she was told by the women that she "may just be misremembering what happened, repressing my memories of what happened, or that my memories had not yet surfaced—which they said happened to people against whom these acts were perpetrated."
"Eventually, I started to believe that what I was repeatedly told happened to Ms. Wood and Ms. Bianco happened to me," Smithline stated in the declaration.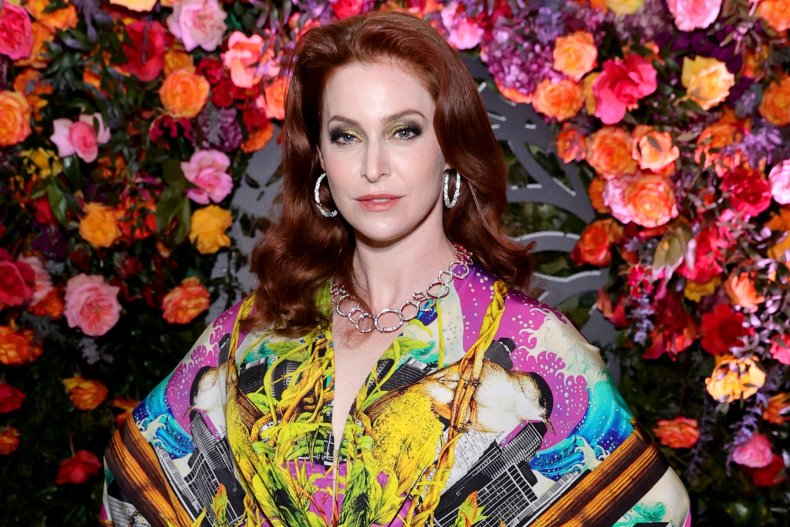 A representative for Wood has denied Smithline's allegations, telling People in a statement: "Evan never pressured or manipulated Ashley. It was Ashley who first contacted Evan about the abuse she had suffered. It's unfortunate that the harassment and threats Ashley received after filing her federal lawsuit appear to have pressured her to change her testimony."
Elsewhere in her declaration, Smithline said that she was encouraged by Wood to join her in going public with her allegations against Manson, which she did in an Instagram post shared in February 2021. Smithline now states that the public statement—allegedly written by Gore—and her lawsuit "contained untrue statements" about Manson, "including that there was violence and non-consensual sexual activity."
She also said that Manson had never cut or branded her body, as had previously been claimed in her lawsuit. It was filed at a time that several women came forward with similar allegations against the shock rocker.
Smithline stated that she "never intended to pursue criminal charges" against Manson. She was not shown the contents of her civil complaint before it was filed by her attorney Jay Ellwanger. She also alleged that she felt "pressured" by the lawyer into going on a press tour with her allegations.
"Looking back, I feel I was manipulated by Ms. Wood, Ms. Gore, Ms. Bianco, and Mr. Ellwanger to spread publicly false accusations of abuse against [Manson]," Smithline concluded in her declaration.
Ellwanger told Newsweek his response is "constrained by ethical obligations regarding client confidentiality." However, he added that claims he pressured Smithline and did not show her details of the civil complaint "are categorically and verifiably false."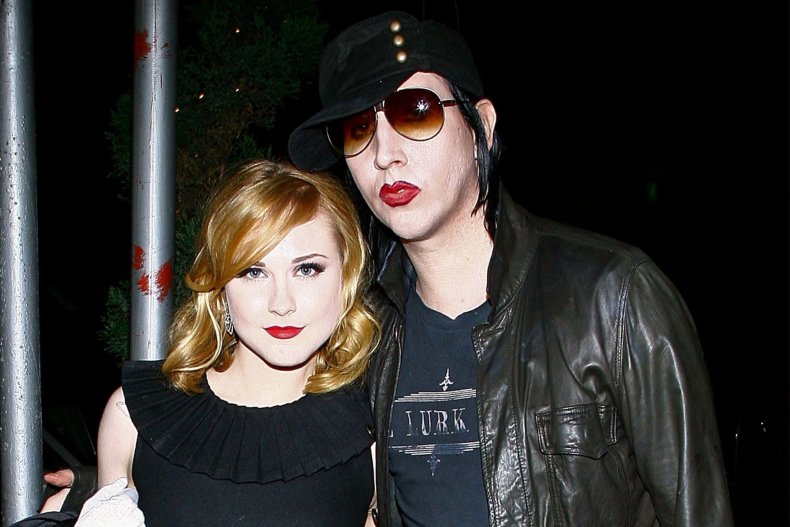 Wood first publicly named Manson as her alleged abuser in a post on Instagram on February 1, 2021, in which she said Manson had "horrifically abused [her] for years" and said she was "brainwashed and manipulated" by him.
On the same day that Wood named Manson publicly, four other women also came forward. They accused the musician of sexual and physical violence, as well as mental, physical and emotional abuse.
In May 2022, a Los Angeles judge dismissed a lawsuit filed by Manson's former assistant Walters. She had initially sued the musician in May 2021, alleging sexual harassment, abuse, sexual battery, intentional infliction of emotional distress and wrongful termination in May 2021, per court documents.
Los Angeles Superior Court Judge Michael L. Stern stated "plaintiff has plead too few facts to keep this case in court, and too late." The case was dismissed with prejudice, preventing Walters from suing her former employer again over the same allegations.
Walters' attorney Tanya Sukhija-Cohen had said in court that her client, who worked for Manson between 2010 and 2011, "couldn't exercise her claims because she was unaware they occurred until the memories came back." Walters attended a support group meeting with other women who have accused Manson of abusing them.
Bianco also filed a lawsuit against Manson and his record label in 2021. She accused the star of sexual abuse, assault and battery, and human trafficking. Both parties agreed to settle the lawsuit in January 2023.
In March 2022, the legal team representing Manson announced that a defamation lawsuit had been filed against Wood and "her on-again, off-again romantic partner" Gore in Los Angeles Superior Court.
Manson's attorney Howard King told Newsweek at the time: "This detailed complaint has been filed to stop a campaign of malicious and unjustified attacks on Brian Warner.
"Years after the end of Evan Rachel Wood's long-term relationship with Warner, she and her girlfriend Illma Gore recruited numerous women and convinced them to make false allegations against him—claims that Wood and Gore scripted for them."
Wood and Manson first met when she was 18 and he was 37, and their relationship became public in 2007. They became engaged in 2010, but broke up shortly thereafter.
In 2018, Wood first spoke about the alleged abuse she experienced when testifying in front of U.S. Congress during a hearing of the House Judiciary Subcommittee on Crime with fellow activists. However, she did not name Warner at the time.
Wood then testified in April 2019 in front of the California Senate Public Safety Committee to pass The Phoenix Act. That was a bill that called for the statute of limitations for domestic-violence survivors in the state to be extended from two to four, years to 10 years.
On February 2, 2021, a day after Wood publicly named him as her alleged abuser, Manson shared a statement on social media in which he said: "Obviously, my art and my life have long been magnets for controversy, but these recent claims about me are horrible distortions of reality.
"My intimate relationships have always been entirely consensual with like-minded partners. Regardless of how—and why—others are now choosing to misrepresent the past, that is the truth."
Newsweek has reached out to representatives of Manson, Wood, Gore, and Ellwanger for comment.