Marilyn Manson Cuts Interview Short When Asked About Rumors of Abusing Evan Rachel Wood
After Marilyn Manson hung up on an interviewer from Metal Hammer magazine, his PR team released a statement to defend the goth metal star's actions. The statement went into great detail defending Manson while also criticizing the UK publication for not taking the opportunity to ask more about his music and instead focusing on allegations about his personal life.
The turning point in the conversation came when Evan Rachel Wood was brought up. Manson had a high profile relationship with the Westworld actress for a few years--first going public together in January 2007, becoming engaged briefly in 2010, and then breaking up months afterward. In February 2018, Wood testified before the United States House Judiciary Subcommittee on Crime, Terrorism, Homeland Security and Investigations as a domestic violence and rape survivor, and the Metal Hammer reporter asked Manson how he felt about the testimony. (Given the timeline of what's known about Wood's personal life, many people have speculated that Manson was her unnamed abuser.)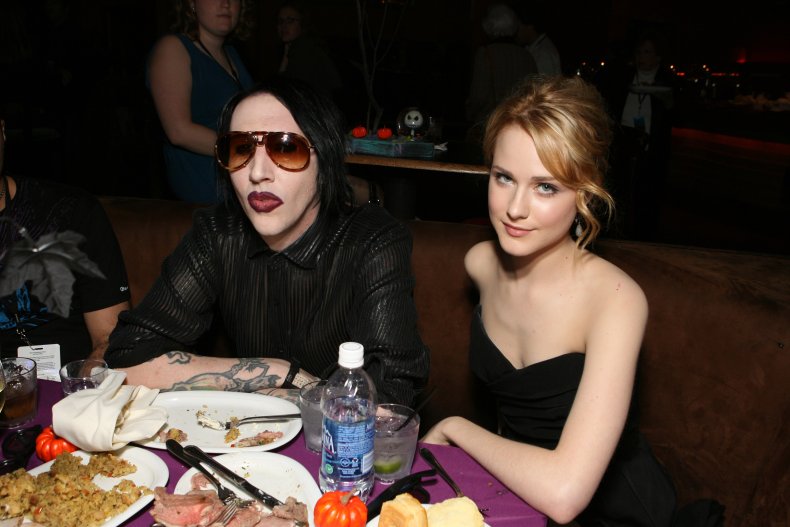 When Wood was brought up, Manson, who was talking with the magazine to promote his newest album (We Are Chaos) allegedly hung up the phone and wouldn't respond to repeated attempts to reconnect or reschedule the interview. Finally, Metal Hammer posted a series of questions online they would like Manson to answer.
These questions go into further detail about Wood's testimony, song lyrics interpreted to be about their relationship, and mention a 2009 Spin interview where Manson recalls cutting himself with razor blades after their breakup. The same Spin article also contained this quote from Manson about Wood: "I have fantasies every day about smashing her skull with a sledgehammer."
In the statement his team released, those comments were downplayed as being made for shock value and mentioned the two were engaged after the interview took place.
Here's the passage of the statement in question:
"Your next couple of points deal with comments Manson made in Spin magazine in 2009. Your confusion around the timeline of this is extremely worrying. The comments in Spin where Manson had a fantasy of using a sledgehammer on Evan and he cut himself 158 times was obviously a theatrical rock star interview promoting a new record, and not a factual account. The fact that Evan and Manson got engaged six months after this interview would indicate that no one took this story literally."
Another question from Metal Hammer brought up another one of the singer's famous exes, Rose McGowan, and her involvement in the #MeToo Movement. The magazine specifically wanted to know that "with at least three of his ex-partners claiming to have suffered abuse at the hands of men who then intimidated them into silence, does he stand in support of them?"
Taking this inquiry as further baiting, the statement to the magazine countered that Manson remains friends with McGowan, while also adding: "You fail to mention Manson's ex-wife Dita Von Teese, who remains good friends with Manson." The statement goes on to quote Wood from a 2015 interview with NetAPorters.com, in which she said, "I wouldn't trade any of [our relationship]...I appreciate everything he taught me. I just don't think we were right for each other."
Manson's PR statement concluded with the following: "Unfortunately, we live in a time where people believe what they read on the Internet, and feel free to say what they want with no actual evidence. The effects can be catastrophic and promoting non fact based information is wholly irresponsible. All we can try and do, as the media and individuals, is to use facts and truth and not hide behind gossip and conjecture to further our own agendas."
His UK PR representative also told Metal Hammer, "We have advised our client not to comment further on your article." Wood has not addressed the issue as of press time.