Who is Ashley Walters? Marilyn Manson's Former Assistant Sues for Sexual Assault
Marilyn Manson's former assistant has sued the musician for sexual assault, battery and harassment.
Ashley Walters, per court documents obtained by The Cut, alleges that Manson physically and psychologically abused her while she was employed as his assistant.
Manson's team has denied the allegations. Newsweek has reached out to his representatives for comment.
Walters, 37, is one of at least 15 women including actresses Evan Rachel Wood and Esme Bianco to reportedly make serious allegations against Manson—which he has denied.
The lawsuit was filed on Tuesday (May 18) in the Superior Court of Los Angeles County.
Walters' attorneys wrote that the singer—given name Brian Warner—"used his position of power, celebrity and connections to exploit and victimize" his then staff member.
The filing claims that Manson "used his position of power, celebrity and connections to exploit and victimize" Walters and that he "lured Ms Walters into employment with promises of artistic collaborations and creative opportunities."
Walter's lawyers added that Manson "was looking to create an environment where [Walters] was subjected to personal and professional sexual exploitation, manipulation and psychological abuse."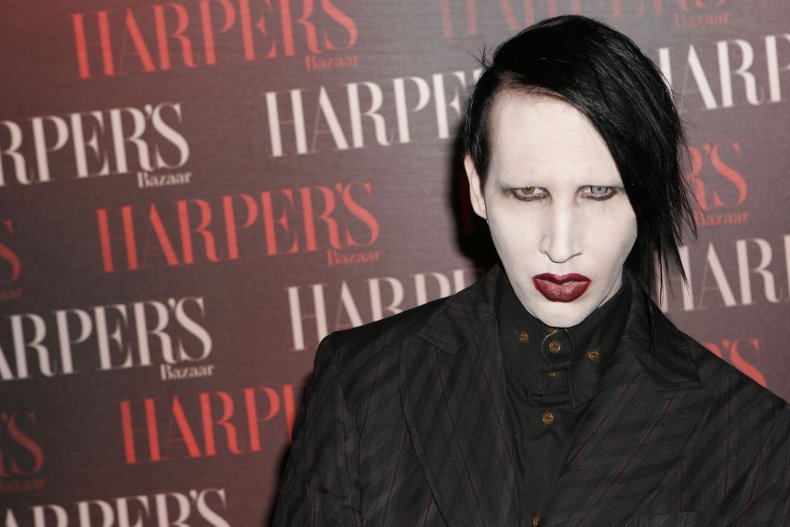 Who is Ashley Walters?
Walters met the singer in 2010, when she was aged 26, according to the complaint seen by The Cut.
Manson initially contacted her via the social media platform, MySpace, to compliment her photography work, court documents state.
Walters said she visited his Hollywood home to look at his paintings and discuss collaboration, and was told she couldn't leave at 2 a.m. because the lot where she had been told to park her car was closed until morning.
Filings claim that after a photoshoot that night, in which he asked her to remove her shirt, Manson "moved behind Walters and bit her ear while grabbing her hand and placing it in his underwear."
Three months later, the singer offered Walters the role of personal assistant, promising to double her salary at the time and that the opportunity would include travel and art projects.
The lawsuit includes allegations that Manson "commonly offered Walters up to his influential industry friends and associates."
It alleges that an awards show in September 2010, Manson "pushed Walters onto the lap of an actor and bragged that he could 'have her.'"
"It made me feel like I was his property," Walters told The Cut. "It just made me feel like a piece of meat."
The lawsuit claims that Walters worked for Manson for about a year and was in a constant state of fear over Manson's temper. She says she was often expected to work for 48 hours straight.
Manson was dropped by his record label in February following claims made by actress Evan Rachel Wood that the musician "horrifically abused" her during their relationship.
Wood reposted accusations made by Walters to her Instagram stories back in February.
"Brian Warner aka Marilyn Manson reached out to me on social media in 2010, asking if we could collaborate on a photo shoot together. As a photographer and admirer of his work, I was excited for the opportunity," Walters wrote, per US Weekly. "It felt like I was his property because [he] would offer me up for sexual encounters to please potential collaborators or friends and bragged that he could do so."