Marilyn Manson Sues Evan Rachel Wood for Documentary, but Not Director, HBO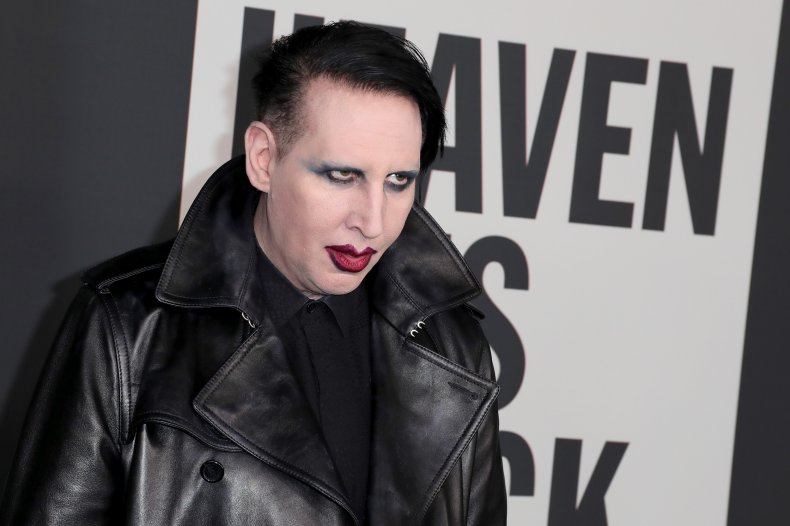 Rock star Marilyn Manson has filed a defamation lawsuit against actress Evan Rachel Wood for accusing him of sexual abuse, although he did not sue the director of an upcoming HBO documentary that details the allegations.
Wood and other women accuse the shock rocker, whose real name is Brian Warner, of multiple instances of sexual assault in the documentary Phoenix Rising, which is set to air on HBO on March 15. According to a complaint obtained by Newsweek and filed in court on Tuesday, attorneys for Manson wrote that his portrayal as a "rapist and abuser" was "a malicious falsehood that has derailed [his] successful music, TV, and film career."
Neither HBO nor Phoenix Rising director Amy Berg were named in the lawsuit. The suit alleges that Wood and "her on-again, off-again romantic partner" Ashley Gore "secretly recruited, coordinated, and pressured prospective accusers to emerge simultaneously with allegations of rape and abuse against Warner." They were also accused of circulating a letter that impersonated an FBI agent while falsely claiming that a federal investigation was underway.
In addition, Gore is accused of "swatting" Manson by calling the FBI and claiming to be a "friend" who was concerned that there was an "emergency" at his house. The suit claims that Manson and Gore had never met and that the call resulted in a large number of police officers being sent to his home, where there was no emergency.
"This detailed complaint has been filed to stop a campaign of malicious and unjustified attacks on Brian Warner," Manson's attorney Howard King said in a statement obtained by Newsweek. "As part of their plot, Wood and Gore illegally forged a letter impersonating an actual FBI agent and falsely claiming that she was conducting a criminal investigation of Warner."
King said that the letter was used to "convince others to join their crusade" as well as "to dupe HBO into distributing a one-sided 'documentary' premised on the existence of an entirely fictitious federal investigation."
"Even though HBO and the producers have been made aware of these serious acts of misconduct, they have thus far chosen to proceed without regard for the facts," he said.
King told Deadline that HBO and Berg were not sued because they were "also victims of Wood and Gore" and had been coerced into "making a documentary based on false claims and fraudulent documents."
Wood and Manson met in 2006, when she was 18 and he was 38. They ended their relationship not long after getting engaged in 2010. Last February, Wood alleged Manson had "horrifically abused" her for years and began "grooming" her when she was a teenager. Manson has denied the allegations on multiple occasions.
The HBO documentary focuses on the allegations against Manson as well as the Phoenix Act, a nonprofit organization that Wood founded to help victims of abuse and lobby for laws that would extend the statute of limitations to file charges over abuse accusations.
Newsweek reached out to HBO and representatives for Wood and Berg for comment.