Marilyn Monroe Dress Damage Revealed in Before-and-After Photos
Kim Kardashian shocked the world during this year's Met Gala when she wore Marilyn Monroe's famous "Happy Birthday Mr. President" dress. But fans were surprised all over again this week when the garment was revealed to have sustained significant damage after being worn again.
Now there appears to be further impairment to the memorable outfit, with before-and-after pictures showing ripped fabric and missing beading not just on the back of the dress, but also on the delicate straps.
The iconic gown was famously worn by Monroe in 1962, the same year she died, when she serenaded then-President John F. Kennedy.
Created from a sketch by Bob Mackie for costume designer Jean Louis, the nude-colored crystal-embellished dress was won at auction in 2016 by the Ripley's Believe It or Not museum, which loaned it to Kardashian for last month's Met Gala.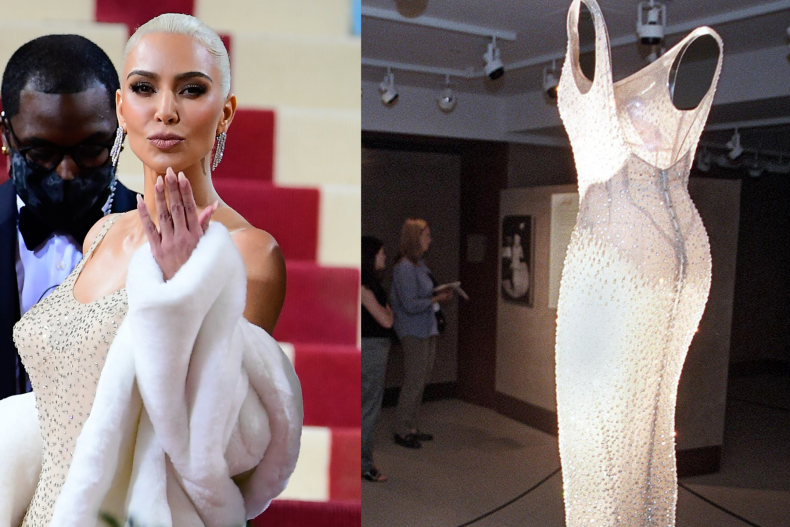 The museum has faced heavy scrutiny in recent days for loaning the dress out to be worn.
On Tuesday, a collector of Monroe's personal property and archives, Scott Fortner, released images of the dress since it was worn by Kardashian, sparking outrage.
The photos show tears along the back closure of the dress as well as missing crystals and sequins.
Now Fortner has shared new images of the damaged straps, which appear to be held to the mannequin with a pin and are also torn with crystals missing.
Fashion watchdog Diet Prada shared the before-and-after photos on their Instagram account in a post that has clocked up to nearly 90,000 likes.
In his own Instagram post, Fortner wrote: "A comparison of before and after photos with crystals perfectly aligned. And yes, it's the same dress in before and after photos."
Newsweek has contacted Ripley's for comment.
Speaking to PA Media earlier this week, Fortner said he felt that Ripley's decision to loan the dress to Kardashian was "irresponsible."
"This is not just a dress. This is a cultural icon. It's a political icon. It's a Hollywood icon," he said.
"It's part of American history from an event that happened 60 years ago and...it should have been archived and preserved and taken care of."
He added: "I think a lot of people are really kind of coming down really hard on Kim Kardashian and that's not my attempt here.
"It's the most famous dress in the world."
Prior to the museum loaning the dress to Kardashian, it had been stored in a temperature-controlled vault and went for almost $5 million at auction.