Marilyn Mosby, the Freddie Gray Prosecutor, Centerstage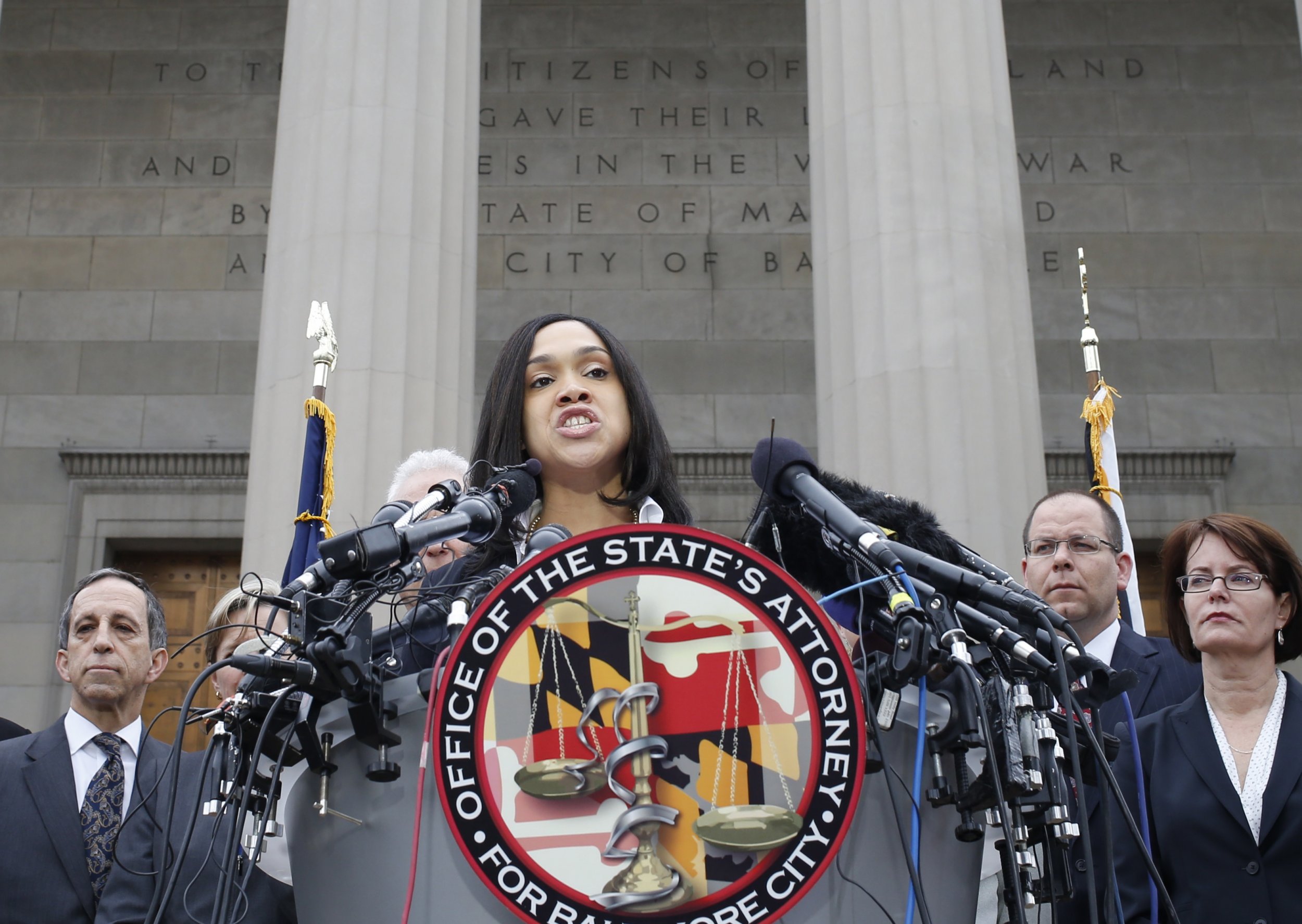 Marilyn Mosby finds herself in headlines and broadcasts across the country this week as the Baltimore City state's attorney handling the Freddie Gray case. Gray, a 25-year-old African-American man from the Gilmor Homes neighborhood of Baltimore, died of a spinal injury while in police custody on April 19. At a press conference Friday, Mosby announced charges against six officers involved in Gray's case.
Mosby is 35 years old and just more than four months into her position as Baltimore's top prosecutor. Her opponents during the election and others have criticized Mosby for her inexperience.
"You want someone who knows what they're talking about," Catherine Flynn, a defense attorney who has been up against Mosby at trial, told the Baltimore Sun during the election. Flynn supported the incumbent Gregg L. Bernstein at the time, saying Mosby was not ready to take on the role of state's attorney.
Other critics have reservations about Mosby handling this particular case. In an open letter to the state's attorney dated May 1, the Baltimore City Fraternal Order of Police requested she appoint a special independent prosecutor rather than oversee it herself. Gene Ryan, president of the FOP, wrote:
I have full faith in your professional integrity. While I have the utmost respect for you and your office, I have very deep concerns about the many conflicts of interest presented by your office conducting an investigation in this case. These conflicts include your personal and professional relationship with Gray family attorney, William Murphy and the lead prosecutor's connections with members of the local media… Most importantly, it is clear that your husband's political future will be directly impacted, for better or worse, by the outcome of your investigation. In order to avoid any appearance of impropriety or a violation of the Professional Rules of Professional Responsibility, I ask that you appoint a special prosecutor to determine whether or not any charges should be filed.
In response to the letter, Mosby said in a statement to the Baltimore Sun she had no conflicts. Spokeswoman Rochelle Ritchie said, "State's Attorney Marilyn Mosby has been elected by the residents in Baltimore City to uphold the law in every neighborhood including her own, regardless of if her husband is the councilman within the district where numerous crimes occur...Hundreds of people donated to her campaign. There is no conflict of interest surrounding Billy Murphy. He is representing the family in a civil case which has nothing to do with the criminal case."
Classmates and professors from college and law school tell Newsweek she'll be up to the task.
Born and raised in Boston's inner city, Mosby participated in the Metropolitan Council for Educational Opportunity (METCO), a Massachusetts effort that aims to decrease racial segregation and isolation in the state's schools. By the time she graduated with honors from Dover-Sherborn Regional High School in Dover, Mass., her teenage cousin had been killed on her front doorstep by a gunshot meant for a drug dealer.
"I've seen my family blood, the same blood that runs through my veins, spilled on my front door," she said upon announcing her candidacy for the state's attorney role. She also comes from a family of police officers; her grandfather was a founding member of the black police organization in Massachusetts, she told Baltimore Magazine in a January interview, and her uncles, mother and father were police officers as well. Mosby, a political science major at Tuskegee University in Alabama, was the first in her family to graduate from college.
"She was exceptionally bright and had a deep sense of curiosity," says Darryl Roberts, an associate professor of history and political science at Tuskegee who taught Mosby in several classes. He served as the adviser for her undergraduate thesis, wrote her letters of recommendation, helped her prepare for the LSATs and counseled her on her decision to attend Boston College Law School. "When I think about it, even as I say it, I'm in awe of her necessity for mastering every intellectual challenge she confronted."
Roberts remembers Mosby, then Marilyn James, as an avid reader who paid special attention to her writing, and was talkative and ambitious. She was "not just another student," he says. "If Marilyn was in your class, there was going to be some challenging questions. Even as an undergrad Marilyn asked questions that were of the caliber of graduate students. Marilyn is of no mean intelligence."
"I am so proud," he adds, reflecting on her path from undergrad to state's attorney. "She has stepped into history."
A classmate in the political science program, Idrissa Smith, also remembers Mosby as smart and determined, and "a leader from day one."
"She was never afraid to challenge what she thought wasn't right," says Smith, now a defense attorney in Durham, N.C. His roommate during the 2001-02 academic year was Marilyn's future husband, Nick Mosby, an electrical engineering major who is now a Baltimore City councilman.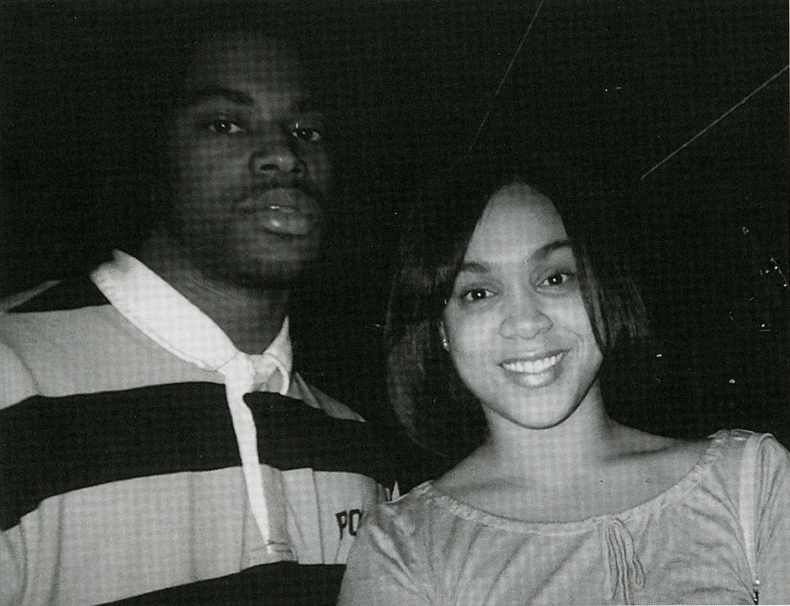 Smith remembers a trip to Cincinnati the three were on together for a competition of the bioethics team. In between rounds of the competition at a hotel there, they were chatting about why they came to Tuskegee. For Marilyn, what resonated was the legacy of Booker T. Washington and his "lift yourself by the bootstraps" philosophy, Smith recalls.
He says: "It can be inspiring for someone like Marilyn who is a first generation student" to go to a school whose first teacher, Washington, had been both a slave and a dinner guest at the White House.
Mosby was a member of Pi Sigma Alpha: The National Political Science Honor Society, Roberts recalls, and graduated magna cum laude. She won a Council On Legal Educational Opportunity (CLEO) Thurgood Marshall Scholarship to attend a six-week summer institute at Michigan State-Detroit College of Law before enrolling at Boston College Law School.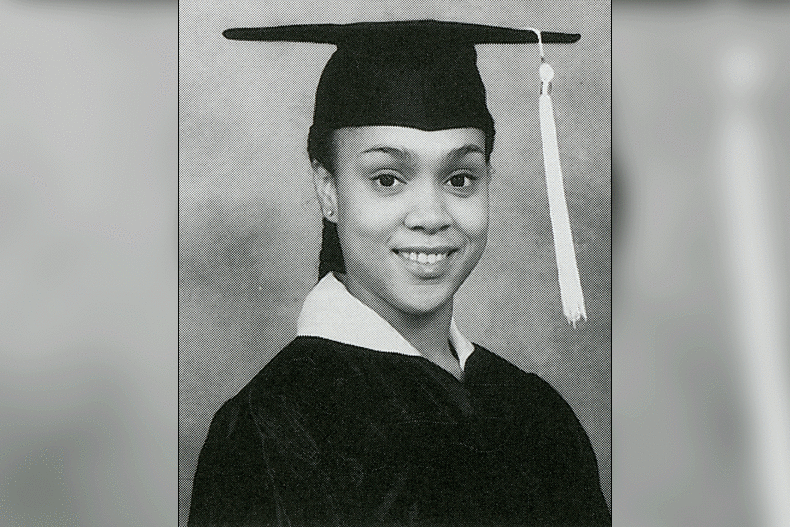 Sharon Beckman, co-director of the Boston College Criminal Justice Clinic and director of the Boston College Innocence Project, taught Mosby in large classes on criminal and constitutional law and later in a smaller seminar on punishment, as well as during the year Mosby spent in Defender Program within the Criminal Justice Clinic.
"Now the world is seeing her in the role of prosecutor but I first saw her in the role of the defense. She was a zealous, passionate and compassionate advocate for her clients" in the Dorchester Division of the Boston Municipal Court, Beckman says. "I think her passion was always government service. It's notable that she chose to enroll in defense.… She really pushed herself to look at the criminal justice system from different perspectives."
Beckman recalls that one of Mosby's clients that year was a woman struggling with substance abuse whose probation officer "had had it, no ifs, ands or buts, this woman was getting locked up." But Mosby got to know her client and realized that substance abuse was the underlying problem. She secured a bed in an appropriate treatment center and advocated to the probation officer why that solution would better serve both her client and the public.
"She advocated with so much passion," Beckman recalls, and later personally walked her client into the treatment center. When Mosby was set to graduate, the probation officer reached out to Beckman to ask if he could write a recommendation for her for the Bar. "He had never seen anyone work so hard on behalf of a client," Beckman says.
During weekly seminars with students in both the defenders and the prosecutors clinics--when they shared their experiences from both points of view--it was clear Mosby was "very conscious of social dynamics of inequality," Beckman says. "She was very aware of the corrosive effects of race discrimination and the effects that those dynamics have on the administration of justice."
Mosby clerked with the U.S. Attorneys Office in both Massachusetts and the District of Columbia, and in the Homicide Unit of the Suffolk County District Attorney's Office in Boston. In 2005, she began working at the Baltimore City State Attorney's Office for the first time as an assistant state's attorney. She spent six years in the office, moving up in the ranks, before she left to work for Liberty Mutual Insurance as field counsel and later as an investigator.
In 2014, she beat incumbent Bernstein for the role of state's attorney and returned to the office she'd left a few years earlier as its top prosecutor.
"I always saw that strength and ability in her, and that was a conversation I remember having with her about how good I thought she would be in that role," says Tracey West, now the associate dean for external relations, diversity and inclusion at BC Law School. At the time, she was assistant dean for students and adviser to the Black Law Students Association, and she spoke often with Mosby. West had once been an assistant district attorney, and the two discussed in particular the pros and cons of the prosecutor's role.
"She's incredibly ethical; she has a humility to her and an awareness; she's very thoughtful; she's got incredible judgement; her ego does not prevent her from asking for help or assistance when she needs it," West says, describing the former law student who is now handling a case that's been thrust into the headlines.
"She's very intentional," West adds. "She's not someone who is just going to shoot from the hip. She's a very hard worker and she does not shrink from responsibility nor does she take it lightly."
On Friday Mosby announced charges for six officers in a case that has spurred protests and riots in Baltimore and protests in cities across the United States. But the charges are just the beginning; the case is set to continue to play out in the months to come under Mosby's supervision.
"I know that there are great divisions in our society about social justice and you can be sure that...as she examines the case and renders her decision it will be rooted in the evidence," Roberts says. "She will be thorough, and I think that when the matter is closed our regard for Marilyn will be substantially greater than it is today."
"This is a critically important circumstance," he adds. "I can't think of anyone more qualified to handle the matter of Freddie Gray's death than Marilyn."