To celebrate the upcoming birthday of the U.S. Marines, the service's top brass sent around a special video message—and drew a barrage of criticism. Women service members are visible in roughly six seconds of the eight-minute video.
Current and former Marines rebuked Marine Commandant General David H. Berger and Sergeant Major Troy E. Black, the top enlisted Marine, for the lack of inclusion and for a failure of leadership.
The backlash comes as the U.S. Marine Corps continues to wrestle with its internal culture in the wake of the Marines United scandal less than three years ago—when a male Marines-only Facebook group shared nude photos and obscene comments about women service members—and amid continuing battles over whether women should be allowed to serve in ground combat units which have historically been all-male.
"It is a self-indulgent 'love me and my grunts and everyone else can pound sand in the corner' video," said former Marine Sergeant Erin Kirk-Cuomo, who co-founded "Not In My Marine Corps," a group dedicated to fighting sexual assault and harassment in the U.S. military.
"It's 10 steps back from where it should be and just all-around a boring birthday message with no motivation. But the lack of diversity regarding women is a deliberate hit at them and how they have been given more opportunities recently," said Kirk-Cuomo. "The vitriol towards female Marines is at an all-time high right now and this video just shows it."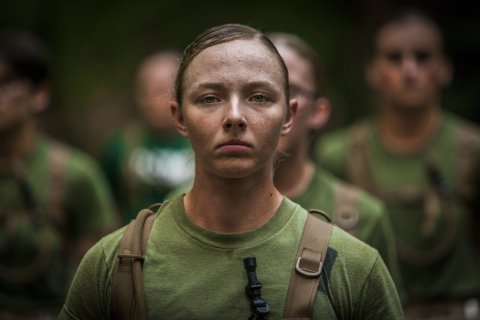 Kirk-Cuomo said that many female Marines are not happy with the video and responses they are receiving from some of their male Marines counterparts has been disheartening.
One active-duty female Marine officer told Newsweek that she was "sick of this 'oversight' happening over and over again as in, how it always seems to be a 'mistake' or 'accident,'" for not including women. "It's not an accident to eliminate an entire demographic from a product intended for the force," the officer said, who asked for anonymity due to fear of reprisal from her chain of command.
Kirk-Cuomo said she attributed the attitude towards women within the rank-and-file directly to top leadership. "If the Commandant can't even bother to bring up the strides women have made in a birthday message or have a female voice in it even for a 20-second clip, what does that say to Marines? That leadership doesn't care and doesn't feel the need to be inclusive to women, so why should anyone else?"
Some current and former Marines speaking out online said the lack of women in the video is a non-issue and is being overblown, with many praising the video for its depiction of combat forces.
The Marine video begins with images of the heartland—moving the audience from the Rust and Bible Belts of the Midwest and Southern United States to major metropolitan cities and suburbs. An American morning begins as a radio dial scans through the airwaves to find CNN's Pentagon correspondent Barbara Starr telling Wolf Blitzer that the Marines will be ready to go if and when the order comes.
Hard cut to a naval aircraft carrier navigating the seas where Marines can be seen gearing up, while narration from General Berger plays over the picture.
"Every Marine trains, prepares, 24-7 to get the phone call in the middle of the night that your unit's deploying," Berger says in the video. "The phone call that you weren't expecting, but you're ready for."
The video shows Marines running out onto the flight deck to board MV-22 Osprey helicopters: quick cuts in the video show Marines racking bullets into their rifles just before the music shifts from an inspiring melody to Michael Bay dramatic.
Tanks fire their main cannons off-screen as amphibious assault vehicles roll onto a beachhead with fighter jets flying high over land and water.
Sergeant Major Black's narration focuses on the camaraderie between Marines and how their bond supports their ability to complete the mission. The overall theme of the video ties into Berger's vision of how the U.S. can compete with adversaries such as China and Russia—a show of force on the world stage via naval strength and agility.
As in past birthday videos, this one, for the Corps' 244th birthday on November 10th, pays homage to the Marines' legacy with short interviews with veterans. "Once a Marine always a Marine is not just a slogan," Berger reminds viewers. The veterans interviewed in the video are both male.
The video has been viewed more than 112,000 times since being published.
Asked for a reply to the controversy, a Marine spokesperson told Newsweek, "The USMC will not have a comment for you on this topic."
For critics of the video, the lack of women depicted in the birthday ball message to them can be optically viewed as approval of the trepidation former Defense Secretary James Mattis expressed over allowing women to be integrated into frontline job fields—one of the major issues in the Marines United scandal.
The Marines United nude photo scandal rocked the Pentagon and ultimately spurred changes to the Uniform Code of Military Justice, the legal code governing U.S. service members.
Marines United was a secret and invitation-only Facebook chatroom with more than 30,000 current and former male Marines, U.S. Navy Corpsman, and British Royal Marines in 2017. An exposé published in Reveal in March 2017 showed that members were sharing thousands of nude photos of women without their consent.
Members would fill the chatroom with links to Dropbox and Google drives containing videos and images of female Marines, both nude and clothed, as well as Marine wives, ex-wives, girlfriends and ex-girlfriends. Some of the women were identified by their full names, ranks and location of duty station.
Once exposed, thousands of members exited the group—while others moved to backup groups where they continued to share the videos and photos.
Newsweek has obtained more than 200-pages of internal Marine Corps emails from top Marine generals, officers and enlisted personnel through multiple Freedom of Information Act requests.
Embedded within the files is a letter written to then-Marine Commandant General Robert Neller from an unnamed individual (the full letter is reprinted at the bottom of this article).
"I am very proud to serve my country, but I am no longer proud to do it through the Marine Corps. This event, along with all the BS I have put up with (from male Marines) throughout my career have motivated me to have no sign of my time in the military around my children," the unidentified letter-writer tells Neller. "I would never wish the harassment and constant feeling of having to prove themselves on them. It is not worth their peace of mind, it is not worth their self-esteem."
Neller forwarded the email to multiple general officers in the Corps, writing, "What is being represented below is the issue/problem...and the proper complaint/grievance of women Marines...lack of respect for what they contribute...that they are not Marines like the men are Marines...that they are a supporting effort...not part of the main effort."
In the aftermath of the scandal, the Corps made an effort to improve its depiction of women in its official messaging.
In May 2017, they released the first-ever recruiting ad centered on female Marines in combat. This year, they've produced more video profiles highlighting the contributions of female Marines such as women serving as drill instructors or introducing the first female pilot of the F-35B Lightning II.
But the tone hasn't always been consistent said former Marine officer Emma Shinn, a transgender woman, who served as an infantry platoon sergeant and later as a judge advocate.
"Coming on the heels of this past summer's 'Saturdays are for the Boys' messaging error, the Marine Corps again appears tone-deaf to the need for adequate representation of all of our troops," Shinn told Newsweek. "The 'One Team, One Fight' mantra includes the entire team."
"The themes of small unit leadership and our naval tradition are great focus points, but it is important to acknowledge the contributions of our Marines of color and women—female Marines lead small units, too," said Shinn.
"The saying goes that, 'If you can see it, you can be it.' As such, representation matters," Shinn said. "If we don't hold leaders (and ourselves) accountable for missteps, there is no push for improvement."