Marine Generals Celebrated Internal Emails Leaking As Frustration With Trump and Congress Grew: Sources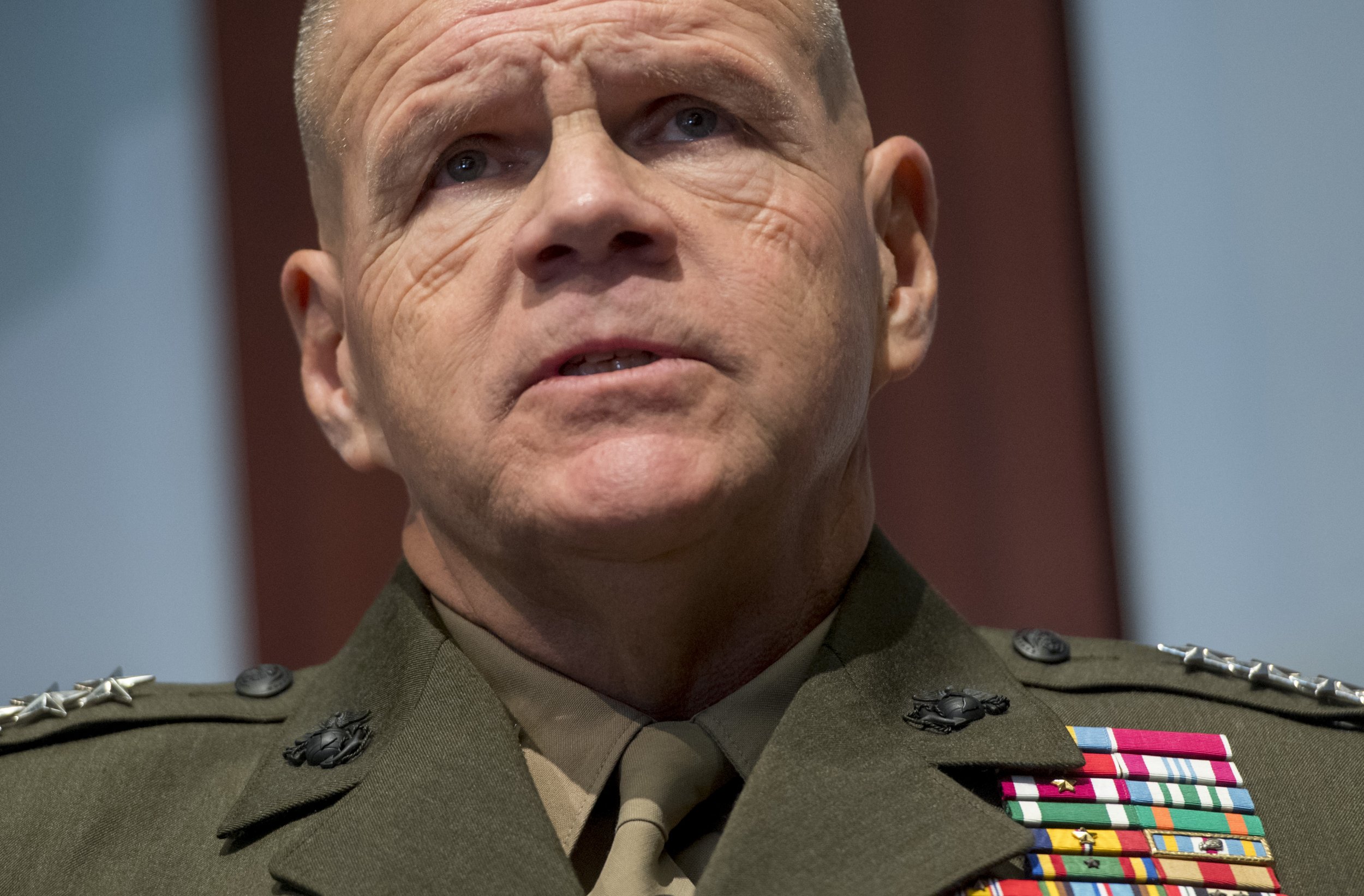 The Marine Corps' top generals praised leaked internal memos underscoring the severe living conditions of military families and the service's financial strain in funding unplanned fiscal obligations from both the White House and Congress.
The leaked emails from Marine Corps General Robert Neller referenced the "unplanned/unbudgeted" deployments President Donald Trump has ordered to the United States-Mexico border.
On Wednesday last week, senior Marine Corps officers dressed in green camouflage uniforms filed into a readiness meeting within the halls of the Pentagon. Six days prior, The Los Angeles Times first published the Neller emails written to Acting Defense Secretary Patrick Shanahan and Navy Secretary Richard Spencer in February and March of this year
Among the attendees, Marine Lieutenant General Brian Beaudreault, a career infantry officer and the Corps's deputy commandant overseeing plans, policies, and operations. Major General Edward Banta, a combat engineer and assistant deputy commandant for programs and resources also attended the roundtable. The generals were smiling, and their body language sent a message to the room of Marines, a departure from their usual poker-faced demeanor as described by a Defense Department source, who asked not to be named due to Pentagon media regulations.
The generals smirked about the memos and told the room of officers the leak was not necessarily bad because you have to look out for your Marines and families.
One general in attendance said, "This is something that you go to the mat over. Your Marines and their families."
Neller denied a Newsweek report published Wednesday citing two Pentagon sources who said the general allowed internal memos to leak out to press outlets to highlight the living conditions of service members and their families living among hurricane damaged military installations in North Carolina. While unplanned and unbudgeted fiscal burdens risks combat readiness—President Donald Trump's southwest border operations are among the financial hardships.
"The recent Newsweek article about the Marine Corps leaking information about its fiscal challenges is wholly inaccurate," Neller said in a statement late Wednesday. "Further, I did not direct, allow, know of, or otherwise condone the release of the memo, or direct or otherwise encourage any member of the Marine Corps to do so. Allegations that I had any role are simply false."
U.S. Navy Secretary Richard V. Spencer also sent a statement Wednesday evening indicating the leaked memos given to The Los Angeles Times andNBC News were apart of private working documents created to assess budget issues with Neller assuring the top civilian leader he was not involved and did not encourage any member to do so.
The memos detailed the extensive damage left in the wake of Hurricane Florence and Michael and how the price tag for repairs had surged to roughly $3.5 billion across three different Marine Corps installations in North Carolina, including, one in Albany, Georgia.
The letter to Spencer captured the plight of unexpected and unbudgeted fiscal spending obligations from both the White House and Congress—the hardships left Neller no choice but to cancel or significantly drawback planned military training exercises at a time when the service is shifting its focus to near-peer competition such as Russia and China. The strategic shift toward nation-states over asymmetrical militant organizations is a lingering defensive posture from former Defense Secretary James Mattis, who resigned in protest over President Trump's abrupt withdrawal announcement from Syria last December.
When Newsweek asked why Neller would allegedly allow internal memorandums to leak to press outlets, one Defense Department source said bluntly, "Because he didn't want the Marines and families at Camp Lejeune [in North Carolina] to get f***ed."
Neller, the Marine commandant, has been frustrated with his budget for fiscal year 2019 since it began this past October—the same month his commander-in-chief surprised the Defense Department with mobilizations to the southwest border amid claims of four migrant caravans barreling towards the U.S.-Mexico border. The president described it as an invasion, a description which stood in stark contrast to U.S. Army North intelligence assessments obtained by Newsweek.
As reported on Wednesday, the early days of the southwest border deployment, initially dubbed Operation Faithful Patriot, involved Marines at Camp Pendleton, the largest Marine base on the West Coast. The base supported elements of Task Force 51, the name given to U.S. Army North's homeland defense command, who worked with agents from U.S. Customs and Border Protection at the port of entry in San Ysidro, a district in San Diego.
As the operations continued on the border, the estimated damage costs at Camp Lejeune in North Carolina and other surrounding bases skyrocketed with fiscal line items tightening a strained budget. Neller was told it would be a "good year" in financial budgeting, but now, the "negative factors" associated with border operations, civilian pay raises and adjustments to privatized housing among other issues, posed, he said, "unacceptable risk to Marine Corps combat readiness and solvency."
Last fall, Newsweek reported the frustrations of senior-level officers over the border deployment. Officers and enlisted personnel ridiculed the deployments as a significant waste of taxpayer dollars with the operations themselves running counter to military readiness—an issue Neller pointed out given his current budget.
Other Pentagon officials believed the president's move was politically motivated, due to Trump's announcement coming less than a week before the midterm elections.
In Congress, the Marines lost its most prominent advocate and sometimes critic, Republican Representative Walter Jones, who died on this 76th birthday in February. Jones was an outspoken political maverick who was unafraid to cross party lines and buck his own party's leadership.
"Jones would be raising hell over this issue," one Defense Department official told Newsweek on Thursday. Another said, "The Marines need money badly and unfortunately, we lost our fighter."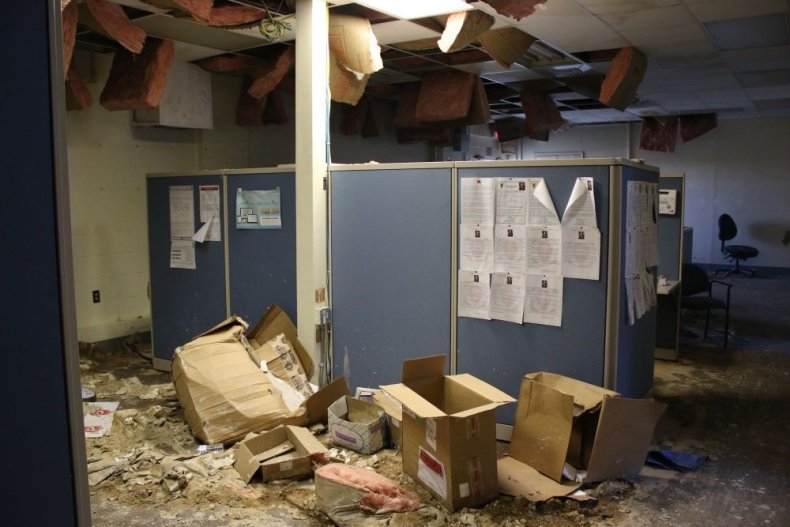 For Neller, the Camp Lejeune crisis is a personal issue for a man who identifies more with the junior rank-and-file service members than beltway political elites, sources told Newsweek. After 18-years of war, he can't stomach Marines and their families living among conditions comparable to Iraq and Afghanistan as Marine Colonel Brian Wolford put it in an interview with NBC News, three days after the Pentagon meeting.
Neller is in his final year as commandant. Lieutenant General David Berger was nominated for the position last week. If confirmed by the U.S. Senate, Berger will receive his fourth star and serve a four-year term as the top general of the Marine Corps.
As of Monday, the Marine Corps had not been provided funding for repairs at Camp Lejeune.