Marine Le Pen Avoids Debate Debacle in Race to Oust Unpopular Macron
During Tuesday's debate against French President Emmanuel Macron, Marine Le Pen, the leader of France's far-right National Rally party, avoided the significant missteps she had in a 2017 debate that derailed her campaign.
Macron outperformed Le Pen during the debate, putting her on the defensive for her connections to Russia and approach to the European Union. However, Le Pen appeared significantly more prepared for this debate than the one five years ago and launched direct criticism on Macron's record as president, focusing heavily on the state of the economy.
This is the second time Le Pen and Macron are facing off for the presidency. In 2017, the two sparred in a two-and-a-half-hour debate, which many, including Le Pen, considered a failure for the far-right candidate.
French media declared Macron as the winner of the 2017 debate, and a poll conducted by Elabe for BFM television found 63 percent of viewers felt that Macron was the winner. During the first round of voting in the 2017 election, Macron led Le Pen 24 percent to 21.3 percent, according to The Guardian. After the disastrous debate performance in 2017, Macron went on to win the presidency 66 percent to 34 percent.
Despite drops in polling numbers, Macron is still favored to win and widened the gap with Le Pen leading up to the debate. However, the election is still expected to be close and Le Pen's improved debate performance better positions her with voters ahead of the vote on Sunday.
According to the Associated Press, Le Pen recently said that her performance in the 2017 debate was the "biggest failure" of her career. During the 2017 debate, Le Pen was widely seen as being unable to fully explain her proposed policies, such as how France could do away with the euro, Politico reported.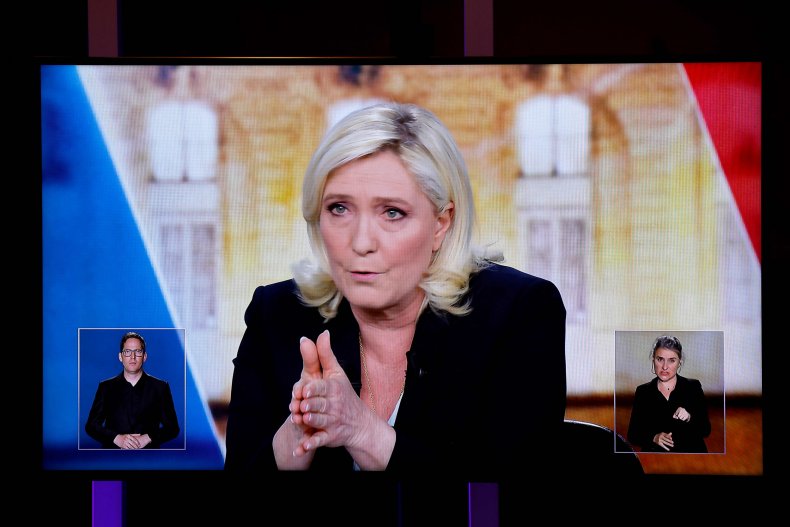 This time around, Le Pen appeared to have prepared for the criticism that would be lobbed at her, including her connections with Russia. Le Pen tried to shift blame onto the French banks for her taking out a loan from a Russian bank in 2014. She responded to a claim from Macron that she was in "Russia's grip" because of the loan, saying that she was forced to seek out foreign money after French banks denied her the loan.
Le Pen also sought to distance herself from her "pro-Putin" image by declaring support for financial and military aid to Ukraine and most of the economic sanctions. The one sanction she said she did not agree with was a ban on oil and gas because it would have "cataclysmic" consequences for French voters.
Appealing to her nationalist base, Le Pen brought back her positions to the impact decisions have on the French people. She called for bringing jobs back to France and overhauling the European Union to better benefit France as a separate country.
Both candidates attempted to poke holes in each other's remarks, trading jabs that the other's information was "wrong" and Macron accused Le Pen of "mixing everything up" during a debate on France's debt. Much of the back and forth is expected in a debate coming just days before the election and Le Pen appeared in control of her arguments, a strong contrast to 2017 when she appeared to mix up points on key issues.
Following the 2017 debate, Le Pen earned low remarks from the French people and her own father, Jean-Marie.
"I think her entourage advised her poorly, hoping that a man who doesn't seem very solid would collapse psychologically," Le Pen's father said, according to the Irish Times.
In what could be a tight race, Le Pen avoiding the pitfalls of her 2017 debate performance was considered critical to her having a shot at winning the presidency.