Marine Le Pen Could Deliver Trump-Style Upset, Macron Warns
French President Emmanuel Macron has urged people to vote in Sunday's presidential election in order to prevent a Trump-like upset that would hand victory to rival Marine Le Pen.
Macron made the remarks on Friday in the medieval village of Figeac as the presidential campaign drew to a close. He also compared a potential Le Pen victory to the U.K. voting to leave the European Union (EU).
"Think about what British citizens were saying a few hours before Brexit or [people] in the United States before Trump's election happened: 'I'm not going out to vote, what's the point?' The next day, they woke up with a hangover," Macron said.
"So if you want to avoid the unthinkable ... choose for yourself," the French president said.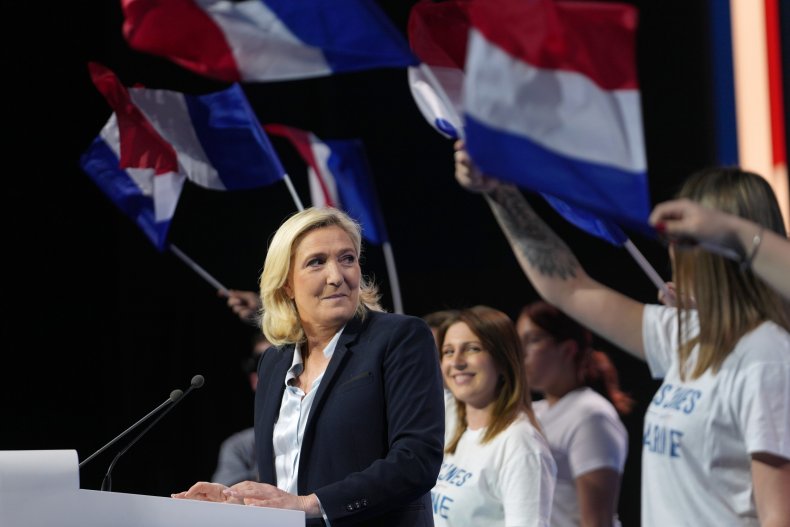 Polls have shown Macron defeating Le Pen by a relatively comfortable margin in the second round of the presidential election, which will take place on Sunday, and his poll lead has increased since the first round on April 10.
Analysis from The Financial Times shows Macron with 55.3 percent support compared to Le Pen's 44.7 percent. However, Macron warned on Friday that opinion polls had not been able to predict former President Donald Trump's election victory, or Brexit.
Le Pen also urged her supporters to come out and vote during her final campaign stop in Pas-de-Calais.
"Polls aren't what decide an election," Le Pen said.
Le Pen is the leader of the far-right party, National Rally, and this is the second time she and Macron have faced each other in a presidential runoff. In 2017, Macron defeated Le Pen by a margin of more than 20 points.
Both she and Macron qualified for the second round on April 10, while 10 other candidates were eliminated.
Even if Le Pen loses on Sunday, finishing within 10 points of Macron will be seen as a significant victory in her long-running efforts to detoxify National Rally.
The party was formerly know as National Front and was famously led by her father, Jean-Marie Le Pen, who once referred to the Holocaust as "a detail of history." The elder Le Pen was expelled from National Rally in 2015 following a dispute with his daughter.
Macron and Le Pen clashed in a TV debate on Wednesday as the French president claimed there could be "civil war" if Le Pen implemented a plan to ban Muslim women from wearing headscarves.
Le Pen accused Macron of dividing the country and said: "France needs to be stitched back together."
U.S. election polls in 2016 had indicated a victory for the Democratic candidate, former Secretary of State Hillary Clinton, but Trump clinched the White House through narrow victories in Wisconsin, Pennsylvania and Michigan.
While Clinton won the popular vote, Trump prevailed in the Electoral College but the French president is elected based entirely on the popular vote. Also in 2016, U.K. voters chose to leave the EU by a margin of four points in a widely unexpected result.