French Elections: Marine Le Pen to Appoint Nationalist, Euroskeptic Prime Minister if She Wins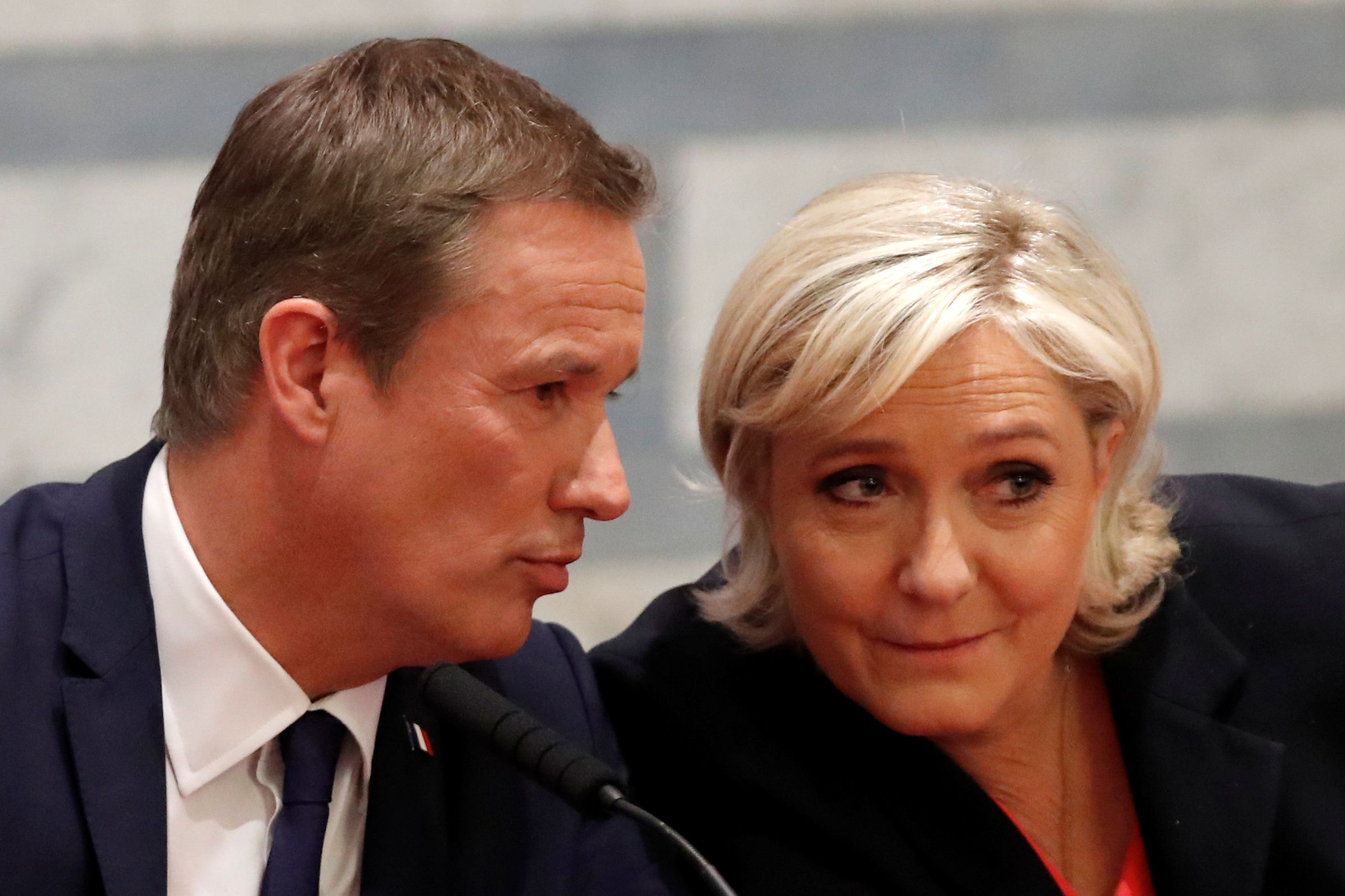 French far-right presidential hopeful Marine Le Pen on Saturday named defeated first-round candidate Nicolas Dupont-Aignan as her chosen prime minister, a bid to attract his voters and help win victory over the centrist favorite Emmanuel Macron.
Dupont-Aignan is a nationalist whose protectionist economic policies are close to those of the National Front's Le Pen and who, like her, wants to reduce the powers of European Union institutions.
He scored 4.7 percent of votes in the first round on April 23, and announced on Friday that he was backing her for the decisive May 7 second round in eight days time.
"We will form a government of national unity that brings together people chosen for their competence and their love of France," she said at a Paris news conference side by side with her choice.
Dupont-Aignan, who stood in the election for his party 'Stand up France' said he had signed an agreement on the future government with Le Pen that took into account some "modifications" of her program.
Dupont-Aignan has expressed differences with the Le Pen on social issues in the past, and has opposed her call for the reintroduction of the death penalty.
In the past he has called his party "Gaullist" after followers of the late president of the center-right Charles de Gaulle. In 2013, he tweeted "We are Gaullists and cannot align ourselves with the extreme right."
Polls on Friday showed centrist Macron winning the French presidential runoff with 59-60 percent of votes, with Le Pen having gained some ground in voter surveys since the start of the week.
Macron, on a campaigning trip in central France, said the alliance clarified the choice on offer to voters between those who are anti-European and those who have more "progressive" views.
Earlier, Macron's party En Marche! (Onwards!) called on Le Pen to condemn comments her father made about a ceremony for a policeman who was killed in an attack in Paris last week.
Jean-Marie Le Pen, 88 years old and the founder of the National Front, objected to a speech made to the ceremony by the gay officer's partner.
"The long speech he made in some way institutionalized homosexual marriage, exalted it in a public way, and that shocked me," Le Pen senior said in an interview on his website that was aired on Friday.
"Marine Le Pen has still not firmly condemned these comments," a statement released by En Marche! said on Saturday.
Le Pen was asked on Friday whether the speech by the policeman's partner shocked her the way it did her father. She replied that, on the contrary, she had found the ceremony and the speech moving.
Controversial comments from her father on a range of subjects from criticism of gay marriage to his suggestion that World War Two Holocaust was a "detail" of history have dogged Le Pen's efforts to rid the party of its extremist image.
On Friday, associations made between the National Front and Holocaust denial returned to the political stage after one of its senior officials was forced to step aside to defend himself from allegations, resurfacing after more than a decade, that he had agreed with comments from a professor who has been convicted of incitement to racial hatred.
French Elections: Marine Le Pen to Appoint Nationalist, Euroskeptic Prime Minister if She Wins | World