Updated | The town of Caumont-Sur-Durance in southern France was quiet on a recent Saturday night. Shops were closed, the streets were empty, and a few elderly men sat sipping beers at the local bar, scratching at lottery cards or placing bets on the horse race on television. But inside the town hall, where a meeting for the far-right National Front party had just finished, the atmosphere was euphoric. "Marine gets me shaking," said Monique Zaouchkevitch of the party's charismatic leader, Marine Le Pen. A former president of the Red Cross in the nearby town of Cavaillon, Zaouchkevitch had never followed politics until she heard Le Pen speak. "The people of France have been forgotten," she said. "But Marine, she's close to the people."
Nearby, Jean Truffen, an 80-year-old army veteran, was proudly showing off his collection of National Front membership cards, all featuring Le Pen's smiling face. "I'm not ashamed. I voted for Jean-Marie. Now, I'm voting for Marine," he said, referring to Le Pen's father, who ran the party until 2011. "My future is behind me, but I'm voting for the future of France."
The energy around Le Pen is palpable, particularly in France's southeast. Some supporters are hesitant, at first, to admit they are voting for a party with a reputation for xenophobia. Anita, who was packing up her store at a Sunday market in the town of Sorgues, wouldn't give her last name, afraid that if people knew which candidate she'd chosen, it could hurt her business. "I'm voting for Marine," she said.
On April 23, that enthusiasm got Le Pen 21.4 percent of the vote, enough to qualify for a runoff on May 7. Her strong showing marked the first time since World War II that neither France's center-right nor its socialist left advanced to the second round of a presidential election. This remarkable shift has set up a battle for not only the future of France but the future of Europe as well. The favorite, Emmanuel Macron, is a hope-and-change centrist who inspires the kind of youthful energy that got Barack Obama elected: A committed globalist, Macron wants the country to remain in the European Union and pledges to be "the president of all French people."
Le Pen, on the other hand, is a nationalist who vows to fight globalization, close off the country's borders and take France out of the EU. Macron's lead is substantial, but Le Pen's base is energized, and as the French economy continues to sputter and fears of Islamist militants grow, it may be too soon to discount her chances—especially after the shocking victories of Donald Trump in the U.S. and the Brexit campaign in Great Britain.
Related: Key takeaways from the first round of the French elections
"Marine Le Pen has by far the most stable and committed support base," says James Shields, a professor of French politics at Birmingham's Aston University. "Her challenge now will be to build a grand coalition from supporters of eliminated candidates."
So far, those candidates—Socialist Benoît Hamon and Republican François Fillon—have rallied around Macron, who capitalized on the country's frustration with the status quo. A former economy minister under President François Hollande, he broke away to form his own political movement, En Marche! (On the Move!), and defines himself as neither right nor left. "The two political parties that have governed France for years have been discarded," he said in a speech on April 23. Polls show him defeating Le Pen by over 20 points in the second round, a far wider gap than Trump or the Brexit campaign ever had to face. When you factor in the widespread dislike for the National Front among most French voters, Macron's victory seems almost assured.
But Shields says Le Pen could also benefit from the collapse of the traditional left-right divide, pitting her protectionist economic agenda and hard-right stance on immigration against Macron's liberal, globalist message. "A social appeal to the right and an economic appeal to the left is what Le Pen hopes would be a winning formula against Macron," he says.
In the National Front stronghold of Le Pontet, in the country's southeast, such a message has been very convincing for Dominique Perriaux. "We're heading towards a catastrophe," she says. "Unemployment is high. The taxes are just crazy. Our country isn't safe." Perriaux, 63, used to support the center-right Republicans, but after years of rising living costs and attacks in France by Islamist militant groups, she decided it was time to vote for someone different. "With Marine," she says, "we have the chance to change things."
Perriaux's shift has become common in France. "There's been a progression of the…[party's] vote amongst people who used to vote on the right and who now vote for the National Front," says Christèle Marchand-Lagier, a political scientist at the University of Avignon. "The party comes out on top often because other voters just don't show up as much."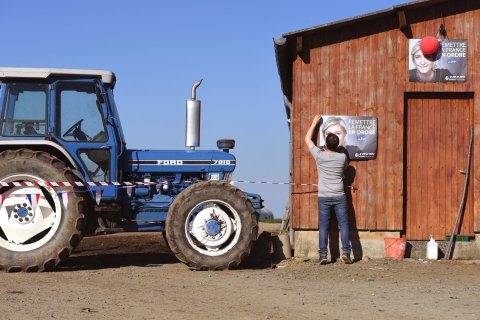 What could also benefit Le Pen: the Islamic State militant group (ISIS). On April 18, police arrested two men suspected of planning an assault in the port city of Marseille. At one suspect's apartment, they found several firearms, 6 pounds of explosives and a black ISIS flag. Twenty-four hours later, a gunman shot and killed a police officer on the capital's most iconic avenue, the Champs-Élysées. ISIS claimed responsibility. "Preachers of hate should be expelled and their mosques closed," Le Pen told journalists after canceling one of her final campaign meetings over safety concerns. "The Islamist, Salafist ideology has no right to be in France and should be banned."
This hard-line attitude could push voters toward the far-right in the wake of the latest Paris attack, says Vincent Geisse, a political scientist at Sciences Po university. "It can't help but favor her, because she's made terrorism one of her priorities, a central point of her program."
Le Pen's tough stance on terrorism has convinced André Robert to vote for the National Front. An out-of-work elevator mechanic in the city of Orange, Robert is part of an increasing number of unemployed and working-class voters turning to Le Pen, according to recent surveys. "I'm voting for the candidate who'll keep us safe," he says.
Like many blue-collar voters who have suffered through the country's economic slump, Robert also likes Le Pen's promise to leave the EU and bring industry back to France. "Fifty years ago, France produced everything for France," he says. "Now everything comes from Italy, Spain, China. We struggle to find work, while immigrants profit from the system."
Le Pen's increase in support among the working class is most pronounced in the country's northern Nord-Pas-de-Calais region, one of the poorest in mainland France. The unemployment rate there is nearly 13 percent, and Le Pen won the first round of regional elections in 2015 with 40 percent of the vote. She lost in the second round, but the growth of support in what was once a leftist redoubt speaks to her ability to court blue-collar voters.
Her appeal among younger people is also climbing. With youth unemployment at 23 percent nationwide, many young people in France are desperate for a change in the status quo: Polls show almost 40 percent of voters aged 18 to 24 support Le Pen. At another National Front rally before the first-round election in April, in the southern city of Nîmes, a group of sharply dressed 20-somethings were watching the speakers eagerly. "I switched over recently," said Raphaël Leroux, a student at Nîmes University who used to support the Republicans. "I was thirsty for change."
To appeal to voters like Leroux, the National Front has increasingly focused on its protectionist message. At the boisterous campaign rally in Caumont-Sur-Durance, Jean Messiha, project coordinator for Le Pen's presidential campaign, spoke for over an hour about the problems created by liberalism, globalization and the free-market economy. "The eurozone isn't viable," he said. "It's better to jump on a life raft than to stay on the Titanic!"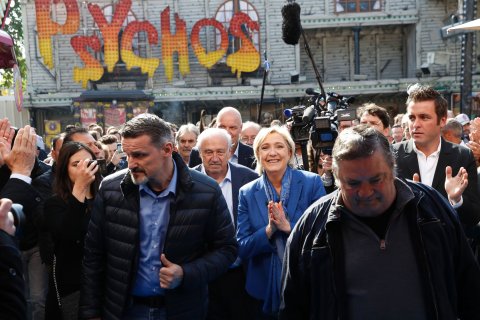 This kind of message could benefit Le Pen, says Shields, allowing her to appeal to far-left voters who don't support Macron's liberal economic agenda and who might respond to Le Pen's promise to protect French industry from the forces of globalization.
Valerie Rodrigues, who was in the crowd cheering after Messiha's speech, was certainly convinced. An escargot farmer, she said she can't compete with lower-priced products coming in from other EU nations. "I work nonstop, but I don't make any money. Soon there won't be a farmer left in France." Like Rodrigues, many farmers in France are backing the National Front: A poll in February found that 35 percent plan to vote for Le Pen.
Despite the National Front's big gains among disenfranchised voters, most of Le Pen's supporters belong to other demographics. "She has this discourse of 'I'm the voice of the voiceless,' but actually we hear National Front voters loud and clear," says Marchand-Lagier, of the University of Avignon. "They're the middle class, who work normal jobs but feel left out." And while a larger percentage of farmers, factory workers and students may vote for Le Pen than Macron, many may not vote at all. A February Le Monde poll found that 42 percent of laborers and 52 percent of farmers were planning to abstain from the first round. "If there is indeed a working-class party, that would be abstention," says Aurelien Mondon, a senior lecturer in French and comparative politics at Bath University. "The National Front remains first and foremost a nationalist, xenophobic party."
At the National Front rally in Nîmes, it was definitely French pride first, the economy second. Gilbert Collard, a deputy for the Gard department, echoed Trump as he spoke of a France on the brink of disaster. "Who would have imagined 20 years ago that we would be living such a nightmare?" he roared. Louis Aliot, vice president of the National Front, lambasted the media, the tyranny of Brussels and the loss of Christian traditions: "We must defend our culture, our heritage, our identity!"
In a crowd of white faces, the message found its mark. "We're losing our values, our roots," said Eveline Fouché, who lives in Lunel, a city that has seen several of its residents leave France to fight for Islam in Syria. "I feel like I'm not even in France," she said. "I don't hear French in the market. I don't see French products in the stores. All I hear is Arabic music. These people don't do anything all day, and they don't respect our country."
Ultimately, it's the combination of both Le Pen's attacks on immigrants and her promise to help struggling workers that has made the National Front such a force in French politics, says Shields. "Le Pen combines both hardcore nationalists and economic losers in her support base," he tells Newsweek. "The common ground between them rests on the National Front's anti-immigration 'French first' policies and its protectionist 'France first' economic agenda."
Will it be enough to give Le Pen the presidency? Even with her recent surge in popularity among disenfranchised voters, she would need to more than double her vote count from 2012, a feat that seems nearly impossible.
Then again, many also underestimated Donald Trump.
This story has been updated with a version that will appear in the May 5, 2017 version of Newsweek magazine.​