Marine Le Pen: For U.S., National Front Is a 'UFO' Party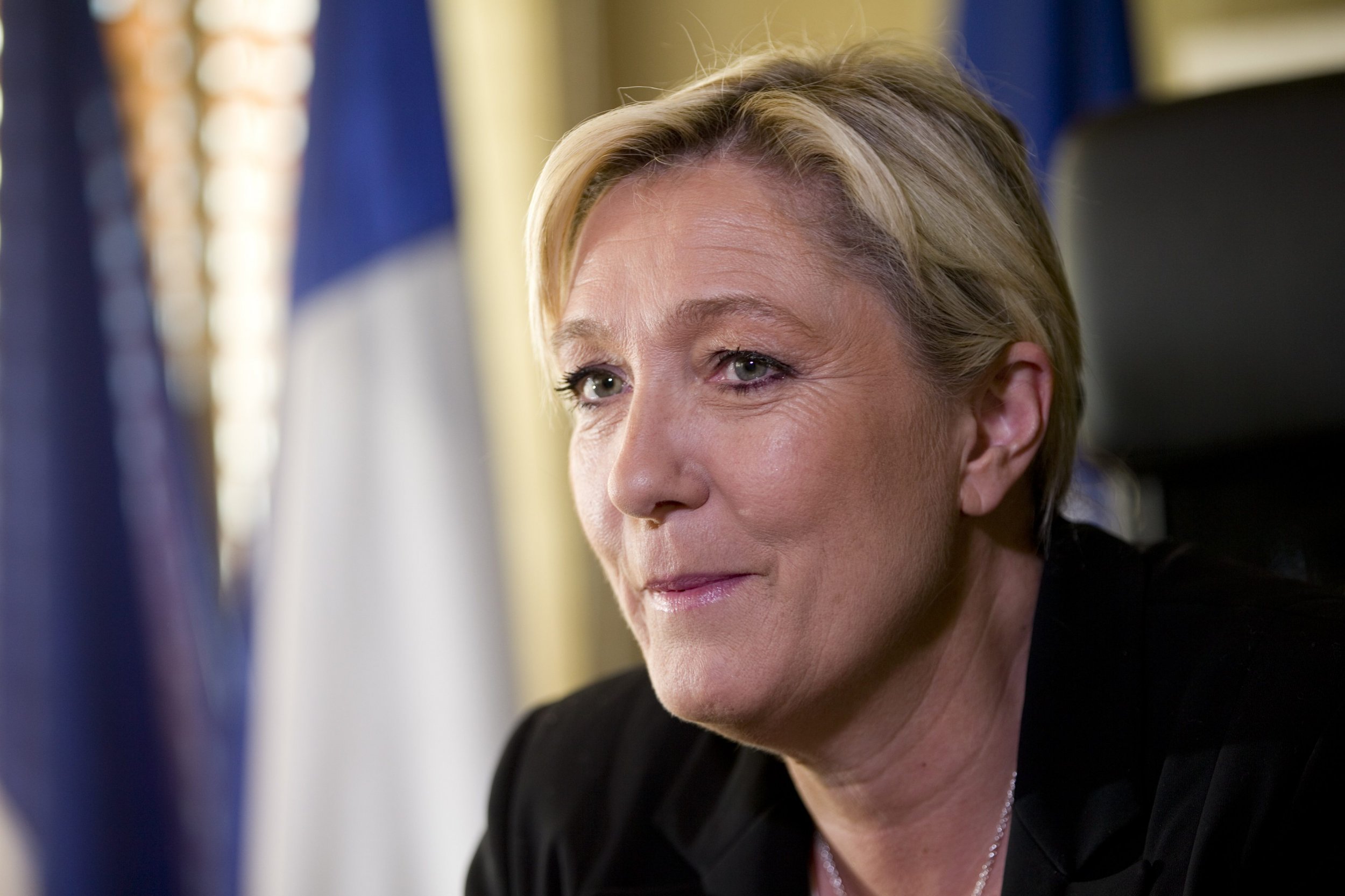 Marine Le Pen cuts a commanding presence as, flanked by an entourage of equally tall French men, she sweeps into the InterContinental Hotel a few blocks away from New York City's flashing, neon-splattered tourist magnet, Times Square.
Le Pen, head of the National Front, France's far-right political party, was in New York last week for Time magazine's 100 Most Influential People gala. Named on the list as "France's nationalist force," she appeared alongside other political leaders including Angela Merkel, Hillary Clinton and Samantha Power, the U.S. ambassador to the United Nations.
Although painted by many in Europe as a fear-mongering figure of hate, it's difficult to see that in Le Pen as she sits in the hotel's appropriately named Ça Va Brasserie while wearing a navy blue blazer, blue jeans and a silver heart around her neck. She insists her party has shed the "devilish" image it cultivated under the leadership of her father, Jean-Marie Le Pen, 86, who can't seem to stop spewing xenophobic and racist remarks to the French media, risking the softened image of the party his daughter has worked to present to the public.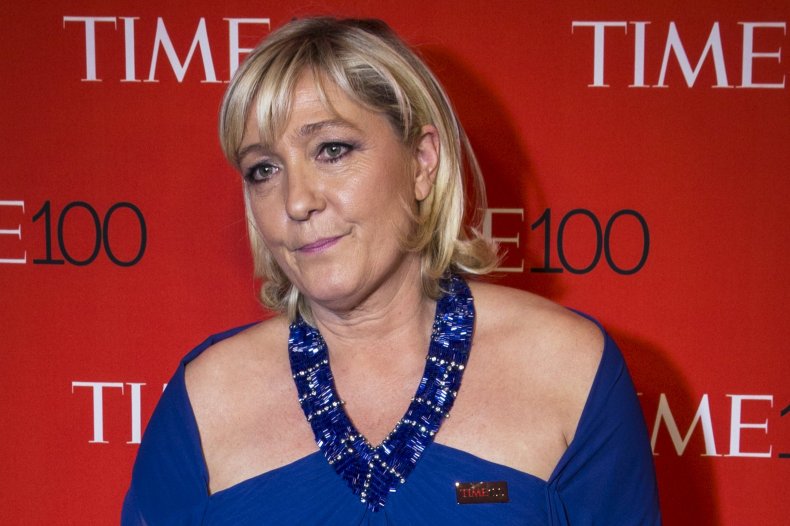 Last week, Jean-Marie Le Pen made a rash of incendiary comments that included calling gas chambers used by Nazis during the Holocaust a "detail" in history and saying Russia should defend the "white world." He also questioned whether Manuel Valls, the Spanish-born French prime minister, is loyal to France.
His daughter denounced his comments and the elder Le Pen announced he will not be running for re-election.
With two years to go until the next French national elections, it remains to be seen where Le Pen will land in the polls. But if her party's European elections numbers are anything to go by, she could end up doing well: The National Front got 26 percent of the vote in last May's European elections, four times more than in the 2009. President Francois Hollande's Socialist party, meanwhile, had its worst-ever showing in an E.U. election, with 14 percent.
A few hours before the gala, Newsweek sat down with Le Pen and asked her about the migrant crisis currently playing out across southern Europe and the Mediterranean and the biggest misconception about the National Front. Some answers have been edited for clarity.
Did you reached out to any U.S. politicians or political groups ahead of your trip?
No. It's too early and we didn't have enough time to organize everything.
Would you consider any current U.S. politician your political counterpart?
That's a difficult question. It's hard because the center of gravity in the U.S. is different from France. When you speak to Americans they say, "You're a little bit Democrat and also Republican," so I think that the National Front is like a UFO. It's very French, of course, and this is why it's like a UFO. It's hard to find counterparts with the same political structure in the U.S. because the background is very far from the French national state.
There's something I will say: In the U.S., people are very patriotic. Their patriotism is obvious. In France, for many years, you had to fight to be patriotic. People are pushing us from loving our own country.
The large number of American flags in this country is certainly noticeable, especially coming from Europe.
Yes, it's very agreeable.
Can you see any comparisons between the French and U.S. immigration systems?
France is different from the U.S.A.'s El Dorado, American Dream image. Millions of people hope to find a better future here. There's a big difference between France and the U.S. In the U.S., immigrants must work to live. In France, they're taken care of by public finances. In France, there are millions of unemployed people already. We cannot house them, give them health care, education...finance people who keep coming and coming. The weight is very, very heavy now.
Do you think France could benefit from an immigration system more like that of the U.S.?
In general, France always imports from the U.S., but this doesn't really work. If we could, we'd import a measure that's consistent: If you come, you'll have to live by your own means. We do not have the means, the money, to give you free health care, free schools. [This would] dissuade immigrants from coming.
You're in the U.S. as European leaders are getting ready to meet to find a solution to the enormous crisis of migrants drowning in the Mediterranean en route to a better life in Europe. What can be done to find a solution and what role can France play?
Politics shouldn't invite those deadly trips, all of them are very dangerous. We need to stop the boats and put the immigrants in safety, but also bring them back to their points of origin. In Europe it's a huge call, an open call, for people to risk their lives in the Mediterranean. [The National Front released a statement after a boat capsized last weekend, killing up to 800 people, calling it a "particularly terrible and shocking tragedy."]
But we should ask the right questions: Who is responsible for that? Who is responsible for this huge crisis in Libya, for example, for those massive waves of illegal immigration? American leaders and French leaders.
Sarkozy is the guilty one in this situation because he contributed to the Islamist fundamentalist in power over there, with all the consequences that you now know about. [Last Monday, Le Pen blamed former French president Nicolas Sarkozy for the migrant crisis due to his 2011 invasion of Libya.]
Should an initiative like the Italian search and rescue operation Mare Nostrum be reinstated in the Mediterranean?
The intervention prevents people dying when they can. But in reality, the Italian Navy back in Europe, they encourage thousands of others to do the same even if they risk their own lives. It's not a good tactic.
What kind of impact will the increased migration to Europe by boat have on France?
It will have an impact. France is a very attractive place; the health care system, for example. Of course, we are living all together. This is something that we never say because it's so taboo and we don't know who is coming. The Italians are starting to question what we've been doing for 20 years. It's a huge open gate to send soldiers in with these immigrants. We have no means to control who they are, where they go and what they do.
Let's move on to how the National Front is perceived in the U.S. You spoke out against your father's comments last week and said you didn't agree with them. Do you think his comments could damage the way the National Front is seen in the U.S.?
No. My father was president [of the National Front] for 40 years. Since I became head of the National Front four years ago, there has been a difference between my father and myself. There's a huge caricature in the U.S. and I think things are changing in a positive manner. There's a number of journalists and politicians who are interested in the rise of the National Front and the huge nationalist gathering, the movements that refuse the E.U. and want to go back to a Europe of nations, free and sovereign countries. I'm here to re-educate.
How do your politics differ from your father's?
When the National Front was created, its main goal was against communism. It's not danger No. 1 in the world anymore. Danger No. 1 is two-faced. One, Islamic fundamentalism, which is a kind of totalitarianism in the 21st century. The second is globalization, which is another kind of totalitarianism, the ideology of free business with no boundaries.
How do your politics differ from those of your niece? [Marine Le Pen's 25-year-old niece, Marion Maréchal Le Pen, was elected as a member of parliament at age 22.]
A lot. She's young, has a lot of confidence. She's been elected and she's doing a great job. Obviously she's attractive to the youth. It's like a family thing: the Bushes, the Kennedys.
So the Le Pens are like the French Kennedys?
[Laughs] A little bit.
What do you think the biggest misconception about the National Front is, in the U.S. and in France?
In France it's changing. In France, [the image of the party as] devilish is now over. We are a problem for the system itself. We refuse it and we disagree. At the end of the day, they vote for exactly the same policy. We are at opposition to those choices. French people elect a very small minority, the elite. They labeled us the extreme right because if we come to power, then people will win, but the upper class will lose a lot.
What kind of role can France play in the world in the coming years?
The role could be amazing. I think France should be free, independent and be the cultural heart of the world because those play a balance in the world. I don't want to play this new cold war against Russia. The submission of France 20 years ago to U.S. politics, it was a strategic mistake that brought nothing to no one. It just made France weaker in its power.
In November, your party took out a 9 million euro loan from a Russian bank. Are you hoping to build up France's relationship with the country?
Yes. France should help in the reconstruction between all the big nations: the U.S., Russia, China, India, Africa. Africa will play a big role in the future. So I refuse the principle of blocs that are in opposition. It's stupid and dangerous because you'll throw Russia into the arms of China. That could be a risk.