Why Marine Le Pen Has Resigned as National Front Leader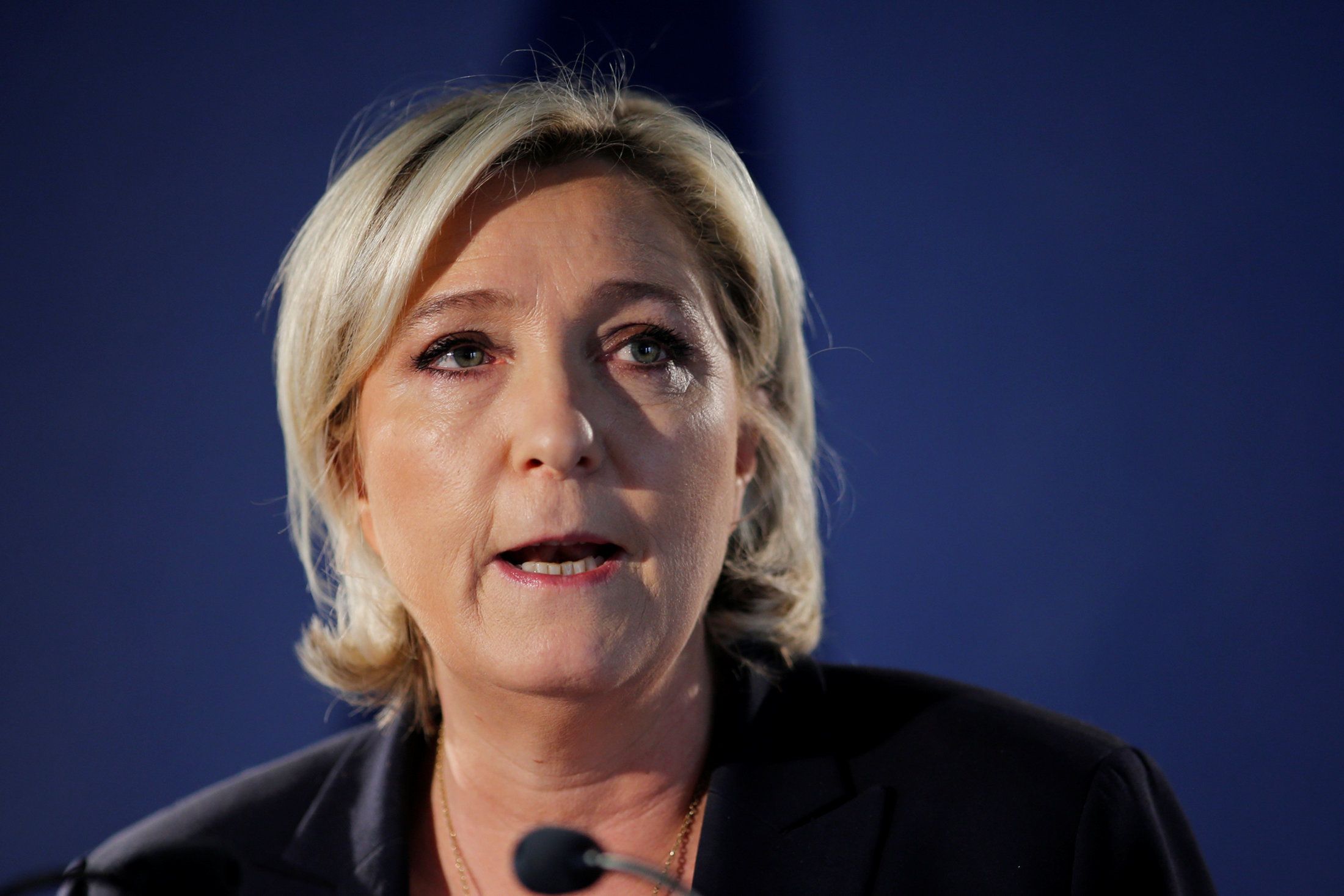 France's far-right presidential candidate Marine Le Pen has always had a problem: drawing a broad base of support to secure the majority vote she needs to beat Emmanuel Macron to the Élysée Palace.
On Monday, Le Pen announced a gambit designed to help her do just that. She announced she was standing down as leader of her National Front (NF) party, which has an extreme history, for the rest of the campaign.
"This evening, I am no longer the president of the National Front. I am the candidate for the French presidency," Le Pen said, "I will feel more free and above all, above party politics, which I think is important," the BBC reported.
Le Pen—who came in second place in Sunday's first round of the presidential election with 21.3 percent of the vote—said stepping away from the party founded by her father, Jean-Marie Le Pen, in the 1970s, would allow her to concentrate better on her campaign.
The party has always been a controversial force in French politics. In both local and national elections, mainstream parties have regularly united to keep it out of power. In the current presidential election Republican candidate Francois Fillon and socialist Benoit Hamon have both backed Macron against Le Pen, just as left and right united in 2002 to keep Jean-Marie from winning the presidency.
Jean-Marie enjoyed a hard core of support on the right of French politics, but alienated many voters with remarks such as his infamous description of Nazi gas chambers as a mere "detail" of history. The comments got him thrown out of the party in 2015, one example of Marine Le Pen's attempts to detoxify the party and move away from its extreme associations. But for many, its old image still lingers, and that is likely to hinder Le Pen's hopes of gaining the presidency.
Le Pen and liberal centrist Macron will face off in the second round vote on May 7, neither of them bound to a traditional party.
Macron has a commanding poll lead, with some surveys putting him about 25 points ahead of Le Pen. But the far-right candidate insisted Monday that "we can win; we will win."
The current Socialist president Francois Hollande warned in a televised address that "The presence of the far right in the second round is a risk for the country… What is at stake is France's make-up, its unity, its membership of Europe and its place in the world."