Marine Le Pen Calls for Closer France-Russia Ties on Moscow Visit One Month Ahead of Elections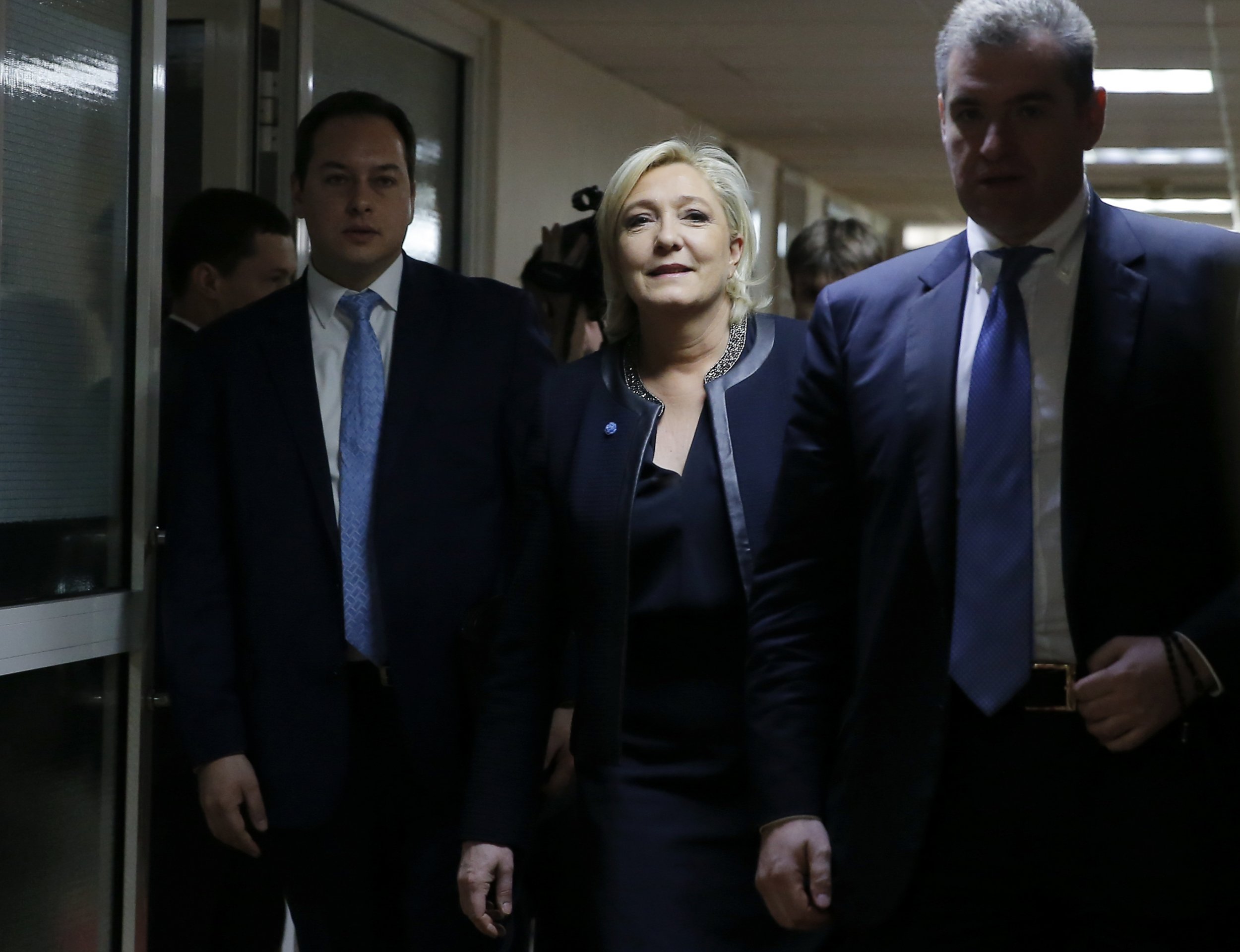 French far-right leader Marine Le Pen met with Russian diplomats in Moscow on Friday in a trip that comes just a month before the French presidential elections.
The National Front leader met with Russia's State Duma International Affairs Committee and said she would adopt a more positive approach toward Russia if elected, state-owned Russian news agency TASS reported.
Le Pen is currently expected to make the second round of voting in the French presidential election, but pollsters predict that she will lose to centrist Emmanuel Macron, the current frontrunner.
It is not clear whether Le Pen will meet with Vladimir Putin during her visit, which is her fourth to Russia since 2011.
Le Pen has expressed pro-Russian views and favors closer integration between France and Russia. The far-right politician has publicly stated that she sees the disputed region of Crimea, which Russia annexed from Ukraine in 2014, as part of Russia and wants the European Union to remove sanctions on Moscow.
"I see no reasons that would justify the current hostile attitude of the French authorities toward Russia," said Le Pen on Friday, according to TASS. "We have always believed that Russia and France need to maintain and develop the ties that have bound us for a long time."
French voters go to the polls in two rounds of voting in presidential elections on April 23 and May 7.
The Kremlin on Wednesday denied reports that the conservative presidential candidate, Francois Fillon signed a $50,000 deal with a Lebanese billionaire, Fouad Makhzoumi, to set up meetings for him with Putin. Putin's spokesman Dmitry Peskov said that the meetings took place but said the report that Fillon had been paid to arrange it was "fake news." Fillon's campaign has denied any wrongdoing.
One of Macron's top aides has accused Russia of interfering in the election by using state-run media to share "false information" about the centrist candidate, Sky News reported.
U.S. intelligence agencies are currently investigating whether Russia interfered in the 2016 presidential election to boost Donald Trump's chances of victory.