Marine Le Pen Denies Knowing What White Power Hand Sign Meant After Making It in Facebook Selfie With Far-right Ally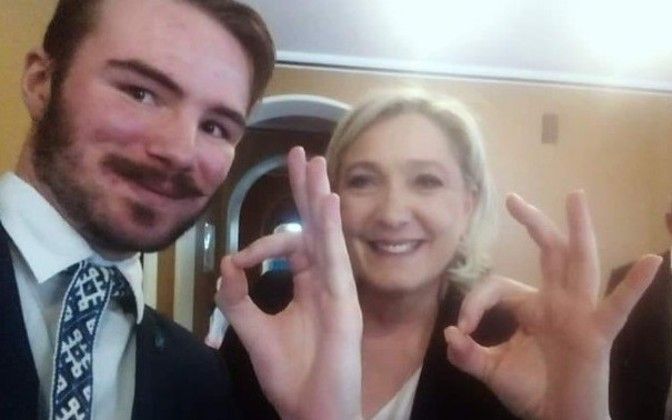 Marine Le Pen, leader of the French far-right party National Rally, denied knowing that the hand sign she made in a recent photo with a white nationalist Estonian politician is associated with white supremacy.
Le Pen, a former French presidential candidate, posed doing the "OK" sign with her hand alongside Ruuben Kaalep, a youth leader in the populist-nationalist Conservative People's Party of Estonia (EKRE) and a white ethnonationalist. Kaalep posted the image to Facebook, then deleted it.
Using "OK" to indicate a belief in white supremacy originated as a prank on the 4chan message boards. It is still commonly used by the right to troll people into reacting. But the far-right also uses it to signal genuine support for the white power movement.
Recently, the New Zealand mosque shootings suspect, who killed 51 Muslims in a racist terror attack, made the sign in a court appearance. His manifesto was laden with references to 4chan internet culture.
Le Pen told AFP that Kaalep asked her to take a selfie with him doing what she thought was merely the OK sign with her hand.
"I was informed that this sign could have another meaning," Le Pen said. "As soon as I became aware of it, I immediately demanded that [the photo] be removed… I had never heard of any other meaning to this, for me, quite trivial gesture."
According to ERR, Estonia's public broadcaster, Le Pen was in Tallinn on Tuesday to meet with Kaalep's party and other nationalist-conservative parties in a bid to set up a new group in the European Parliament. There are European parliamentary elections later in May.
The Anti-Defamation League, which fights anti-Semitism in the U.S., says some white supremacists have now "abandoned the ironic or satiric intent behind the original trolling campaign and used the symbol as a sincere expression of white supremacy."
"The overwhelming usage of the 'okay' hand gesture today is still its traditional purpose as a gesture signifying assent or approval," the ADL states. "As a result, someone who uses the symbol cannot be assumed to be using the symbol in either a trolling or, especially, white supremacist context unless other contextual evidence exists to support the contention."
Kaalep has appeared on the white supremacist website Counter Currents, founded by the American racist Greg Johnson. One of Kaalep's posts on the website is text from his speech to the white ethnonationalist "Awakening Conference" in Finland in 2018.
"There is one thing above all others that we must aim for when we are dreaming of the future Europe that will be born from our actions," Kaalep said.
"The future Europe must be based on the ethnic. The ethnic dimension must be the most essential thing in the new Europe, the one dimension that commands all others.
"All our struggle comes down to this–our ethnic survival, and the primacy of the ethnic question because we know it is meaningful, and everything our enemies do is aimed at extinguishing its meaning."
Kaalep did not respond immediately to Newsweek's request for comment.