Marine Le Pen's New National Front in France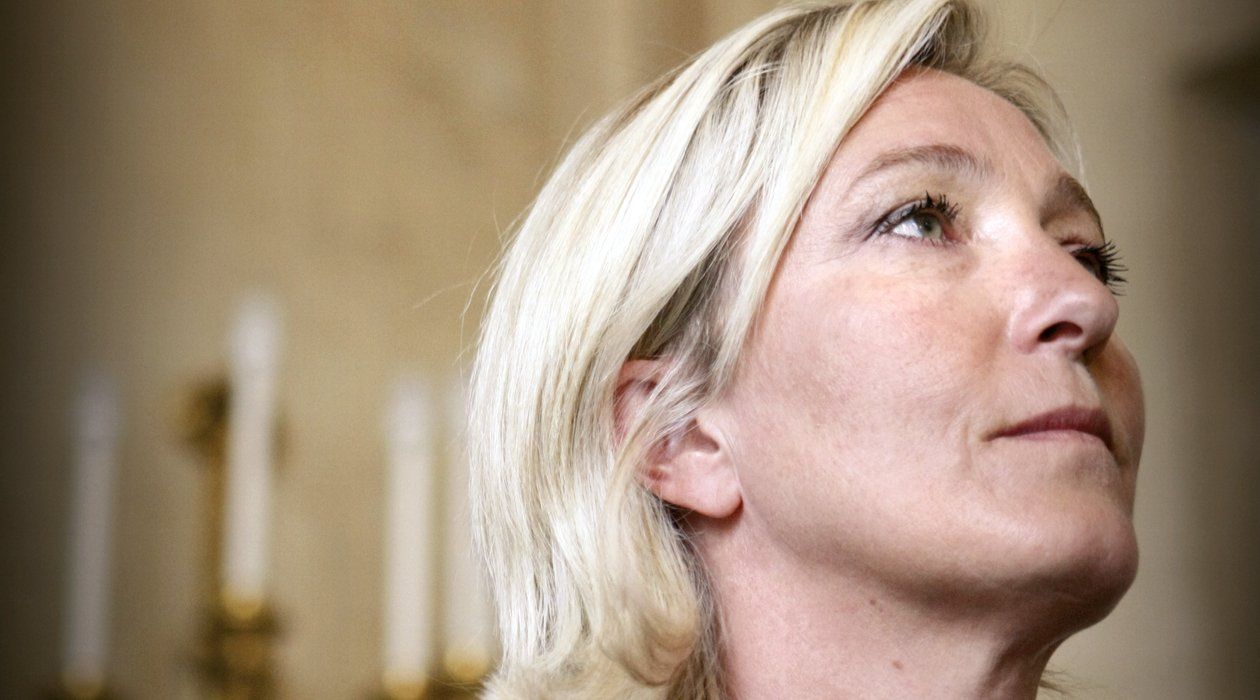 Monday morning in Lille, France. At the regional council meeting, Marine Le Pen, a shock of blonde in casual black, is taunting the chairman.
Le Pen, the new leader of the far-right National Front, has been making mischief all morning, sniping jovially with colleagues when it isn't her turn, just loud enough to be heard across the floor.
The chairman wants to move on to council business; she wants to tease him about the latest gossip, a judge arrested for influence peddling. The chairman is a Socialist, like the deposed mayor of Hénin-Beaumont, the small town she represents, who was ousted by a corruption scandal, and she just can't resist giving the screws another turn.
"Shut up!" the chairman erupts.
"No! You will not speak to me that way!" Le Pen fires back, nearly out of her seat. The little red light on her microphone is off, but her deep, booming rasp rips through the chamber regardless.
"I will speak to you the way you speak! You're not the only one who can howl! Shut up!"
Before lunch, Le Pen will go on to slam issues such as carpool lanes, genetically modified endives, and "anti-white, anti-French racism." She says white shopkeepers are being "persecuted" in Roubaix, a former textile capital among the poorest towns in France. When she laments the "last non-halal butcher shop," opponents groan loudly, as if they've heard this before. Then the whole assembly retires to the buffet.
Welcome to the new-look National Front, advanced by Marine Le Pen, who last month took over the leadership of the party her father, Jean-Marie Le Pen, founded almost 40 years ago. And for all the trouble he gave opponents through all those years, his daughter has so far proved a tougher mark.
Even before taking the helm of the party, she showed she could set the national agenda, and President Nicolas Sarkozy often looks to be responding to her salvos—whether against "Islamization" or the euro—in real time.
Mainstream parties, including Sarkozy's center-right Union for a Popular Movement (UMP) and the opposition Socialists, had been reluctant to speak her name openly, however, lest they give her the oxygen of publicity. And they have reason to be worried. France's next presidential election is just a year away, and as many as 45 percent of Sarkozy's own voters say they like her ideas.
A poll last Friday showed she could score 20 percent in the first round next year, making her the "third man" her dad once was. Forty percent think she can repeat his biggest upset and make it into a runoff. The presidency seems out of reach, but she doesn't poll like a pariah: 68 percent think she is "courageous," 50 percent feel she understands their problems, and 37 percent believe she's "nice."
In a big prime-time TV appearance in December, she talked circles around the lightweights the mainstream parties sent to debate her. Unlikely as that may once have seemed, a Le Pen has become France's new media darling.
Marine's profile is surely more prime-time-friendly than her father's. At 42, she is 40 years younger than he is. She is twice divorced and pro-choice, both of which count as modern for the National Front. She is a single mother to Jehanne, 12, named after Joan of Arc, and twins Louis and Mathilde, 11.
"To lead a party and be a presidential candidate, you need qualities that are almost contradictory—it's very difficult to find them in the same person," the 82-year-old Jean-Marie Le Pen tells NEWSWEEK. "Marine has that mix. She's able to lead the party while turning outwards and making the ideas accessible and appealing."
Le Pen himself seemed more sinister. For years, the ex-paratrooper hid an eye injury under a pirate-style patch. He made headlines with equivocal remarks about Nazis and the Holocaust. Opponents could portray him as the slippery slope toward fascism in French politics. When he placed second in the 2002 presidential election, millions marched in shock and horror.
Still "honorary president" of the party, Le Pen père lives in Rueil-Malmaison, an upscale Paris suburb, with his second wife, Jany, a couple of Ibizan greyhounds, and three cats. He'll admit to no regrets about "passing the baton" to his third and youngest daughter, even if she is more popular than he ever was.
"She's the second stage of the rocket," Le Pen père says. "She can now strive for objectives I couldn't reach because there needed to be the basic infrastructure first."
In 1976, when Marine was 8, a 45-pound bomb meant for her father destroyed their entire Paris apartment building. Incredibly, there were no fatalities, except the family poodle, Rainbow.
By the time she joined her father on the campaign trail for a week while in high school, she had seen his party office burned down. When she was 16, her mother, Pierrette, ran off with the reporter writing her father's biography, and the bitter divorce played out in the tabloids. When Pierrette posed nude for Playboy in 1987, it became a national joke. At the time, Marine was 19, in law school, and mortified. For the next 15 years, she and her mother didn't speak. Marine's toxic surname quickly ended her first career as a defense lawyer, paving the way for her to enter the family business.
But working for her dad wasn't always easy. In 2005 she fell out with her father, angry that he was feeding the image she wanted changed when he told an extremist magazine, "The German occupation wasn't particularly inhumane." Eventually she returned. For Marine Le Pen, there was no way out of the party; there was only up within it.
During the last presidential election, four years ago, Sarkozy trounced the National Front, winning over the party's voters by talking tough on security and immigration while promising the blue-collar "France that wakes up early" that it could "work more to earn more." It dropped Le Pen to 10 percent, a far cry from his 2002 performance. In fact, Le Pen's party did so poorly in legislative elections that it didn't qualify for campaign financing and lost two thirds of its public subsidies. It has laid off three quarters of its staff since then and can't find a buyer for "the Steamship," its empty old headquarters in St-Cloud, a Paris suburb.
But once elected, Sarkozy quickly disappointed far-right voters—along with just about everyone else. Although he tried to weaken rivals by cherry-picking ideas and even big names from his opponents on both the left and the right, his sundry promises foundered on poor follow-through and the recession. Sarkozy pledged to make politics respectable again, but he seems unable to shake the scandals that have dogged him. Stoking fears—he made national priorities of banning the burqa and deporting the Roma—has proved easier than being effective. His approval rating has dipped to an abysmal 24 percent.
Meanwhile, Marine Le Pen is rejuvenating her father's party by calling the president's bluff.
In her office in Lille, she's all brash confidence, chain-smoking Philip Morris Super Lights, which, no doubt, contribute to the trademark rasp in her voice. An all-news channel, on mute, loops between the corruption trial of former president Jacques Chirac and Sarkozy greeting the French handball team. When Le Pen is asked about Sarkozy's tough talk on security, she plays an imaginary flute, the derisive French pantomime for "nonsense," and cites law-enforcement cuts. She knows National Front supporters are so sick of Sarkozy that, given the choice, many would even elect a Socialist over him.
The floor-to-ceiling view from her office is bleak. Elevated highways cut through thick fog, and gray commuter trains snake through the rail yards below. This is France's northern rust belt, the Nord-Pas-de-Calais region, industrial heartland turned byword for decline. The blur between Paris and London that travelers glimpse from the Eurostar is a symbolic staging ground for the Marine makeover of the party.
Her father sank electoral roots in the south: in Provence, part of the Alps, and the Côte d'Azur. His base there—retirees, Army vets, and conservative pieds-noirs, French nationals repatriated from colonial Algeria who never forgave Charles de Gaulle for pulling out in 1962—responded to particular stimuli: immigration, security, and off-color jokes, with economics an afterthought.
Up north, in these old communist bastions, Marine stumps for a strong state (crediting de Gaulle himself) and for nationalizing strategic industries such as energy and banking. Social benefits are great, just not for immigrants who imperil the whole system. She blasts "fundamentalist capitalism" and greedy banks, and says she can criticize rising prices and the euro because she buys her own groceries.
"Nicolas Sarkozy tells us, 'We'll save the euro at any cost.' OK, let's talk about the cost: the disappearance of social policies!" she says. It's the sort of talk the younger working-class families here can relate to better than her dad's old war stories. And the depressed north feels a lot like a political boot camp for the rest of the country. Blasting the local elites lining their pockets is good policy with so many Sarkozy ministers in trouble: 29 percent of French people surveyed think corruption is rising.
She has also made a catchphrase of "de-demonizing" her party, gambling that it attracts voters despite the dubious Holocaust references, not because of them. And so when she says, "The [Nazi] camps were the summit of barbarity," it actually becomes a headline.
"I think submitting to demonization, or trying to provoke it, is a mistake," Marine tells NEWSWEEK over blanched asparagus in the council cafeteria in Lille. She says the shaved-head and bomber-jacket types who hung around the party are unwelcome. She has shown the door to "anti-Semites, extremists, and extreme-right guys." "I said I didn't want them, and the 68 percent of folks at the Front [who voted for me] said they didn't want them, either. So at least that problem's solved," she claims.
But her remodeled party is far from soft. She comes at many of the same themes her father did—immigration isn't less of a scourge in the update—but she does it from different angles. She doesn't mind being called a populist. "If it's a choice between extreme right, fascist, Nazi, or just populist, I find that pretty nice," she says, breaking into the same raucous laughter her father does at his own jokes.
"Honestly, I don't see what there is in our program that fits 'extreme right,'?" she says. "When David Cameron says 'stop' to the 200,000 immigrants a year, saying they should be limited to a few tens of thousands, no one says Cameron is fascist." Going against the system seems mainstream today. "I'm reading Joseph Stiglitz's latest book, and he says exactly what I'm saying. He says those who helped build the global economic system should surrender their aprons"—as in get out of the kitchen.
Her masterstroke is in the new vernacular she brings. It is calibrated for a new crowd, a new era intolerant in new ways, three years into an epic economic crisis that has politicians selling protection.
The days of petites phrases about the Holocaust, it would seem, are over. "Nostalgia for [Marshal Philippe] Pétain or French Algeria doesn't speak to her, or [National Front] people of her generation," says Sylvain Crépon, a sociologist at Nanterre University who studies the far right. "Anti-Semitism does nothing for them. They don't see Jews everywhere, or a Jewish conspiracy."
But it would be a mistake to call Jean-Marie's daughter "Le Pen lite." "On a number of subjects, I am a lot stricter than my father," she says. "On the [Muslim] headscarf, I am stricter than him … He thinks that sort of behavior lets French people grasp the extent of immigration in our country," she says, talking tactics. But she argues "Islamization" is just a consequence, less visible 20 years ago, of the rampant immigration he always rebuked. "There wasn't the headscarf, there weren't 'cathedral mosques' going up on every corner," she says, without betraying her hyperbole. "There weren't people praying in the street. Our children didn't have to not eat pork because it bothers some people," she scoffs.
Couching old rhetoric in terms new to the National Front, analysts say, is clever. Take "secularism." The silent sister of liberté, égalité, fraternité has been a cardinal value of every political movement but the far right, where fundamentalist Catholics are loath to divorce state from church. Indeed, for some far-right purists, Marine Le Pen's semantic creativity amounts to party heresy.
"These are people who pretend to believe that when Marine talks about secularism, she's in line with people who fought Catholicism a century ago," her father says with a sneer. "But Marine is in favor of secularism against the surge of Islam."
Secularism makes a handy alibi for the French republic when she criticizes swimming pools that cater to Muslims with women-only hours. That subtle shift in tone is today a popular device of European far-right leaders, like the Netherlands' Geert Wilders. What makes it a real challenge is that instead of the old knee-jerk diatribes against Arabs or North Africans, "this xenophobic discourse against Islam, against a religion, [is framed] in the name of the defense of liberal values, like women's rights, gay rights, freedom of religion," says Crépon. "It's something that can really work, electorally speaking."
It's a strategy that makes the National Front more palatable to moderates. "You have leftists, even very anti-racist leftists, who can relate to Marine Le Pen's comments because they strike out at a religion," says Gaël Sliman of BVA, a polling company. "France historically was shaped against religion."
In December, Le Pen likened Muslims praying in the streets to an occupation. In fact, the worshipers in the streets were overflow from mosques too small for Friday prayers, and political rivals jeered that Le Pen employed the same shtick as her dad. Among the public, though, it was popular: polls showed 39 percent agreed with her, including a majority (54 percent) of Sarkozy's UMP supporters.
"Despite everything, she is genuinely less radical than her father," says Crépon. "[But] it is by being a little less dangerous that she can rally a lot more people … for a discourse that is still very intolerant."
And there is already the Le Pen effect.
Observers believe Sarkozy will have to pull further right if he wants to get reelected and silence the pied piper in high heels whose imaginary flute could prove attractive to so many French voters.