Parents Call on Congress to Investigate After U.S. Marine Colonel Convicted of Abusing 6-Year-Old Girl Freed
A family is appealing for justice after a U.S. Marine who was convicted of sexually abusing a six-year-old girl had his conviction overturned by a military court.
Marine Colonel Daniel Wilson, 58, was sentenced to five and a half years in prison in September 2017, after a jury of four generals and three colonels at a court-martial in Camp Lejeune, North Carolina, found him guilty of one count of sexual abuse, six counts of conduct unbecoming an officer and gentleman and one count of unauthorized absence.
However, two years into Wilson's sentence, a U.S. Navy-Marine Corps Court of Criminal Appeals overturned the verdict in July, stating that the evidence was "legally and factually insufficient."
The ruling meant that Wilson would no longer be listed as a sex offender and would still be eligible to receive his pension. He will also be reimbursed for wages lost during the last two years he spent in military prison.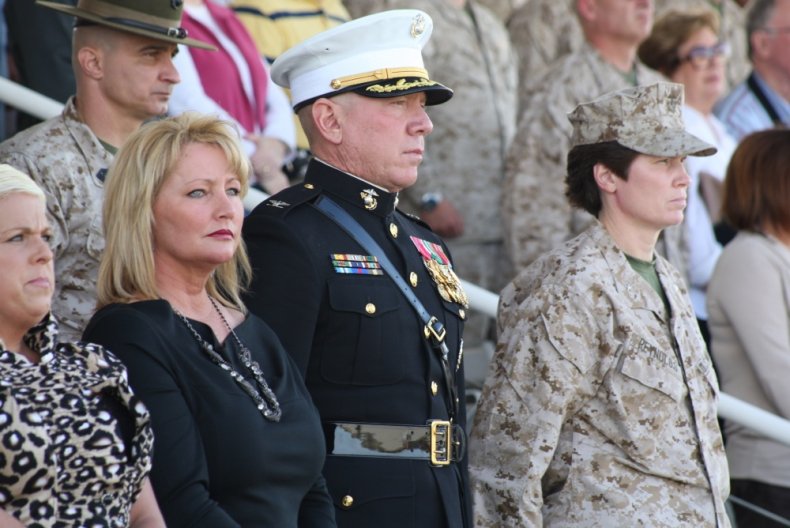 Wilson was released on October 18 and now awaits a decision on his retirement. However, the parents of Wilson's alleged victim have spoken out, stating that a provision in the Uniform Code of Military Justice (UCMJ) that allowed an appellate court to vacate the jury's earlier findings is "cruel, negligent and dangerous."
"I look at this solely as a father standing up for an injustice for his family," the victim's father, Lieutenant Colonel Breck Perry told Military.com. "We're supposed to have moral courage as officers. So let's do it."
Mother Adrian Perry added: "What happened to our daughter at the appellate level of military justice is a dishonor to our country and an embarrassment to the military justice system of America."
Article 66(c)—the provision in question—allowed a panel of judges junior in rank to the original panel to reverse the earlier decision.
Whereas at Wilson's initial court martial, the UCMJ dictated he had to be tried by judges superior to him in rank—hence made up of three senior colonels, four one-star generals and a two-star general who presided over the panel—a commander from the panel of three judges handed down the ruling at the appeal.
"The jury in our case is one of the most senior jury panels ever assembled in institutional memory," the father of the girl said at the press conference.
"Their combined century-and-a-half of leadership experience made them more than capable of deciding on a guilty verdict and an appropriate sentence."
At Wilson's initial court martial, the court heard that days into a six-month tour in Australia, he was removed from his post as a liaison officer after multiple incidents of inappropriate behavior were reported, including making sexual comments to an officer's wife and requests to another for racy photos were reported.
After Wilson and his family were moved to Camp Lejeune, the court heard how they quickly befriended the family of another officer who had also recently moved to the camp from III Marine Expeditionary Force in Japan.
The officer had served under Wilson in the past and reportedly "admired" the colonel. The court heard how the two families began to spend more and more time together.
In June 2016, the Wilsons hosted a cookout and the highly decorated Marine—with a slew of ribbons and medals on his chest from the Gulf War of 1990 and the Iraq War of 2003, among others—was drinking whiskey, the court heard.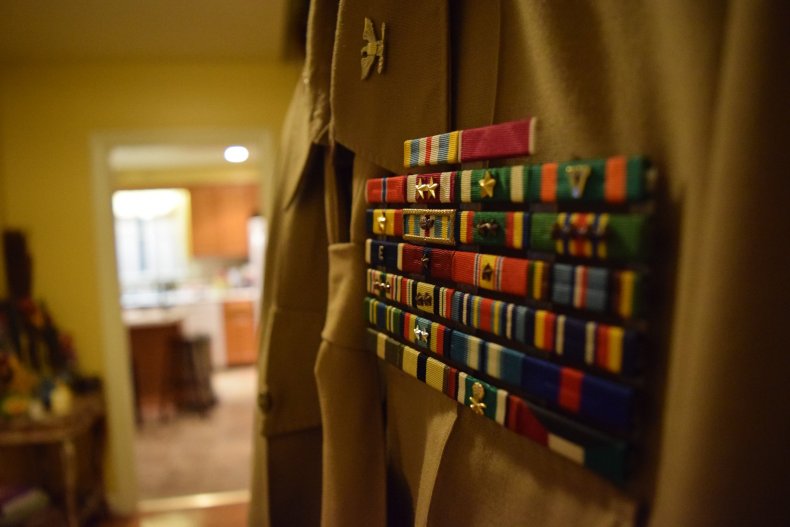 "In fact, on all these nights, you'll hear testimony that [Wilson] was drinking," Lieutenant Colonel John Stephens, lead attorney for the prosecution, said in his opening statement at the 2017 hearing, reported Military.com.
The abuse allegations did not surface until two weeks later however; after the two families spent a series of nights together.
According to the father's testimony, there were several occasions that struck him as "a little off" after he had seen Wilson alone with the child on four occasions.
On July 13, at a dinner at the Wilson's, the court heard how the girl was sat on the man's lap and was attempting to show him her belly button, but was accidentally knocked to the floor and began to cry.
She is then said to have found her mother in the kitchen who attempted to comfort her, but also warned her not to show other people her belly button or other private areas.
"[The girl] chimes in very quickly, 'He didn't touch my privacy,' " Stephens said in his opening statement, reported Military.com. "[The mother] is taken aback."
The mother then told the six-year-old that if anyone had touched her, she could tell her without fear of punishment. It was then that the girl said that Wilson touched her, pointing to her private parts, and said that it had "burned, stung and hurt," according to Stephens.
It was this and a number of other pieces of evidence that ultimately led to Wilson's conviction.
There was no way that the three-judge appellate panel could have understood the case in the same level of appreciation, the parents argued, especially under a shorter period of time.
The military appellate court is also different to that of a civilian court where there has to be a judicial misstep in order for the case to be successfully appealed. For the military, the appeals court can simply disagree with the jury's original decision based on available evidence, meaning, no judicial misstep needs to occur.
This was another criticism of the parents who argue these appellate courts should be no different than civilian courts in the ways that they proceed.
"Article 66 (c) is wrecking the lives of victims who brazenly step out on faith and entrust in our nation's military justice system to see justice served for the abuse they have endured," the Adrian Perry said.
Wilson has maintained his innocence throughout and said he was "happy and elated" to be let free.
The parents, however, have now called on Congress to step in and they hope that the House Armed Services Committee will investigate.
Newsweek has contacted the staff of committee chairman Adam Smith (D-Wash) to comment.
In a statement on behalf of Wilson to Newsweek, lawyer Catherine Cherkasky said: "Col. Wilson is grateful the military justice system has a protection against wrongful convictions, which allows them to be thoroughly reviewed on appeal.
"This is an important right, especially in the military, where the panel members can easily be influenced by their belief as to the desires of their senior leaders when reaching a verdict.
"A reversal of a conviction under Article 66 is a very rarely used tool of the military appellate courts that is reserved only for cases where a grave injustice occurred at trial—that is exactly what occurred in Col. Wilson's case.
"Col. Wilson is appreciative of the dozens of supporters who have reached out to him to express their happiness that justice was served, and their gratitude for the time they served with him in the Marine Corps."
This article has been updated to include a statement from Wilson's lawyer.