Marine Stabbed to Death Outside Bar on St. Patrick's Day Weekend
A man has been arrested in association with the death of a U.S. Marine Corps veteran on St. Patrick's Day weekend.
Veteran Daniel Martinez, 23, of Illinois, was reportedly stabbed to death at about 6:53 p.m. on Saturday, March 19, in downtown Boston, according to a statement released Monday by the Boston Police Department. His death comes a few months after the police department said violent crimes were decreasing in the area and during one of the nation's largest St. Patrick's Day celebrations.
Police responded to a call on Union Street, where officers found an adult male victim later confirmed to be Martinez. He suffered an unconfirmed amount of stab wounds and was pronounced dead at a local area hospital.
Boston Police Homicide Unit detectives conducted an investigation that reportedly led them to Alvaro Larrama, 38, of East Boston, who on March 21 surrendered himself to Boston Police and was taken into custody without incident.
He was arraigned Monday in Boston Municipal Court and charged with murder.
WCVB 5 reported that Martinez was stabbed outside a bar called Sons of Boston, where Larrama reportedly worked as a bouncer. The stabbing reportedly occurred outside the bar.
"This is not a representation of our city of Boston, who we are, and I think we need to come together in support and love," Suffolk County District Attorney Kevin Hayden told WCVB 5.
Police provided no motive or explanation behind the stabbing. His family and loved ones are in shock.
"I was in complete disbelief that my boy's gone. How is this even possible?" Daniel Martinez's mother, Apolonia Martinez, told CBS Chicago. "He served four years in the Marines, you know, and he came back–and now he's gone? That man does not have any clue how many lives he destroyed when he took my son."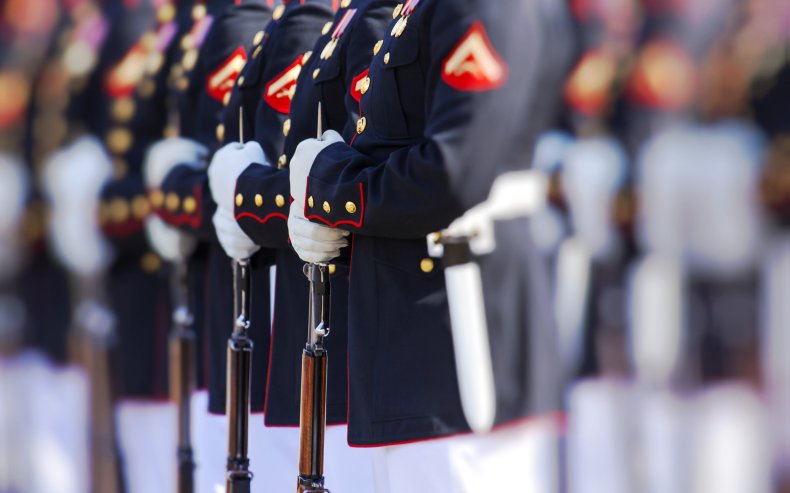 A spokesperson for the U.S. Marine Corps told Newsweek that Martinez served between September 5, 2017, and September 4, 2021. He held the rank of sergeant on January 1, 2022, with military occupational specialties described as an 1833 assault amphibious vehicle crew member.
He was deployed as part of the 11th Marine Expeditionary Unit from May 2019 until November 2019. His assignment was as part of the 3rd Assault Amphibious Battalion, 1st Marine Division, in Camp Pendleton, California.
His military awards included: Marine Corps Good Conduct Medal, National Defense Service Medal, Global War on Terrorism Expeditionary Medal, Global War on Terrorism Service Medal, and Sea Service Deployment Ribbon.
The Boston Police Department continues to investigate Martinez's death and is asking anyone with information to contact Boston Police Homicide Detectives at (617) 343-4470.
WESH reported that Larrama is being held without bail and will return to court on April 28 for a probable cause hearing.