Marines Can Now Be Heavily Tattooed, But May Face Career Implications Over Their Ink
The U.S. Marine Corps updated a 5-year-old tattoo policy that will now permit Marines to have sleeves, ditches and an unlimited number of other modifications to their skin.
Corps officials announced the new policy on Friday, which will allow Marines to have however many tattoos they wish, on whatever body part except the face, neck and hands or a single ring-like tattoo on a finger. The change in policy is intended to remove barriers that some face for joining the service.
"The tattoo policy over the years has attempted to balance the individual desires of Marines with the need to maintain the disciplined appearance expected of our profession. This Bulletin ensures that the Marine Corps maintains its ties to the society it represents and removes all barriers to entry for those members of society wishing to join its ranks," the policy change said.
Headquarters Marine Corps spokesman Maj. Jim Stenger told Marine Corps Times that a panel of Marines from different backgrounds and ranks recommended the tattoo policy change.
Sleeve tattoos were first banned by the Marines in 2007 because of the expectation that Marines must exceed the standards of the American people and being heavily tattooed was not considered a good representation at the time.
In 2016, when the policy was updated again, the sleeve ban remained and Marines were also prohibited from having tattoos around their elbows and knees. Enlisted Marines were not given a limit on how many tattoos they could have but higher-ranking officials like officers were only allowed to have four visible tattoos.
But as the Corps hopes to modernize, they opted to change the policy.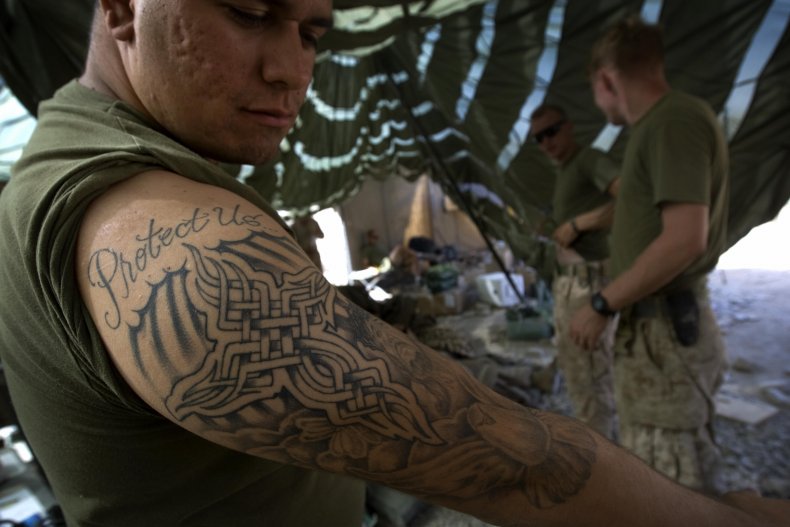 "The decision to change the policy came after a months-long review of existing regulations, which were believed to have an adverse effect on retention and recruiting efforts," Stenger said in a statement.
While Marines are not too restricted on where they can have visible tattoos, as long as they're not obscene, sexist, racist or extremist, the Corps does make note of possible consequences tied to any ink.
The policy states that Marines may face career implications over their tattoos, regardless of their acceptance, and could be denied future duty assignments.
Marines who have tattoos that don't comply with the rules are allowed to apply for an exemption, but Corps officials said it's unlikely to be granted. Those found in violation can be separated from the military.
Stenger said that Marines who were previously denied reenlistment over tattoos will not be automatically allowed to rejoin the Corps, but can speak with a recruiter to determine their eligibility.
Newsweek reached out to the Marine Corps Headquarters for comment.