Italian Cyclist Cipollini Posts Naked Facebook Photo in Response to Critics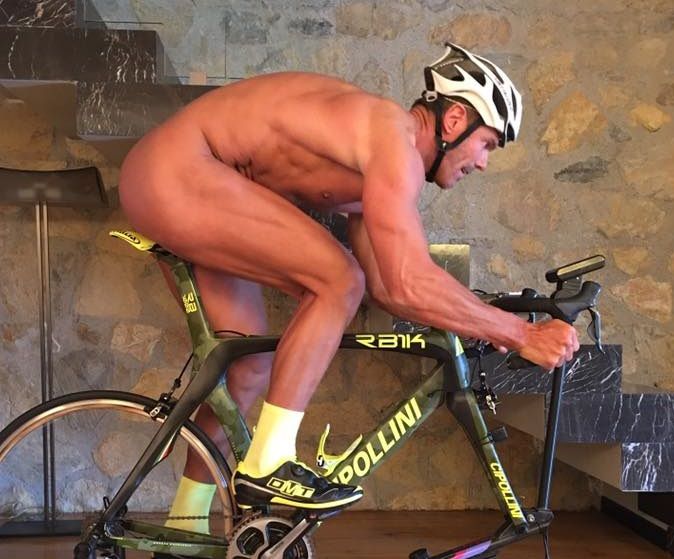 Mario Cipollini, the self-styled "Lion King," was known in his professional cycling days for sporting a fabulous variety of skinsuits, including a particularly memorable zebra-print number.
The Italian icon went one step further Wednesday when he posted a photo of himself on Facebook sitting on a bike indoors, completely naked apart from socks, cycling shoes and a helmet.
Cipollini, who won 42 stages in his beloved Giro d'Italia from 1989 to 2003, did not strip down to his birthday suit simply to feel fresh air between his legs.
Indor training .....Dedicato a tutti i "giuridici" che commentano le mie foto !Ho messo il casco anche sui rulli !Sono grato ai vostri consigli riguardo la mia tutela !

Posted by Mario Cipollini on Wednesday, February 17, 2016
He was responding to comments made under a photograph he posted on the same site on February 6 that showed him riding in promotion of one of his eponymous range of bikes, describing the "special sensations" it gives.
"Mario Cipollini," read the most linked reply, " if you put a helmet on maybe the sensations that you transmit to the young people would be more exciting."
Evidently piqued, Cipollini responded with a tremendous show of public nudity.
"Indoor training..." he posted next to the naked photo. "Dedicated to all 'lawyers' that comment on my photos! I use a helmet on the rollers, too! I am grateful for your advice about my protection!"
The aerodynamic advantages of cycling in the nude remain untested.