'Mario Kart 8 Deluxe' Update: 'Breath of the Wild' Link and Master Cycle Added
Mario Kart 8 Deluxe has added a new look to its roster in today's free update. Joining the lineup is a costume for the Breath of the Wild version of Link, along with some of his trademark wheels.
As seen in the video above, Breath of the Wild Link has brought his trusty Master Cycle Zero, complete with Ancient Tires and Paraglider. The free update is available right now, so to update your copy of Mario Kart 8 Deluxe make sure your Switch is connected to the internet, then go to the Home menu and select Mario Kart 8 Deluxe . The update should automatically download and install.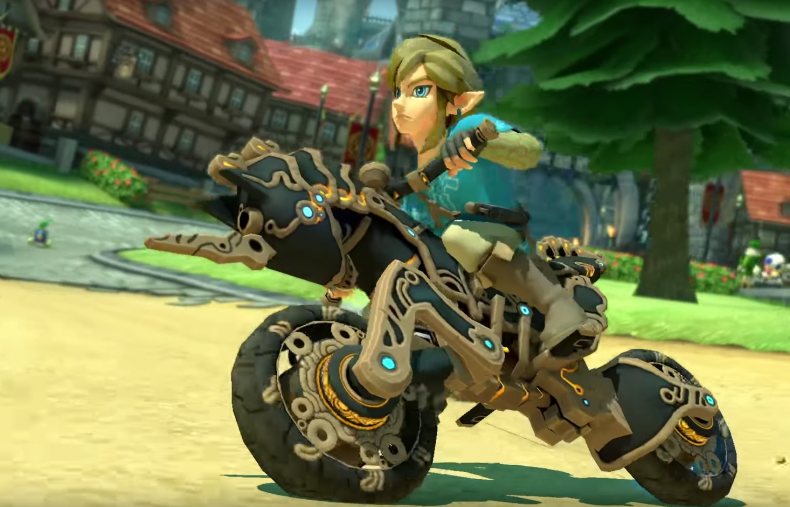 The Champion's Tunic outfit for Link comes as part of the 1.6 update. Nintendo has released full patch notes for the 1.6 update, but they aren't very descriptive. The full notes are as follows:
Version 1.6.0
New character added: Link (Champion's Tunic).
New vehicle added: Master Cycle Zero.
New tires added: Ancient Tires.
New glider added: Paraglider.
Update includes revisions to improve gameplay, as well as some content not listed here.
With this addition, many fans have started requesting other characters not traditionally seen in the Mario Kart franchise. One of the most common characters mentioned in tweets and comments is Kirby:
Now that Nintendo has opened the doors for non-Mario characters in the Mario Kart world, anything is possible. Personally, I think Mr. Game and Watch would be a great Mario Kart contestant, but maybe that's just me.
So what do you think? Are you excited to see Breath of the Wild content make the jump to Mario Kart 8 Deluxe? What other additions would you like to see in future updates? Let us know your thoughts in the comments section below.