Just Four Words: Real-Life Mario Kart
If you've ever wanted to combine classic Nintendo games with extreme sports, treasure this: A Reddit user unearthed a video of four friends who found a way to play Mario Kart in real life.
The video, posted to r/nextf**kinglevel, shows four friends riding around on go-kart-like scooters trying to lap each other; they're driving through what looks like an office building's courtyard like it's Rainbow Road. The post has been upvoted over 32,000 times as of 9:15 a.m. ET.
Unfortunately, it seems like the group got hit by a blue shell, because two of the guys fell off their scooters and had to reset. In fairness, though, it's actually really impressive that no one fell off sooner.
It's also worth noting that none of these people seem to be wearing protective equipment, and if you're looking to start your own IRL Mario Kart league, investing in a helmet and maybe some elbow pads would be wise. No one is going to just drop you back on the track like in the game, as some Redditors pointed out.
The pads should be helpful, in case someone drops a banana; as many users pointed out, that's a Mario Kart item that the group could actually mimic in reality.
And this shouldn't surprise anyone, but one user edited the clip so that it could have the music from the game, to maximize the effect. Unfortunately, it was with Luigi Circuit music—many users said they wished it was the music from Coconut Mall instead.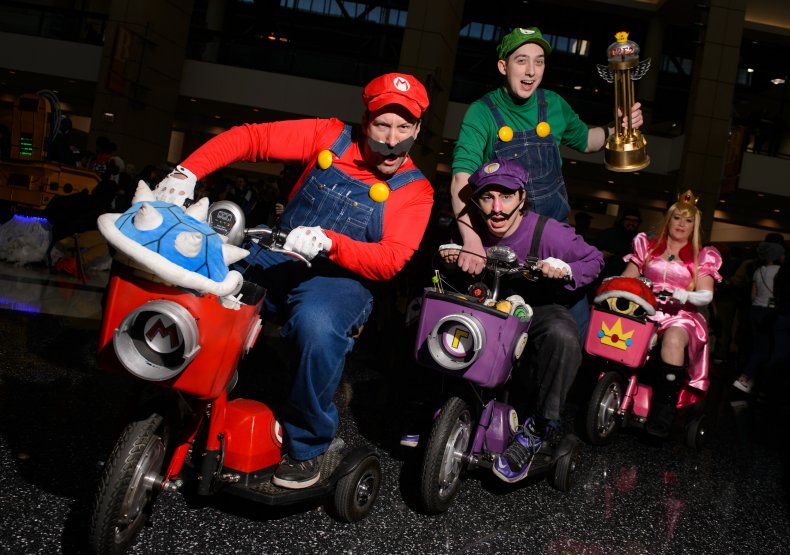 Naturally, people wanted to know what exactly these people are riding in the video. Someone pointed out that they were driving Razor's Crazy Cart XL, a battery-powered motorized scooter that comes equipped with a drift bar—comes in handy when gliding through your hometown and trying to dodge turtle shells. The XL version is an upgrade from the original Crazy Cart, built for adults and bigger kids to glide around on.
For those looking to purchase one to start practicing for the Mario circuit, the scooters cost about $600 from Razor, but they're out of stock and cost about $650 from Wal-Mart and $700 from Best Buy.
The group from Reddit were not the first people to come up with the idea of playing Mario Kart in the real world. A few people have shared amusing videos of themselves driving go-karts while dressed as characters from the game. And in 2016, a group of people took this idea about as far as they could: They dressed like Mario, Princess Peach, Yoshi, Luigi, Wario, Bowser and Donkey Kong, and rode carts around a local mall, only to be told "Game Over" by local law enforcement.