Mario Lopez is somewhat of a Lifetime movie veteran, but the Saved By the Bell actor has never had a role like his new one for the channel. On December 13, he will play Kentucky Fried Chicken (KFC) founder Colonel Sanders in A Recipe for Seduction.
From the trailer, the film will combine 50 Shades of Grey with KFC's 11 herbs and spices. Rather than a straight biopic, the movie sees Lopez play Harland Sanders as a hunky cook who, as is always the way with Lifetime movies, begins an affair with the lady of the house, leading to violent repercussions from her current beau.
Fans should note (as if it needed clarifying) that this is not the real story of Sanders' life. However, the real-life Sanders was also not afraid of a little fictionalization—he was not a real military colonel, after all.
Though it has been billed as a movie, however, A Recipe for Seduction is far from feature-length. When Lifetime call it a "mini-movie," they mean it—the film is 15 minutes long, making it more of an extended commercial, or more specifically an advertorial, than a real film.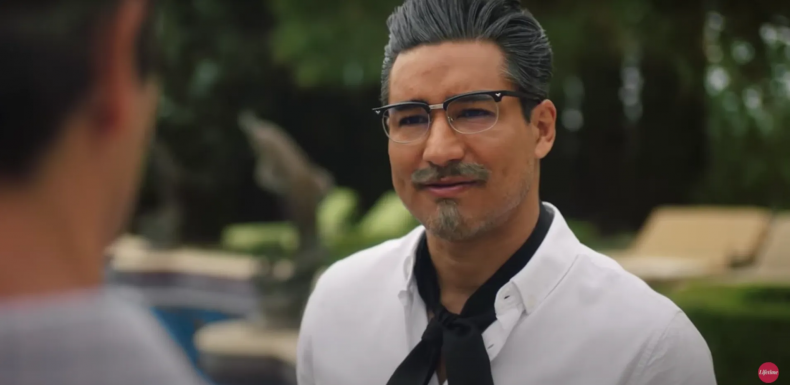 The hints that the whole thing was an advert where there—the poster says the movie is "presented by Kentucky Fried Chicken," for example, but fans who were hoping that Lopez (and his abs) would be frying chicken across a feature-length special are sure to be disappointed.
The "mini-movie" is the latest marketing stunt from KFC, which combines the two things the fast-food company's advertising has become known for—a rolling roster of celebrity Colonels Sanders, and a series of elaborate quasi-hoax products and non-traditional branded content.
Among the celebrities who have put on the white hair and glasses of the Colonel in recent years are Rob Lowe, Ray Liotta and Reba McIntire; plus famous faces whose names don't begin with 'R' like Seinfeld's Jason Alexander, Jim Gaffigan and Game of Thrones' 'The Mountain,' Hafþór Júlíus Björnsson.
Among the other Kentucky Fried Content the restaurant has produced in recent years before making A Recipe for Seduction, meanwhile, is a 2018 live-stream of cats on a climbing frame shaped like Sanders, which was viewed more than one million times. The company also did a series of DC comic book that saw the Green Lantern and The Flash team up with the Colonel in the 2010s.
They have also released a series of bizarre promotional items like a firelog that gives off the scent of fried chicken as it burns, which came to Walmart stores earlier this year.
A Recipe for Seduction is not even the first time the company has combined its signature chicken with romance and a young, hunky colonel.
In September 2019, KFC released I Love You, Colonel Sanders! A Finger Lickin' Good Dating Simulator, a video game in which the primary objective is to seduce a sexy young Sanders who is the player's fellow student at a cooking school.
A Recipe for Seduction airs on Monday, December 13 at noon on Lifetime.