'Super Mario Maker 2' Multiplayer: How to Play With Friends
The sequel to the Wii U's Super Mario Maker is here and has a ton of new features including a story mode plus online and local multiplayer.
While a local multiplayer feature is usually easy to access, Super Mario Maker 2 doesn't make it as intuitive as it should be. However, it's still not too bad as long as you remember some basic steps.
If you want to face off with your friends in some Super Mario Maker 2 local multiplayer here is how you can do it.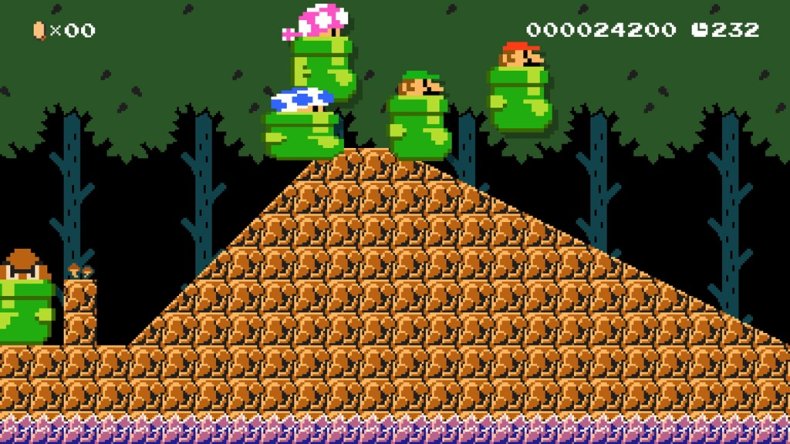 HOW TO PLAY LOCAL MULTIPLAYER IN SUPER MARIO MAKER 2
The biggest thing players will want to remember if they want to play a local match in Super Mario Maker 2 is to download courses in Course World.
You can challenge yourself and friends to a course you created yourselves but if you don't have any created you'd need to download one to play. This is because local multiplayer in Super Mario Maker 2 isn't found in the Course World feature, it's actually in another section.
Enter Course World and download a stage into an empty save slot.
Press the plus button on your controller to open the Coursebot.
Select the course you want to play in either "My Courses" or "Downloaded Courses."
Select the tab that says "Play Together" this will be on the right side of the screen.
Activate the controllers you and your friend will use and enjoy.
CAN YOU PLAY WITH FRIENDS ONLINE IN SUPER MARIO MAKER 2?
The short answer is no, not yet.
After Nintendo announced that online multiplayer would be a feature for Super Mario Maker 2, it was revealed that players won't be able to play with their friends. Nintendo's justification for this had to do with global leaderboards and to prevent cheating, but this led to some backlash.
At E3 2019, the Super Mario Maker 2 developers announced that they will be working on making it possible to play friends online in a future update.
For now, you can only play against strangers online through Course World. Simply enter Course World and then to Network Play, where you can create your own room and join one.
Super Mario Maker 2 is available now for Nintendo Switch.
Have you been enjoying Super Mario Maker 2 so far? What part of the new game is your favorite? Let us know in the comments section below.