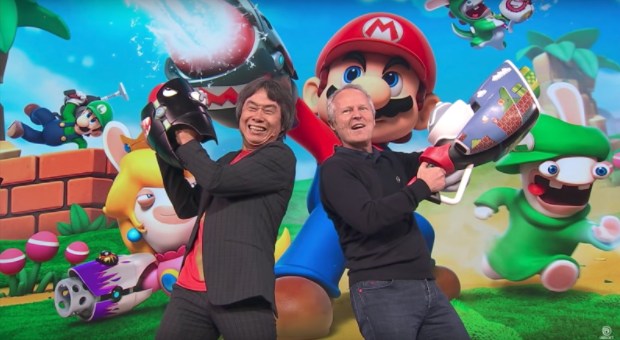 Nintendo's Shigeru Miyamoto knows how to make an entrance. His presence was a welcome surprise during Ubisoft's E3 2017 presentation at the Orpheum Theatre in Los Angeles. He was there alongside Ubisoft CEO Yves Guillemot to announce a new partnership between the companies, and a new game: Mario + Rabbids Kingdom Battle.
Screams erupted in the theatre as Miyamoto, who's the creative force behind childhood Nintendo heroes such as Link from Legend of Zelda, made his way to share the stage with Guillemot. The two honored the Nintendo-Ubisoft partnership by posing with weapons from Mario + Rabbids Kingdom Battle. In the excitement, it was easy to miss a comment the soft-spoken Miyamoto made on stage. He told the audience he didn't want Ubisoft to turn the Mario-Rabbids collaboration into a platformer, i.e. a Mario-looking game.
"Mr. Miyamoto wanted [Ubisoft] to do something different from what [Nintendo] was doing with Mario. It cannot be an action game, it has to be something different enough so that way you can enhance the world of Mario with new gameplay beginnings," Guillemot told Newsweek.
Miyamoto makes this request when any studio asks to partner with Mario. Miyamoto confirmed development, from Nintendo's perspective, has been three years in the works with Ubisoft. It's a small ask from Miyamoto, but it's important to the Nintendo team working on Mario games they handle the platformers.
"This is something I ask anybody to do when they collaborate with Mario," Miyamoto tells Newsweek. "For example, there's a game called Mario and Luigi RPG where there is a jump function, but it's connected to one button– it's an action that you choose out of a command. Where as in Mario games, you use jump to make a lot of different things happen, whether you're going to places or taking some sort of action.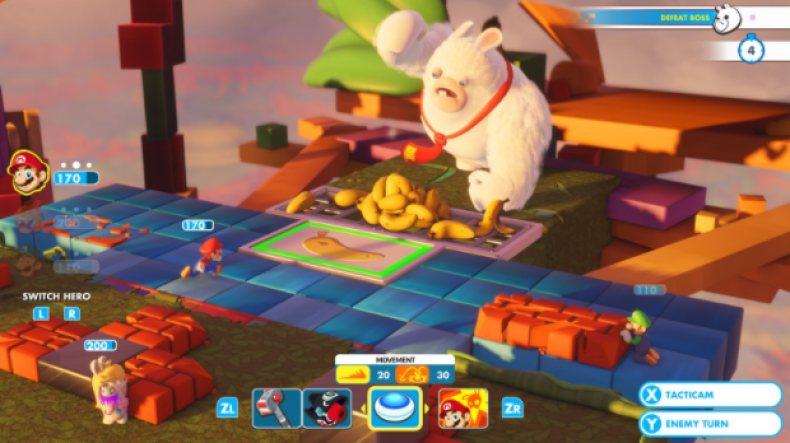 "I told myself that I would like the original Nintendo team to be able to build on that," Miyamoto continued. "So when other developers work on [Mario], I ask them to have a unique and original element in their game and not to use 'jump' as more than just a command. Mario + Rabbids Kingdom Battle is turn-based strategy, but also has a lot of action. I feel like beyond that I think anything can be done [by Ubisoft] will just make the game more fun."
And Mario + Rabbids Kingdom Battle is a fun game. Xavier Poix, managing director of Ubisoft's French studios, told Newsweek the development team wanted to create a turn-based strategy game that appealed to a broad audience. The playstyle feels similar to what you'd see in games like XCOM 2, but with simpler gameplay mechanics designed to be accessible to fans used to "Mario" games. Ubisoft wanted to use Mario + Rabbids Kingdom Battle to introduce the challenges of a turn-based game to younger players. The Rabbids characters are silly, grotesquely adorable rabbit creatures, and mix well with iconic Nintendo characters like Mario, Luigi, Peach and Yoshi.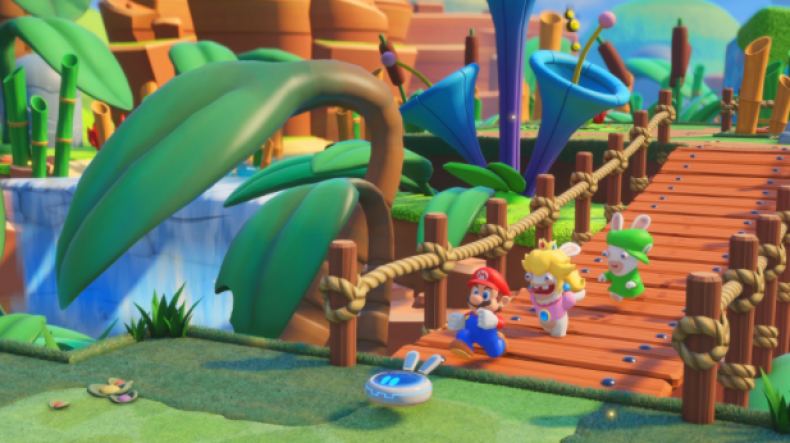 You'll find a lot of quirky, cute moments in Mario + Rabbids Kingdom Battle. Miyamoto and Guillemot agreed the Mario-Rabbids world should be bright, fun and, most importantly, comical. For example, Luigi and Rabbid Luigi are excited to meet each other in the game. They share a few choreographed dance moves while Rabbid Peach and Mario look on. Rabbid Peach becomes quickly enamored by Mario, though it probably won't last when Rabbid Mario comes into the picture.
Guillemot and Miyamoto are both enamored by Rabbid Peach with her fierce, yet soft personality. She can throw down with the guys and still have time to pose for a selfie on her smartphone.
"First time I saw Peach, I told Xavier you have to develop that character a lot. I love it," Guillemot said.
"I like it when she throws down her wig," Miyamoto laughed.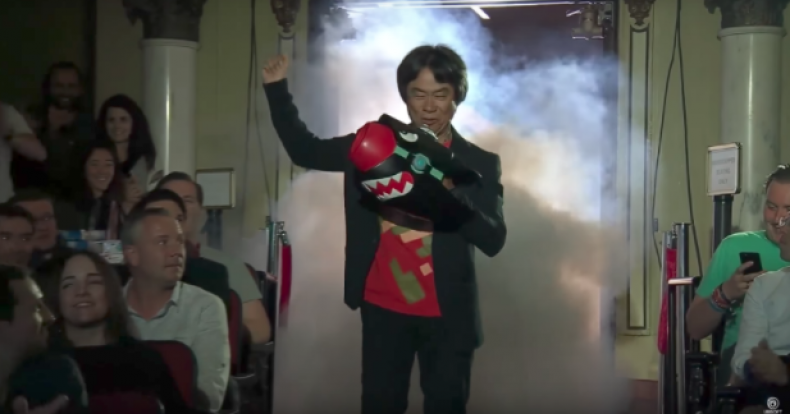 Miyamoto and Guillemot seem pleased with the partnership so far, and the potential to build these characters out has the Ubisoft team excited, too. The mash-up of two gaming franchises offers a lot of possibility, but it also requires a careful balancing act to ensure fans on both sides feel the game is meant for them.
"The Rabbids are kind of random, usually, and we wanted to characterize them more. We wanted to mix their DNA, which is an irreverent, crazy DNA, to the characters that are well known in Mr. Miyamoto's world," Poix said. "Any Mario game requires a lot of accessibility. And it's true that tactical turn-based games are very deep, but accessibility is not there usually. We wanted to bring a new kind of draw, which is a tactical adventure kind of game that will appeal to a large audience."
Mario + Rabbids Kingdom Battle will be released Aug. 29 for the Nintendo Switch.