'Mario & Sonic at the Olympic Games Tokyo 2020' Best Mini-Game Events Worth Playing
Mario and Sonic have returned to team-up once more in Mario & Sonic at the Olympic Games Tokyo 2020. To truly enjoy this title, you will want to play with friends locally, as the single-player story mode does not provide much fun while crawling your way through the endless amounts of dialogue.
In an effort to get to the fun faster, we've broken things down to feature only the best party games. Invite some friends over, and enjoy some of the few gems this title has to offer in the game's Quick Match mode.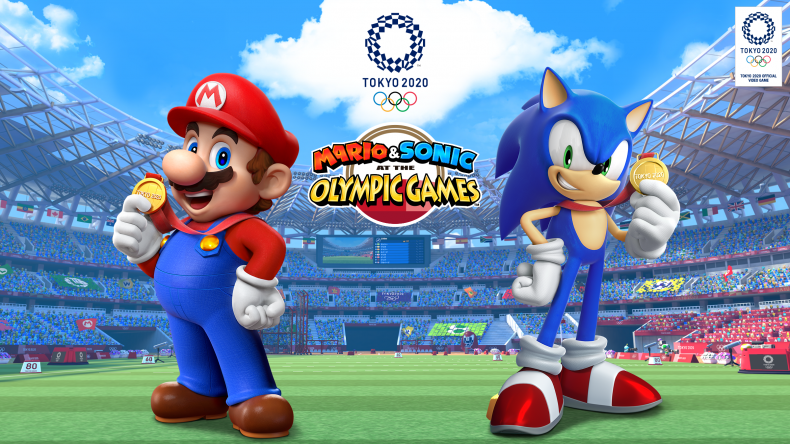 Most of the mini-games do not require much skill at all and instead often devolve into a button-mashing race. For the quickest access to gameplay with the easiest way to bring newcomers in, stick to button controls instead of motion controls for the best competitive experience.
The 8-bit Tokyo 64 style games are enjoyable for their campiness and ease of play. You can share the joy with anyone, no matter their gaming prowess.
After playing all 34 game events offered from the start, you will surely find a few that surprise and delight. The games that require a more complex control scheme tend to offer more enjoyment over the large amount of button mashing mini-games available.
Here are our favorite game events guaranteed to spice up your next social gathering.
2D EVENTS
SHOOTING - TRAP
Shooting - Trap has such a classic game feel to it, I can definitely see myself coming back to play this one to top my high score. Aim and shoot with A is all you need to know with this one. When a clay target is launched, you can only fire up to two shots per target, so you must aim first. The more targets you hit, the more time you earn. This saved time comes in handy for the final round, where targets are launched one after another in succession.
VOLLEYBALL
This is one of the few 2D events with complex controls. Win a set by being in the lead by two points. You can only earn a point when it is your serve. If you would like a longer match, you can edit the amount of points necessary to win. To rack up points quickly, master the "set, serve, spike" technique and time your jumps at the right moment before spiking the ball to your opponents. Failure to do this will leave you at a severe disadvantage.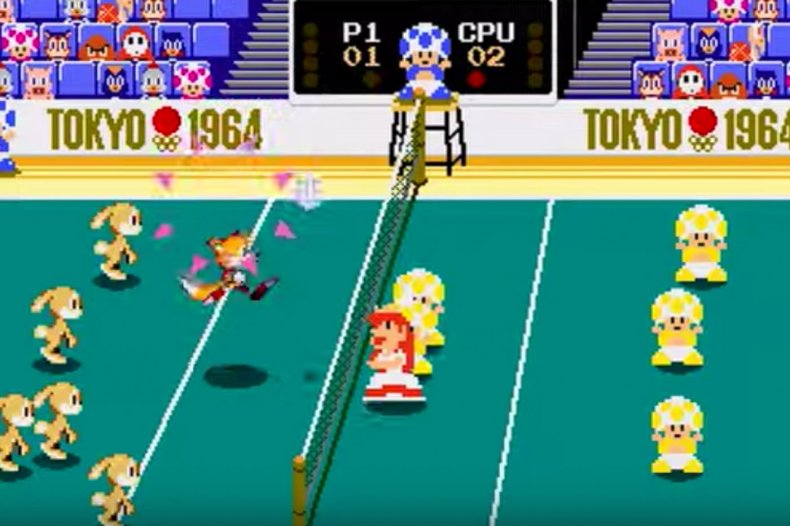 3D EVENTS
BOXING
Boxing is one of the more satisfying events to play. It just feels good when those punches connect. The ability to combine high and low punches along with uppercuts and hooks adds plenty of mechanical diversity. You will need to become a great button masher, though, when it comes to getting up before the 10 count.
RUGBY SEVENS
Rugby Sevens offers a great amount of competition as one of the few events to keep you engaged for more than a few minutes. Passing and aiming are key when it comes to timing and making your way to the goal. It's best to look for the character that is clear of opponents, or you may have a collision on the field. At times it may be hard to realize which of your characters you are actually controlling. Just be sure to evade at the right moment, and you will do fine.
SKATEBOARDING
Although not the most complex of skate parks, this event is free-wheeling fun. Pull off the most tricks possible in the allotted time to earn the most points and defeat your opponent. This event would be even better if there was a variety of courses to choose from, but it is still a great way to entice newcomers to pick up a controller.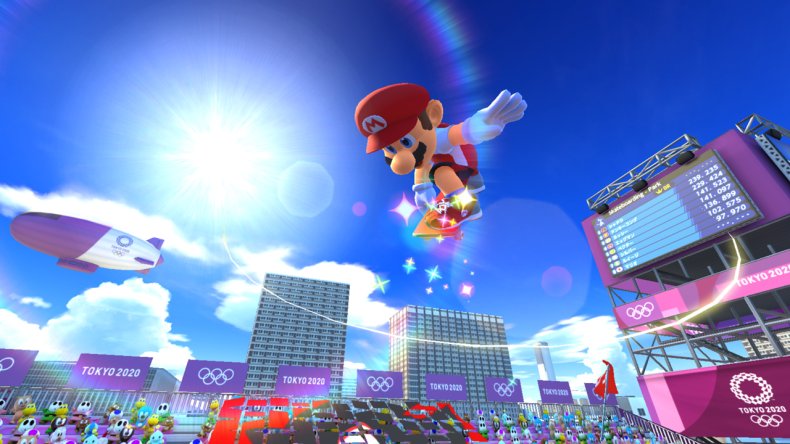 DREAM EVENTS
DREAM KARATE
The goal in this mini-game is to control the most panels on the board by the end of the match. The main way to do that is by knocking your opponents silly. Punch and kick, or even use a Power Strike, to really send them flying. Throwing your opponent is a great way to collect far-away panels. When your power Gauge maxes out, be sure to strike swiftly with your Super to earn maximum panels.
DREAM RACING
This is easily the best mini-game out of the whole package. Jump and perform tricks while skating down an inclined course while grinding on rails. Just be sure to maintain your balance while grinding, or you will lose out on play time. The more tricks you do, the more boost you will acquire, helping you get to the bottom of the track first. Sadly, there is only one track, which may get old after a while. I would love to see a game in this style with multiple tracks.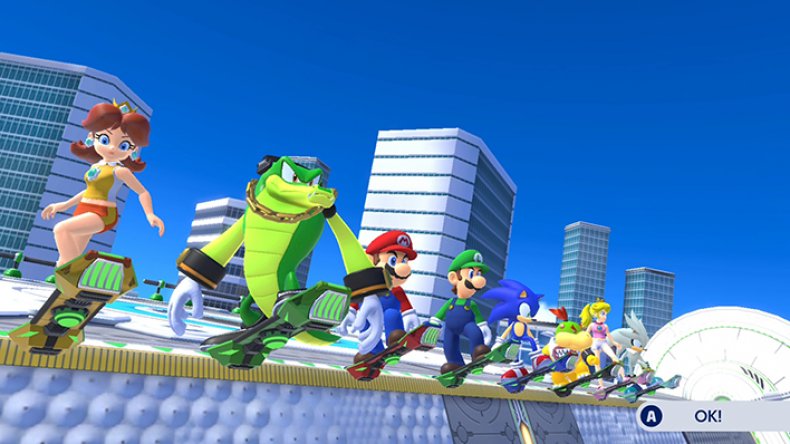 Mario & Sonic is a game you definitely want to play locally with friends. Its online component loses its fun factor when your buddies are not there to witness your victories. As a single-player game, there is not enough to keep players coming back after completing the laborious story mode.
Mario & Sonic at the Olympic Games Tokyo 2020 is available now on Nintendo Switch. Let us know which events have become your favorites.