Marissa Mayer was the 20th employee at Google, arriving there in 1999; Tim Armstrong came in 2000, about 80 employees later, which in Silicon Valley is a gap of several generations. Mayer was the Stanford-educated engineer; Armstrong was an ad salesman who'd played lacrosse and rowed crew at Connecticut College.
To 99.3 percent of Americans, the differences in their educational attainments and professional ranks would be insignificant. Mayer, though, was as acutely aware of status as the protagonist of a Victorian novel, and she knew that hers was much higher than Armstrong's. "He did not penetrate Mayer's ivory-towered product world, and no number of promotions would ever change that," Sarah Ellison recently wrote in Vanity Fair, noting that "the two regularly faced off in debates" over Google's future.
Both eventually left Google—Mayer in 2012 to run Yahoo and Armstrong to run AOL (2009), which bought The Huffington Post (2011) and then was itself bought by Verizon (2015). Mayer, in the process, became one of the most visible chief executives in Silicon Valley, while Armstrong remained essentially an ad guy largely unknown outside the tech and media industries. In 2014, the two rivals met for a late-night drink during a conference in Sun Valley, Idaho. For those who cover the media and technology, this was tantamount to Taylor Swift and Kim Kardashian taking a spin class together. Some thought a merger was coming, but that would have probably required several more rounds.
Now the Google veterans meet again, though celebratory champagne is unlikely. In a development at once unlikely and inevitable, Yahoo (well, most of it) has been bought by Verizon for $4.8 billion. Just about everyone expects that Mayer will either relinquish or lose her job. After all, if she'd performed remotely as well as hoped, there would have been no push for a sale. At the same time, Armstrong, the chief executive of AOL, is likely to see his influence grow as Verizon continues its shift from a telephone company to a media conglomerate, one that will need his ad-selling and content-generating expertise (in that order, presumably).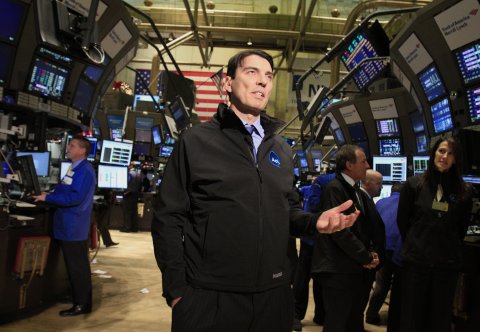 "A Verizon-Yahoo combination would thrust Mr. Armstrong into the role of overseer for the combined company's digital media assets," The Wall Street Journal mused this past spring, as a sale seemed to be approaching. That would mean, among other things, that in his years-long competition with Mayer, Armstrong has emerged victorious.
When the 37-year-old Mayer arrived at rudderless Yahoo in 2012—the company's fifth chief executive in five years—her appointment was seen as something equivalent to the elevation of a new Dalai Lama. Here was an obviously brilliant, relatively young woman, rising to the top in an industry dominated by anti-social coding geeks. If she succeeded, she could serve as Silicon Valley's ambassador to the world.
"A major coup," Forbes gushed.
VentureBeat doubled down on the adulation: "Money, beauty, love, and a fabulous career—is there anything Mayer doesn't have?"
Yahoo, like AOL, was a Silicon Valley pioneer. As the dot-com boom was ravaging the tech industry, AOL merged with Time Warner, a $165 billion deal that is routinely taught in business schools as the unqualified disaster it quickly revealed itself to be. In the ensuing years, as a new generation of tech companies arose, AOL became the butt of jokes, its ubiquitous promotional CDs the relics of an earlier era, its email addresses used only by the old and the ironic. Yahoo, meanwhile, soldiered on, its online advertising strong enough for Microsoft to offer $44.6 billion in 2008. Yahoo rejected that deal. Today, Verizon acquires the company for roughly a 10th of that price.
Mayer was brought in to make Yahoo competitive with younger, bigger rivals, namely Google and Facebook. Expansion was her modus operandi. Mayer hired journalists whose defections to the Sunnyvale company became news stories: David Pogue from The New York Times, Matt Bai from The New York Times Magazine and, most notably, Katie Couric, who would become its "global anchor." Mayer also started "digital magazines" while acquiring other digital properties: 49 in all, for a total cost of $2.2 billion, according to VentureBeat.
The most notable of these was Tumblr, bought in 2013 for $1.1 billion. Today, the value of Tumblr is believed to be a small fraction of that and still tumbling, a symbol of the ambitious but misguided moves Mayer made. Another such move, far less costly but more embarrassing, came during last year's holiday season, when Mayer threw a $7 million Jazz Age–themed party during which she sat behind a velvet rope, posing for photographs with employees (she has disputed the cost, but she can't dispute the damning images). The brutal, mocking coverage of that affair confirmed what many had long suspected: that Mayer was close to done.
Armstrong took over AOL nine years after its 2000 merger with Time Warner. (The two were split shortly after Armstrong arrived.) There was no adulatory coverage of the kind that would burnish Mayer's arrival at Yahoo. Armstrong, to most, was an unknown, and AOL was a has-been.
When Armstrong did make news, it was for errors that seemed to reinforce Mayer's reportedly low opinion of him. In 2013, during a call with employees at Patch, an AOL microblogging subsidiary Armstrong founded, he fired its creative director, Abel Lenz, for photographing him as he spoke, an outburst of misdirected fury that, captured on audio, quickly went viral. If they don't teach it at Harvard Business School as an example of horrific leadership, they should.
Armstrong didn't appear to learn from the episode. The following year, he justified cuts in benefits by telling his employees: "We had two AOL-ers that had distressed babies that were born that we paid a million dollars each to make sure those babies were OK in general. And those are the things that add up into our benefits cost." This seemed to many a case of preposterous, offensive illogic, and Armstrong was flayed in the media for days. (One of the "distressed babies" was born to Deanna Fei, a Brooklyn novelist who wrote a memoir about being demeaned by Armstrong as she struggled to care for a prematurely born daughter; her husband, Peter Goodman, then a high-ranking editor at The Huffington Post, went on to become the editor of International Business Times, which is owned by the same entity as Newsweek.)
But these episodes obscured the fact that Armstrong's savvy in the advertising realm was keeping AOL afloat. By absorbing The Huffington Post and TechCrunch, AOL expanded its media holdings while also retaining 2.1 million users of its dial-up service, and Verizon bought it in the spring of 2015 for $4.4 billion. Verizon wanted the content created by AOL properties. More important, though, it wanted the powerful advertising mechanism Armstrong had meticulously constructed over the years. At the time of the sale, Fortune praised AOL for having "put together a sophisticated suite of advertising technologies for online and traditional media that no other company (aside from Google and Facebook) can match."
Google and Facebook, of course, were the titans Yahoo wanted to compete with when it brought in Mayer. It has to be galling for her onetime boosters to see Armstrong, nobody's idea of a visionary, emerge victorious as his Verizon buys her Yahoo.
It may be that Mayer simply overplayed her hand, expecting a beat-up three-speeder to compete in the Tour de France. Yahoo did many things, but there was never one thing it did exceptionally well, so well that it could justify (and pay for) all those ancillary activities. As a withering case study by the Wharton School of the University of Pennsylvania argued, "When Marissa Mayer took the reins at Yahoo, she was hailed as a visionary leader who would rescue the floundering company. But she failed her most important task: explaining—to investors, customers, employees and the world, really—why Yahoo should continue to exist."
If corporations are people, then Yahoo is most certainly Marissa Mayer—or at least was, until today. The merger itself will take some time, but Mayer will also likely depart the company. Maybe, before she goes, Tim Armstrong will buy her a drink.