Mariupol Doctors Perform Procedures Without Painkillers as Supplies Dwindle
As Russian forces continue their attack in Ukraine, cities like Mariupol are starting to run out of supplies.
Mariupol, a port city on the Sea of Azov, has been facing antibiotic and painkiller shortages, forcing doctors in the city's hospitals to carry out some procedures without them, the Associated Press reported. Injured residents and military members have been flooding hospitals amid the shelling, Euronews said.
AP reported that the city is also short on water, food and power. Cellphone networks have not been functioning and desperate residents have been looting stores for supplies.
Dr. Evgeniy Dubrov, a doctor at a Mariupol hospital, told Euronews that hospital employees have worked for more than a week without a break.
"We continue working without electricity, weather and heat," Dubrov said.
Temperatures in the region are just above freezing, with snow expected this week, according to the Weather Channel.
Amid the power outage, some doctors have had to use cellphone flashlights to look at wounds, AP added.
Though organizations like the Red Cross intended to evacuate 200,000 citizens from Mariupol over the weekend, attempts failed due to the lack of an agreement between Russian and Ukrainian forces on creating a "humanitarian corridor" for them to leave.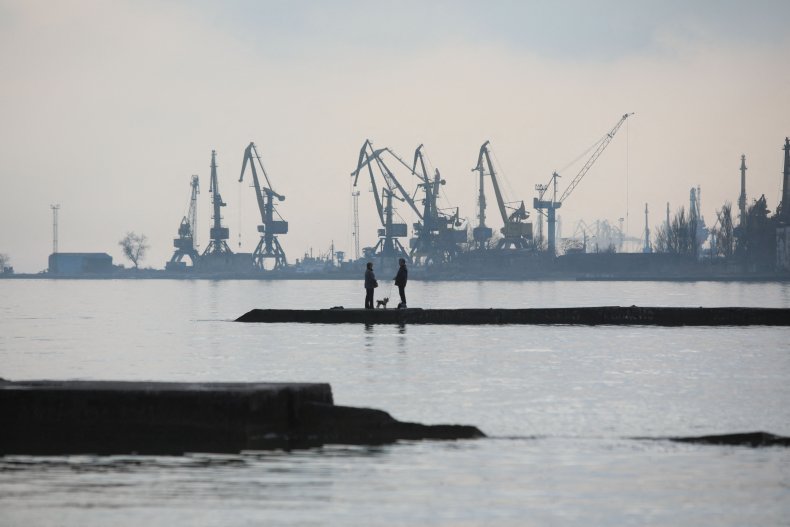 "The failed attempts in recent days underscore the absence of a detailed and functioning agreement between the parties to the conflict," a spokesperson for the International Committee of the Red Cross said.
Though Russia announced on Monday that there would be humanitarian corridors in other parts of Ukraine, maps published by Russian state news agency RIA show that many of the routes, like the ones out of Kyiv and Kharkiv, would take people to Russia and Belarus, Russia's ally.
There was no immediate sign of an evacuation from Mariupol on Monday, AP reported. Ukrainian officials accused Russian forces of using "medieval siege" tactics in places like the port city. In addition to having a port, controlling Mariupol would be useful to Russia because it creates a land passage to Crimea, the region Russia annexed from Ukraine in 2014.
On Monday, a Kremlin spokesperson outlined the conditions Russia wants Ukraine to meet in order to stop the attacks. Russia demands that Ukraine to cease all military action, sign a neutrality agreement barring it from joining NATO, recognize Crimea as Russian territory and recognize Donetsk and Luhansk as independent regions. Ukrainian officials have not yet responded to the demands.
Update 3/7/22, 12:41 p.m. ET: This story was updated with additional more information.