Russia Allegedly Bombs Field Hospital at Mariupol Plant
This footage shows the chaotic moments after a military field hospital was allegedly shelled by Russian invaders in Mariupol, Ukraine.
The video was filmed at the Azovstal iron and steelworks plant, which has been used as the field hospital since Russia invaded the country in late February.
Russian troops stormed the area on April 19 and destroyed large areas; however, pockets of organized resistance fighters remain at the plant, refusing to surrender to the invaders' demands.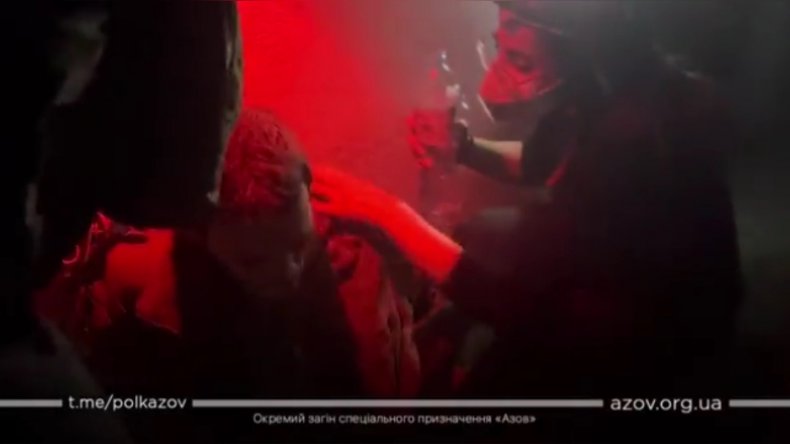 The Azov Battalion, a unit of the National Guard of Ukraine based in Mariupol, said on April 28: "WARNING! All night at the military field hospital, located on the grounds of the Azovstal plant in Mariupol and where the wounded defenders are being treated, the Russians constantly dropped heavy bombs capable of breaking through any concrete defensive structures.
"Then, having already caused destruction, they continued to mercilessly shell the ruins with naval artillery.
"Among the already wounded servicemen are dead and newly wounded and injured people.
"Due to the enemy attack, part of the room collapsed - in particular the operating room, which makes it impossible to now help our soldiers, even in the same conditions as before.
"We emphasize! The Geneva Convention guarantees the protection of inpatient and mobile medical institutions, they should not be attacked! The wounded and sick should be protected, regardless of whether they are civilians or military personnel (combatants)."
The battalion added: "The wounded must be provided with the necessary assistance without any discrimination.
"We call on international human rights organizations to respond to the fact that Russia continues to try to kill defenders of Mariupol who can no longer hold weapons!
"The video was shot immediately after the shelling. The footage shows the exhumation of dead soldiers who were in the hospital with serious injuries and people providing first aid to victims."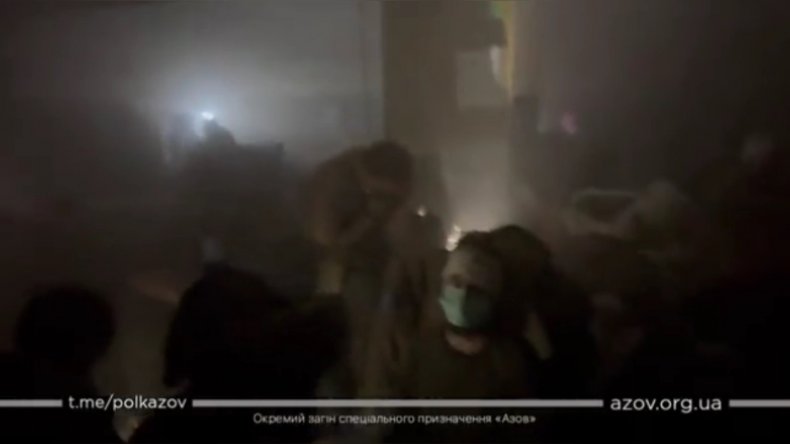 On Tuesday, the Azov Battalion shared images of resistance fighters helping an elderly woman - seen trembling in shock - onto a bed in a basement in the Azovstal plant as defense sirens blare.
The incident was filmed during 35 reported airstrikes on the plant in just 24 hours.
The Battalion said on April 26: "The Azovstal plant, which houses the defenders of Mariupol where civilians are hiding from the bombs in basements, continues to be struck by enemy fire. In the past 24 hours alone, 35 airstrikes were carried out, during which one of the stores caught fire.
"Most importantly, they affected civilians who are now trapped. Soldiers of the Azov Battalion provided first aid and make every effort to free civilians from the rubble."
Russia invaded Ukraine on February 24 in what the Kremlin is calling a "special military operation." Friday marks the 64th day of the invasion.
This story was provided to Newsweek by Zenger News.