Mariupol Forced to Bury Dead in Mass Grave as City Remains Under Siege
Faced with overflowing morgues, Mariupol is burying its dead in a mass grave as Russia continues its siege of the Ukrainian port city.
Individual burials had been halted amid Russia's assault on the country, but city officials decided to act as the morgues were overwhelmed, and many corpses remained uncollected at homes, the Associated Press reported. Thirty bodies were brought to a trench in an old city cemetery on Wednesday after another 40 had been brought Tuesday.
The mass grave reflects the increasingly dire situation in Mariupol, where conditions were described as "catastrophic" by Ukrainian Deputy Prime Minister Iryna Vereshchuk, according to the AP. The city has been surrounded by Russian forces for days, leaving civilians hungry and thousands huddling in basements as Russian shells bombard the area.
The deep trench in the Mariupol cemetery is about 82 feet long, the AP said. Bodies transported to the site by social workers were wrapped in carpets or bags. Both civilians killed by the shelling and soldiers were among the dead.
Workers have been making efforts to pick up bodies from homes. Some of them weren't victims of the shelling and had died of illnesses or natural causes, according to the AP.
Families and other mourners were not present at the mass burial site to say their goodbyes.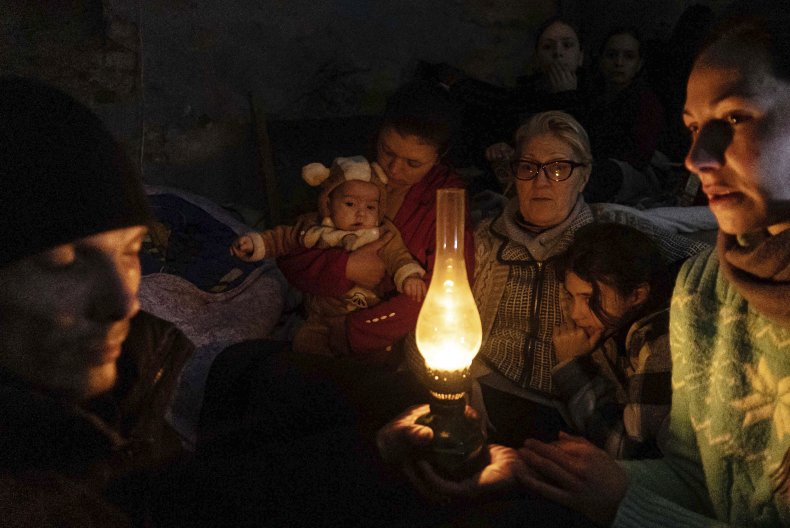 On Tuesday, authorities attempted to evacuate civilians from the city of 430,000 and to deliver much-needed supplies like food and medicine. But Ukrainian officials said Russian forces opened fire on the designated safe corridor for the city, the AP reported.
Oleg Nikolenko, a spokesperson for Ukraine's Ministry of Foreign Affairs, tweeted Tuesday, "Ceasefire violated! Russian forces are now shelling the humanitarian corridor from Zaporizhzhia to Mariupol. 8 trucks + 30 buses ready to deliver humanitarian aid to Mariupol and to evac civilians to Zaporizhzhia. Pressure on Russia MUST step up to make it uphold its commitments."
Russia announced a temporary cease-fire on Wednesday to let Ukrainian civilians flee several besieged cities, including Mariupol, via safe corridors. But only the eastern city of Sumy has made progress in the evacuations, according to Reuters.
On Wednesday, Ukraine accused Russian soldiers of shelling a separately designated humanitarian corridor put in place to help evacuate civilians from Demydiv, which is in the same region as the Ukrainian capital of Kyiv.
Andriy Nebytoc, the police chief for the Kyiv region, said in a Facebook post that a police officer was killed during the evacuation when Russian forces "opened fire in the direction of law enforcement and civilians."
"We are proud of the courage and self-sacrifice of the policeman," the post said. "Even the death of comrades will not stop us. We will continue to serve and protect, defend our Motherland and save people!"
Update 03/09/22, 10:15 a.m. ET: This story was updated with additional information and background.