Marjane Satrapi Charms With 'Chicken With Plums'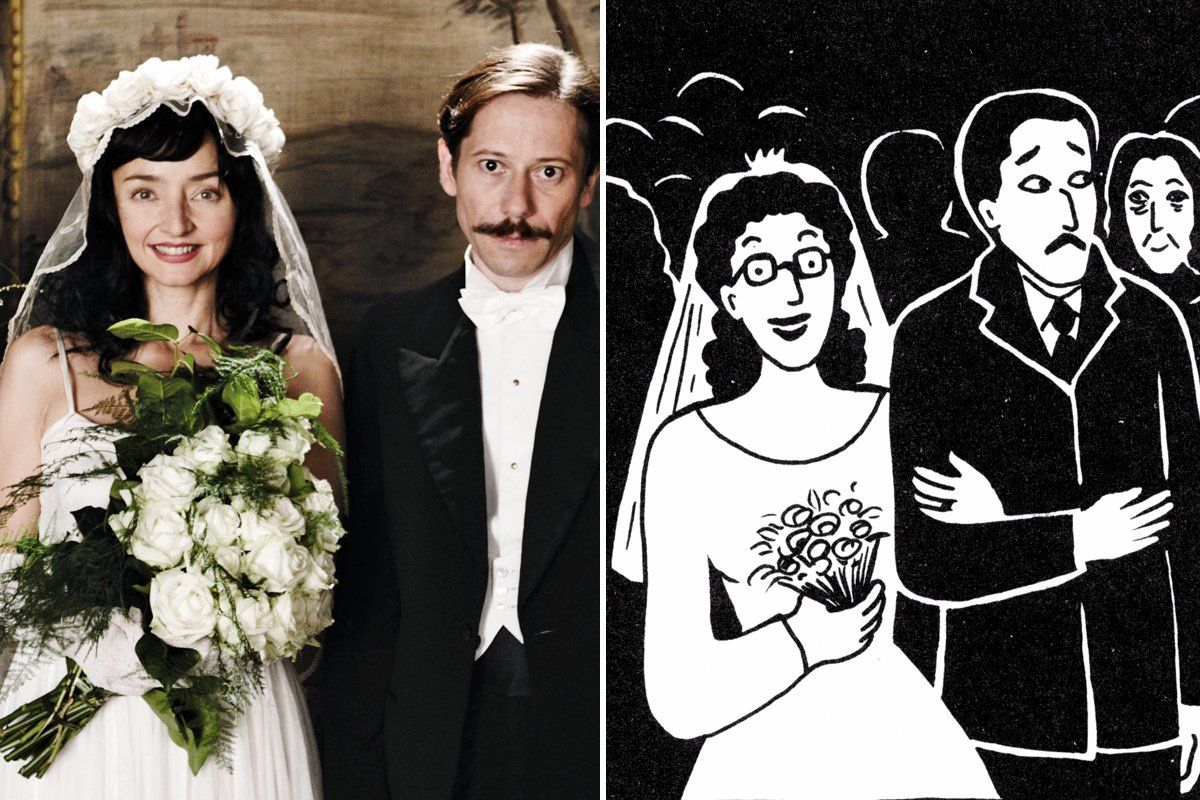 Even though Marjane Satrapi has been enormously successful as both a cartoonist and director, she's not good—like most Iranians—at accepting a compliment. "I thought it was such a bad idea to make a movie out of my book," Satrapi says, before acknowledging that she has now made two movies out of her books. In 2007, she turned her bestselling graphic novel Persepolis into an enchanting animated film about a young girl living in Iran during the Islamic Revolution of 1979. The movie was such a critic's darling, it even received an Oscar nomination. Just don't bring up the ceremony. "The worst experience of my life!" Satrapi says, speaking in her typical hyperbole. "They stress you the whole day," she says. "I had this hair-and-makeup guy. He made me look like I was an exotic bird." At least when she arrived, photographers wanted to take her picture. "Then I realized John Travolta was behind us." And the worst part? "I didn't win."
If there's any justice in Hollywood, she'll have another shot at red-carpet fame after the release of her new movie, Chicken With Plums. Adapted from Satrapi's popular 2006 graphic novel, the film was codirected with her cartoonist friend (and Persepolis collaborator) Vincent Paronnaud. But unlike Persepolis, it's mostly live-action. Set in 1958 Tehran, violinist Nasser-Ali Khan (Mathieu Amalric) is so overcome with grief after his favorite violin breaks, he takes to his deathbed. Through a series of flashbacks and interactions with the Angel of Death, the pieces of this bittersweet love story fall into place.
When Chicken With Plums debuted at the Venice Film Festival last year, some critics mentioned it in the same breath as Amélie, the breakout French film of 2001 that made Audrey Tautou a star. Satrapi says she's flattered at the comparison, but her story is a lot darker. It's a parable about what happens when you lose your soulmate.
Satrapi knows about loss. She's had to let go of an important part of her past: she hasn't been back to Iran in 13 years. "Of course, I'm allowed to go," she says. "But I'm not sure [that] if I go, I can come back again. This is the problem. Would you go back somewhere if you thought there was a 99 percent chance of jail?" To re-create her childhood home, she had to rely on a Berlin soundstage. She made sure every detail was as realistic as possible, right down to the grayish-yellow bricks she remembers from her grandmother's Tehran estate. "Tehran is quite a Western city," she says. "People asked me, why didn't you shoot in Morocco? It's because Morocco doesn't look like Tehran one bit—that's why!"
There's another important detail worth mentioning: although the story is set in Iran, the dialogue is all in French. Perhaps that's why watching Chicken With Plums feels like sitting at an international banquet. Fortunately for Satrapi, who lives in Paris, "the French have the same humor as Iranians," she says. "They love to joke about farts and pee and sex."
When Satrapi wrote the book, she was inspired by a picture of her mother's uncle, a man "with melancholy eyes." To cast her movie, she relied on a melting pot of actors from Iran, Italy, Portugal, and France. Satrapi says she didn't need to worry too much about directing them, because she only hired actors who are good at what they do. When she recently screened the film in Toronto, three Iranian women came up to her afterward. They said, "Thank you for giving us back our home."
Although Satrapi is one of the best-known graphic novelists in the world, she's taking a break from drawing cartoons, at least for the moment. At 42, she realizes she only has a finite time as an artist. She's finished an exhibit of paintings that she'll showcase in Paris in January. After that, she's looking over scripts for other projects. She tells a story about how, after Persepolis, Hollywood asked her to direct a Sex and the City–style comedy, but she was mortified by the characters' infatuation with handbags. Satrapi doesn't ever want to direct one of her books again, either. "It's boring, for Christ's sake!" she says. "For two or three years, I have to think in one direction. And then, for another couple years, I have to think the same story in another direction. For my pocket, it's good. For my brain, it isn't good." But for the rest of us, it's been absolutely great.