Majorie Taylor Greene is continuing the Republican campaign to impeach U.S. President Joe Biden with her new plan aiming to make sure Democrats "lose big" in impeachment inquiry proceedings.
Her comments come after Speaker Kevin McCarthy announced he would direct the House of Representatives to open an impeachment inquiry into Biden over his family's business dealings. "These are allegations of abuse of power, obstruction and corruption, and they warrant further investigation by the House of Representatives," McCarthy said at the Capitol on Tuesday, announcing he was directing the House led by the Oversight Committee "to open a formal impeachment inquiry."
Posting on X, formerly Twitter, Green wrote on Thursday evening: "We are going to drag Biden and everyone who covered up his crimes through the headlines day after day, month after month, and prove to the country the entire Democrat party is corrupt and can't be trusted.
"So no matter which candidate runs for president if they take Biden out, everyone will know the Democrat party is filled with liars and traitors," she continued. "That, combined with Bidenomics' destructive policies, will cause Democrats to lose big."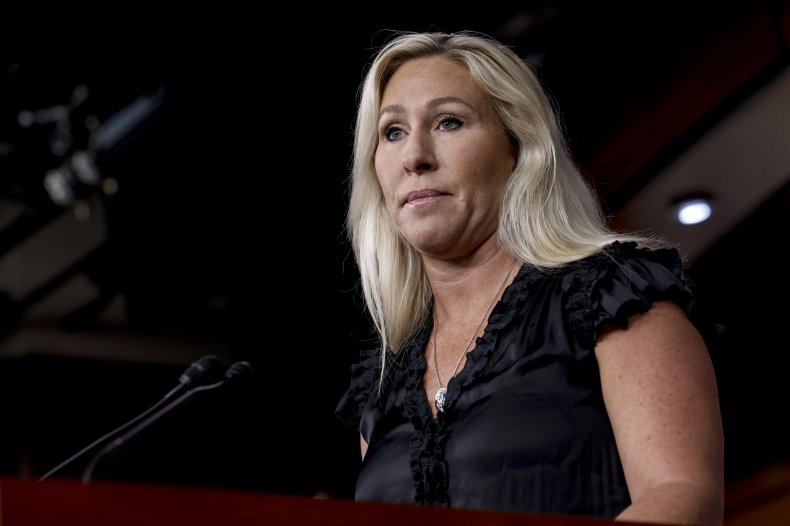 She posted the same comment on her Truth Social account, the X (formerly Twitter) alternative headed by Trump. Greene is an ardent supporter of the former president and one of Biden's biggest critics.
According to a pool report from the White House press office, in response to McCarthy's investigation announcement, Biden said: "Well, I tell you what, I don't know quite why, but they just knew they wanted to impeach me. And now, the best I can tell, they want to impeach me because they want to shut down the government.
"So look, look, I got a job to do. Everybody always asked about impeachment," he continued. "I get up every day, not a joke, not focused on impeachment. I've got a job to do. I've got to deal with the issues that affect the American people every single solitary day."
Ian Sams, a White House spokesperson said in a statement sent to Newsweek: "House Republicans have been investigating the President for 9 months, and they've turned up no evidence of wrongdoing."
The prospect of an impeachment inquiry has been ongoing since the Republicans gained the House in January. House Republicans, led by Representative James Comer have claimed that Biden and his son, Hunter, had previously engaged in an influence-peddling scheme. They also claimed Hunter made business dealings by using his father's status to his advantage and that these dealings are linked to policy decisions Joe Biden made while serving as Vice President under Barack Obama. Newsweek understands there is no substantial evidence for these claims. The White House has also consistently said Biden was not party to his son's business dealings.
Two tax investigators also claimed the Justice Department stymied the investigation into Hunter Biden's tax return. The DoJ has denied the claims.
Newsweek has contacted Greene via email for comment.