Representative Marjorie Taylor Greene defended voting against the investigation of potential war crimes being committed by Russian forces in Ukraine, suggesting that allowing for a probe from an international court would open floodgates for the prosecution of American service members.
"HR 7276 would hand over authority & our intelligence to the ICJ & ICC - international courts that could put our military on trial," Greene said in a Thursday statement. "I will not vote for globalism & the slow slide to become a one world government. I will only vote to protect America, our military, & our borders."
Greene was one of only seven Republicans who voted against the House bill this week, known as the Ukraine Invasion War Crimes Deterrence and Accountability Act, which would "collect, analyze, and preserve evidence and information related to war crimes and any other atrocities."
There have been growing calls from the international community to put Russian nationals on trial in the days following the revelations from Bucha, where hundreds of Ukrainians were killed in the Russian-occupied Kyiv suburb. President Joe Biden and members of Congress have been among those who are pushing for a war crimes trial against Russian President Vladimir Putin.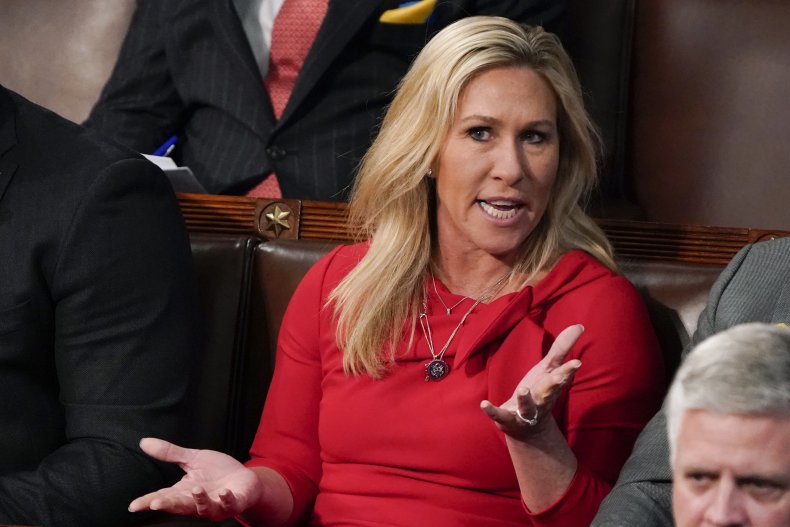 Greene was joined by Representatives Andy Biggs, Paul Gosar, Warren Davidson, Thomas Massie and Scott Perry in voting against the measure on Wednesday.
Representative Liz Cheney had also initially voted against the motion, but her spokesperson later clarified it was a mistake and that the House has been informed that she intended to vote in favor of the bill.
Massie also defended the vote on Thursday, citing similar reasons as Greene.
"Some of my colleagues and I voted against this resolution in part because it contains language that could set the table for bringing spurious war crimes charges against American service members for mistakes made during military operations in theaters such as Afghanistan," the Kentucky Republican tweeted.
Americans have historically avoided prosecution from an international judicial body because while the U.S. played a key role in the creation of the Rome Statute that governs the International Criminal Court, it never ratified the statute.
Thus, the. U.S. is not one of the ICC's 123 State Parties. Russia and Ukraine are also not members of the court. However, Ukraine has granted the ICC jurisdiction to investigate war crimes committed on its territory.
Putin has contended that Russian nationals cannot be tried by the ICC for crimes committed in Ukraine because it never ratified the Rome Statute—an argument the U.S. has also made in the past.