Marjorie Taylor Greene Accused Pelosi of Plotting School Shootings in Resurfaced FB Post
Georgia Republican Representative Marjorie Taylor Greene claimed in 2018 that House Speaker Nancy Pelosi wanted another mass school shooting in order to enact stricter gun control laws.
Greene, who is serving her first term in the House, has been a strong supporter of gun rights. An ally of outgoing President Donald Trump, Greene said Wednesday that she would introduce articles of impeachment against President-elect Joe Biden the day after he takes office. In a 2018 Facebook post uncovered by Media Matters for America, Greene wrote that Democrats intended to increase the stringency of U.S. gun control laws.
"They are going to try to pass strict gun control on the state level as well," Greene wrote. "This war on our second amendment is going to continue and must be fought. I am told that Nancy Pelosi tells Hillary Clinton several times a month that 'we need another school shooting' in order to persuade the public to want strict gun control."
Newsweek reached out to Pelosi's office for comment.
Greene made the comments roughly ten months after a 2018 mass shooting at Marjory Stoneman Douglas High School in Parkland, Florida, resulted in the deaths of 17 individuals. In a comment thread concerning a retirement pension paid to the school safety officer guarding the school on the day of the shooting, Greene agreed with a poster who described the incident as a "false flag planned shooting."
"It's called a pay off to keep his mouth shut since it was a false flag planned shooting," the poster commented in May 2018.
"Exactly!" Greene replied.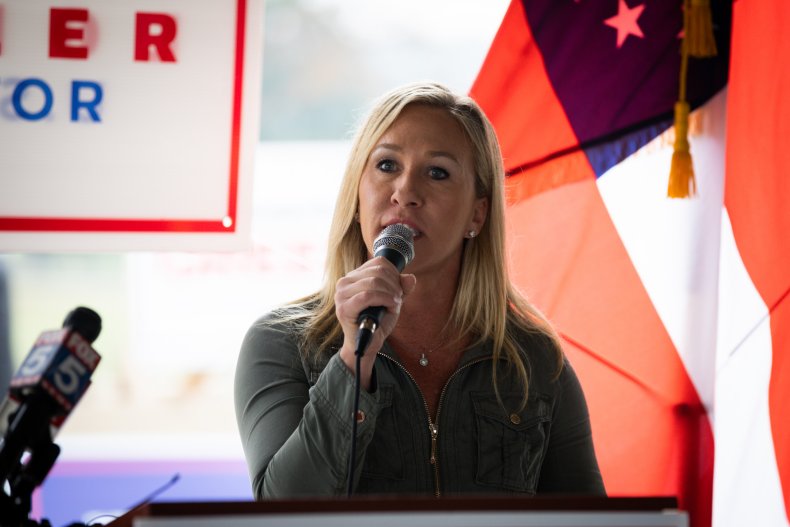 According to some conspiracy theorists, a "false flag" event is meant to distract people from other issues. Some believe the Parkland shooting was designed to make Americans more receptive to a crackdown on gun control laws.
Parkland shooting survivor David Hogg suggested that Greene resign in a Tuesday tweet. "If you spread conspiracies about mass shootings there should be no place for you in congress," Hogg wrote.
Amid criticism of her comments, Greene tweeted on Tuesday that she was in favor of repealing legislation that prohibited firearms on school campuses. "Our children are the most important people in our country and they should be protected by good guys with guns," Greene wrote.
Although Trump is expected to leave office on Wednesday, Greene tweeted her continued support for Trump.
"President @realdonaldtrump is the greatest President of my lifetime," Greene wrote on Tuesday. "Don't count him out!"
Greene announced in January that she would seek to have Biden impeached because he would be "willing to abuse the power of the office of the presidency." Greene referenced allegations that Biden and members of his family had received illicit money from foreign entities as part of her reasoning for bringing the articles of impeachment against Biden.